Appointment Scheduling Software that Helps Businesses Get Discovered
Appointment scheduling software has quickly become the norm in the beauty and wellness industry. While apps like Booksy help business owners better manage their busy schedules, service providers have quickly learned that appointment scheduling software can create the type of brand loyalty that consistently and effectively attracts customers.
Carlos Turpeau knows that fact better than most. More widely known as Tulpi the Master Barber, this Booksy Ambassador, licensed instructor, and L3VEL3 authorized dealer truly understands the industry. He knows that appointment scheduling software helps with managing his bookings—but he absolutely loves the fact that Booksy helped grow his unique brand.
Carlos began his career in the world of barbering over a decade ago. At this stage, he owns and operates Barber Gallery, his own private grooming destination. Because he took advantage of appointment scheduling software, the challenge of attracting loyal customers is a thing of the past. Nowadays, his work consistently grabs the attention of newcomers and loyal clients.
Take a moment to step inside the world of an artist who uses the tools of his trade to bring his community together, all while earning a profit for himself and the staffers who stand by his side. Find out how this master level barber uses Booksy to accomplish more than he ever dreamed. And keep reading to find out why Carlos feels that he's just getting started.
Managing Finances with Appointment Scheduling Software
When it came time for Carlos to step into the league of industry juggernauts, top notch ambassadors, and neighborhood heroes—he knew that appointment scheduling software would help him reach the next stage in his career. Carlos says that without a doubt, Booksy is a huge part of the reason that his business was able to prosper well beyond his expectations.
In his own words, Carlos said "Booksy changed my work life and my finances. Thanks to Booksy, I was able to fulfill my dream of having a business in less time, with less stress, and with more order." Carlos currently employs a close knit team of 12 staffers. And activating appointment scheduling software helped him bring together a family of grooming artists.
Part of the reason that Carlos speaks so highly about Booksy is because of the appointment scheduling software tools. But according to Carlos, Booksy also helps with so much more. For example, the app helps him with organizing his finances. More specifically, the Stats & Reports feature was a great tool for reporting taxes during the pandemic.
Many small business owners recently took advantage of the Stats & Reports feature to access the intricate financial details of their businesses. Having that information ready helped those Booksy providers meet the requirements to apply for the Paycheck Protection Program loan, which was designed by the United States government to help small businesses stay afloat during the pandemic.
Showcasing Customer Service Skills
After describing how Booksy helped with reporting and keeping track of his finances, Carlos then described how activating appointment scheduling software helped him in other ways. In particular, he said that Booksy helped with showcasing his customer service skills. And the Booksy tool that helped the most with regards to customer service was the Reviews feature.
Whether it's shopping on Amazon, searching for a restaurant, or hiring a new dog walker—online customers take reviews into heavy consideration. And Carlos said that being a barber is hardly an exception. New and returning clients alike pay attention to reviews. To date, the shop that Carlos owns has roughly 1,470 five-star reviews.
Booksy Reviews help him showcase his unique customer service approach. Because inside his barbershop, it's important that "everyone feels comfortable," he said. For Carlos, that means every person who steps inside his shop has to be able to feel at home. That's true if the client is a mother with three children, a trendsetting teenager, or a mature businessman.
Carlos created a barbershop that would welcome people from all different backgrounds. And he believes that's part of the success of his shop. To make sure people feel welcome, he restricts swearing, buys comfortable leather furniture, and carefully selects the music while making sure the volume isn't too loud. And the almost 1,500 five-star reviews show that clients appreciate those efforts.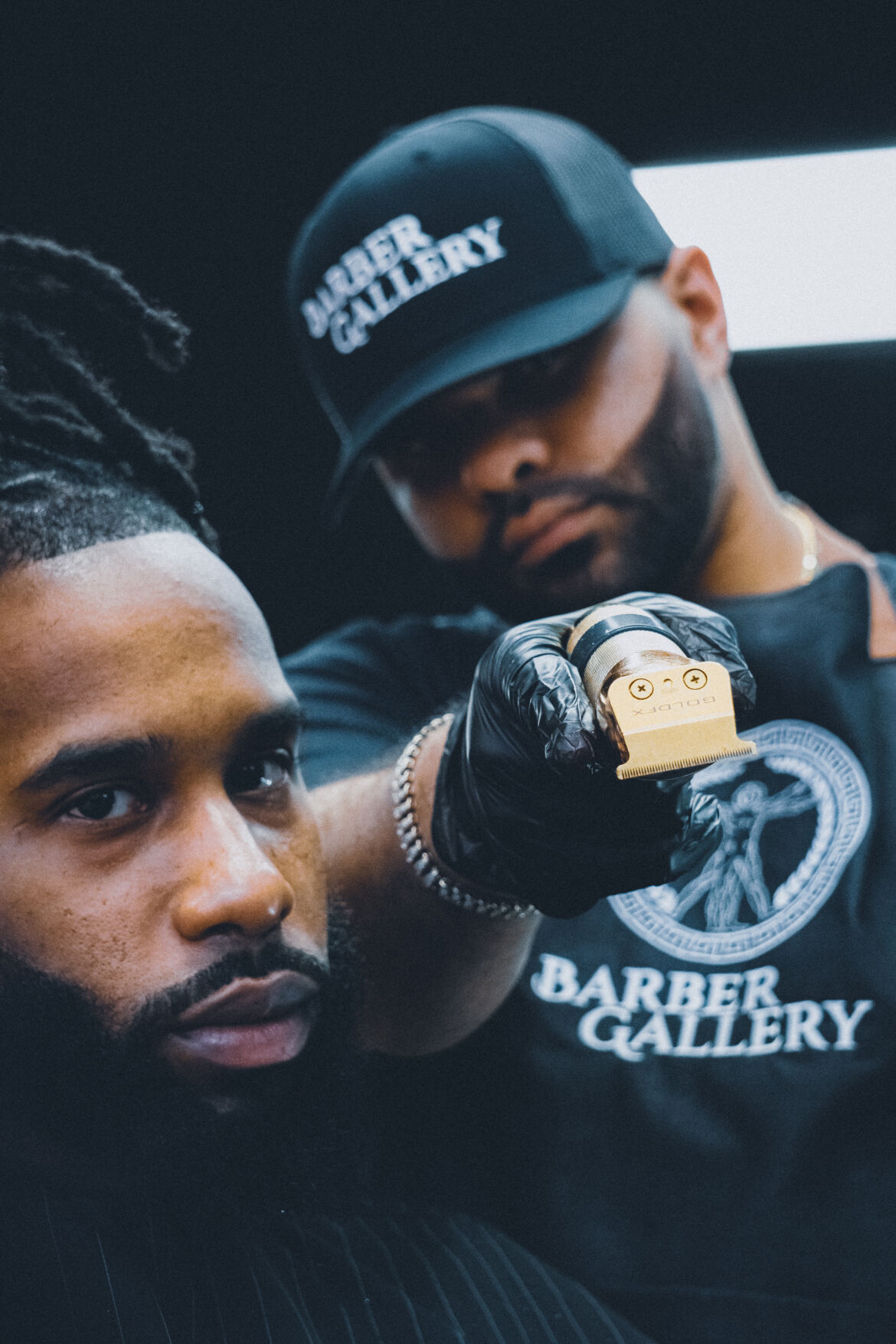 Connecting with the Community
Booksy lets Carlos showcase all of the customer service skills that he's implemented over the years. And using appointment scheduling software also helps him stay connected to his community. Because of Booksy, Carlos is able to do a better job of staying in touch with residents living in Greenville, South Carolina, where his business has been thriving for years.
To stay connected with the community, Carlos attends local baseball or basketball games, where he passes out his business cards. "More than anything you've got to show your face and speak with the people, so they can see you connecting with their loved ones," he said, adding that Booksy helps him maintain connections with people he meets in the area.
More specifically, Carlos uses Message Blasts to follow-up with all of the local community members he meets who decide to visit his shop for the first time. Booksy makes it easy for him to reach out and stay in touch with those new clients who need a reminder to schedule another haircut. And that's because he can send out a Message Blast to all of his new clients in one click.
Message Blasts also help business owners like Carlos market and promote services. It's easy for him to entice regular customers to book an extra appointment when business is slow. Or he can use Message Blasts to let clients know if he's offering a quick Flash Sale. He can also use Message Blasts to let people know if his hours are going to change during the holidays.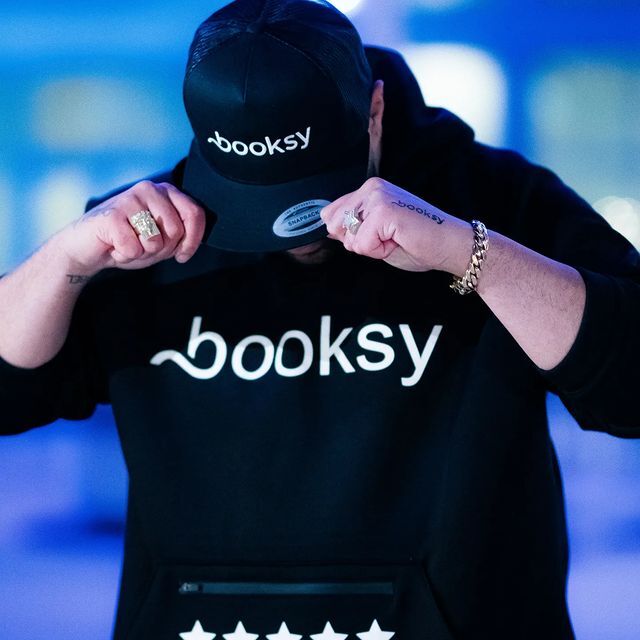 Creating Partnerships with Appointment Scheduling Software
Another way that Carlos has been able to take advantage of our appointment scheduling software is by creating new and exciting business partnerships. Earlier this year, Carlos joined the Booksy Ambassador team, which has already helped him open a number of professional doors.
Since becoming a Booksy Ambassador, Carlos has been able to network with fellow industry experts. He plans to work more closely with them to help spread the word about appointment scheduling software to beauty professionals across the country. He wants to be able to share his story, while answering questions about how to get more clients as a barber using Booksy.
Already, he regularly posts information on Instagram about how barbers and stylists can use his Booksy promotion code to access a host of different software features designed to help businesses prosper. Some of those features include, the I'm Ready button, customizable COVID-19 Disclaimer forms, and No-Show Protection features.
Expect to keep hearing from this newly crowned industry king, who treats other industry pros like fellow royalty. Carlos is in the planning stages of creating educational content with Booksy. He wants others to perfect their skills and showcase their talent by using appointment scheduling software features. And he's also planning networking events to keep spreading the word about Booksy.
"I use Instagram to tell any new clients, if you like my work, then you've got to schedule through Booksy. I've earned 40% more in profits, since I started using Booksy. The app builds up your reputation with reviews. No matter where you go, those reviews go with you. If I move to a new barbershop, with one click everybody knows that I moved to a new location. It's simple—Booksy helps you earn more money, because Booksy helps you sell yourself," said Carlos.