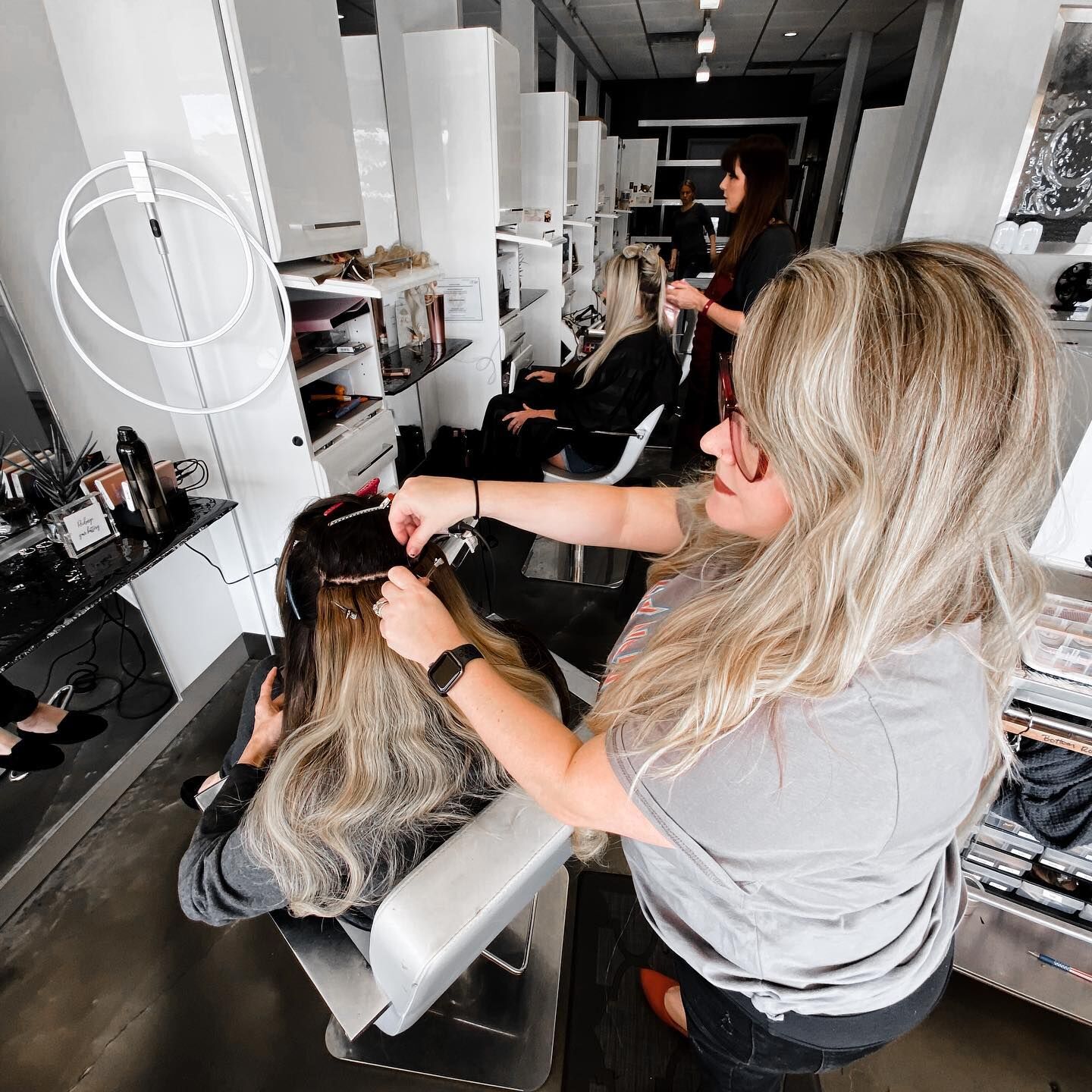 It's no secret that beauty pros stay up to date on industry trends—that's always been the norm. But nowadays, keeping in touch with technical developments are almost just as important. For example, most customers expect business owners to have a device that accepts a variety of different card payments. And that's exactly why there's Booksy Card Reader.
For Booksy Ambassador Lacy Hambright, using Booksy Card Reader has become more than just another tool. It's her preference. With Booksy Card Reader, clients can pay using their EMV chip, the small, square computer chip that appears on credit and debit cards. Customers can also use Booksy Card Reader to pay with their mobile wallets like Apple Pay or Google Pay.
Giving clients a number of different payment methods may seem like a small feat. But Lacy firmly believes that Booksy Card Reader helps keep her business running smoothly. As an advanced colorist, Lacy works in a high traffic part of Central Florida. Her clients expect every part of their session to move seamlessly, which Booksy Card Reader helps Lacy deliver.
Keep reading to answer the question: How can Booksy Card Reader help a salon? Find out why this 10-year industry veteran believes that Booksy Card Reader is one of the best payment tools in the industry. And learn why Lacy recommends that all Booksy providers start taking advantage of Booksy Card Reader to better serve clients, which can in turn help with earning more tips.
How Can Booksy Card Reader Help a Salon?
Providing elaborate hair styling is an everyday experience at withloveLacy, the business that Lacy proudly owns and operates. Just a few of the services that Lacy offers include deluxe transformative blonding, a lived-in brunette hair treatment, hand-tied extensions, and dimensional coloring. But despite her undeniable prowess behind the chair that leaves loyal clients consistently coming back for more—Lacy still has to take steps to keep clients happy.
"As an independent stylist in a rather large salon, my biggest concern is accessibility and ease for my guests when they're booking, as well as when they're checking out. When they're in my care, I offer an entire experience. So, what I really like about my Booksy Card Reader is that it's an all-in-one tool, so clients aren't fumbling with clunky devices like iPads," Lacy said.
Since just one of her higher-end services costs up to $480 and takes over four hours, clients expect that the checkout process should move just as smoothly and as easily as her styling. With Booksy Card Reader, Lacy has the ability to manage all of her payments in just one place. And those hard earned dollars are always safely directed into her bank account.
"I just hand them the card reader and they can leave their tip and swipe or tap their card and the exchange is done," said Lacy. "When my guests come in, we don't want to have to fumble with this or that. And that's what they like about the card reader. It's very easy and user friendly."
Earn More with Booksy Card Reader
Making life easier on customers sounds like a no-brainer, because it's great for businesses. According to research by our analysts, businesses that use Booksy Card Reader increase their average booking value by 18% in just 3 months. That's in part because our card reader gives clients three different ways to pay: they can insert, tap, or swipe a card. And clients are happy to show their appreciation.
Research shows that business owners who use Booksy Card Reader make up to an average of 10% more in tips. Lacy said the checkout process with Booksy Card Reader lets clients checkout so much faster than ever before. She is able to checkout clients without jumping between apps or using additional software. And she has access to Booksy reporting tools.
In turn, clients tip much better than in the past, when she used other booking software that required using different technology like cumbersome tablets. Now, the only thing that Lacy needs to do is hand guests the BBPOS WisePOSTM E card reader, which is the model she uses. Then they can leave their tip and swipe or tap their card in seconds. After that's done, she's ready to invite the next guest into her chair.
"What's especially nice about the card reader is we don't have to physically ask our guests if they would like to tip and if so how much. There's nothing more awkward than saying 'Would you like to leave me a tip?' In my case, I'm the one usually doing the checkout, if my assistant isn't here or my receptionist. So, then it's me asking how much do you want to leave me. That's like asking your grandma, how much are you giving me in my Christmas card?"
Booksy Card Reader Options
Lacy isn't the only stylist who loves using a device that accepts a variety of different card payments. Thousands of beauty professionals prefer to use this tool. Providers also appreciate that Booksy Card Reader is fully integrated with the Booksy app, which means ease of access to client information, checkout features, and Stats & Reports for Booksy Biz Pro users.
Access to all these features means that Booksy providers can save valuable time. Instead of chasing payments, they can spend that time focusing on providing services. And remember there's two different card reader options for anyone still trying to find answers to the question: How can Booksy Card Reader help a salon? Here's the specifics about those two options:
The Stripe Reader M2
The Stripe Reader M2 is a pocket-sized reader that's designed for quick and easy, on-the-go transactions. It's ideal for accepting payments on your mobile device, especially if your business doesn't operate using a front desk. It offers the flexibility to process transactions while you're bouncing between appointments, traveling to clients, or at an event.
BBPOS WisePOSTM E
This full-featured terminal offers an interactive display screen with customer-facing tip options, giving the client an engaging checkout experience. It also allows clients to review specific details of their transaction in real time. This card reader works best at a dedicated workspace, like a reception desk, but can complete a transaction from a mobile phone, tablet, or computer. This card reader connects to one device at a time, so if you have two computers at your reception desk, we recommend getting two card readers.
Details About Booksy Card Reader
The booking software that Lacy was using before Booksy had a number of outages, which became a "nightmare." One afternoon, Lacy finished a $2,600 session. But because her previous booking software had an outage that day, she couldn't complete the payment. Lacy had a tough choice ahead of her.
Lacy could ask the client for their credit card information, which could appear unprofessional. Or she could call the client later when the payment service was running again, and hope they would answer. The same evening that Lacy couldn't complete that payment because her previous software malfunctioned, she switched to Booksy. And now, she's happier than ever with using her card reader to avoid painful experiences caused by outages or other issues.
Another feature that Lacy particularly loves about Booky Card Reader is that with regards to pricing for the Stripe Reader M2 and the BBPOS WisePOSTM E, there's no monthly fees or charges to setup. Basically, once you buy a card reader, you only pay when customers are purchasing your services or products.
The processing fee per transaction with a Booksy Card Reader is 2.49% + $0.10 US - one of the lowest rates in the industry. Also know that there's a $15 fee for any chargebacks to offset processing fees. And that $15 fee only applies when a client contests a charge, and you refund their money. Naturally, you will always be in charge of verifying charbacks.
"So, I'm not spending a million dollars in credit card transactions. Booksy Card Reader is all-in-one, unlike other booking software, where I have to also pay additional fees for text message marketing and email marketing. This is the easiest solution in terms of card readers, because it's all just so very clear," Lacy said.