Feet are some our most-used body parts but we don't usually give them a lot of attention. The reality is we usually forget about them until something goes wrong. Cracked, dry skin, calluses, ingrown nails, and corns remind us that feet must be part of your normal self-care routine. Follow along for footcare basics that can heal common issues and get your week started off on the right foot.

What is harmful to our feet?
In order to answer the question of how to care for your feet, you should first learn about what's harmful to them. Eliminating, or at the very least, reducing harmful factors is the first step to improving the situation. 
The key here is to avoid using the wrong footwear, that'll press and rub on the feet, obstructing proper blood flow, and causing corns and calluses. Frequent wear of high-heeled shoes, narrow ballerina flats, or thin-soled shoes can cause foot pain and problems. 
It's also recommended against wearing any shoes on bare feet. This exposes them to abrasions and increases the risk of a foreign body getting under the skin. And when it comes to sports, choosing the appropriate footwear that will properly secure the feet will prevent injury.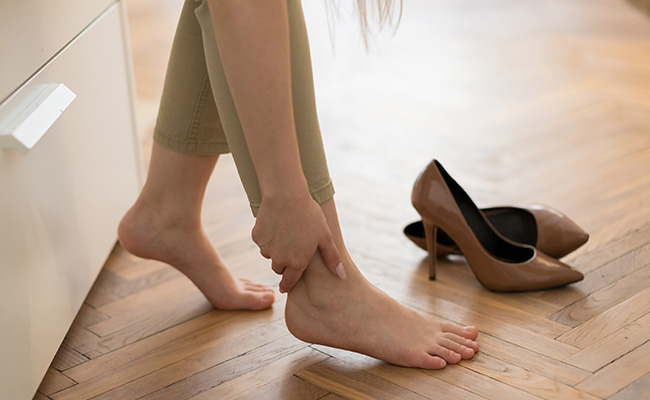 How to properly take care of the feet, from a podiatrist
In the field of proper foot care, a podiatrist's knowledge will be invaluable. Making an appointment with a podiatrist isn't only reserved for cases when ailments begin to bother us. You can visit a podiatrist prophylactically, to learn how to care for your feet and effectively prevent diseases. 
Regular visits allow for the early detection of possible problems. A podiatrist will not only be able to give you recommendations and shed light on professional treatments, but also advise you on at-home care. This way, you can solve them before they begin to make life difficult. 
There are certain times of the year that are rougher on feet than other. Winter footcare requires a little more attention.
Taking care of your feet at home
Daily foot care is not only a way to keep their health in check, but it's also an excellent remedy for fatigue and stress. Treatments for the feet, such as peels or baths, are very relaxing and bring an overall sense of relaxation to the entire body.
How do we take care of our feet year-round? Let's start by remembering a few simple rules:
After each wash, thoroughly dry the feet, paying particular attention to the spaces between the toes

Exfoliate dead skin cells at least once a week

Regularly shorten the nails, shaping them in a way that doesn't encourage ingrowth 

Hydrate the skin with a moisturizer that fits our needs (a beautician or podiatrist's advice will be helpful here) 
Supplies worth having:
Foot file

Natural plant oils

Basin (large enough to prepare a foot bath)

Soft socks (preferably cotton)

Nail care kit (clippers, file, etc)

Cotton pads

Nail polish remover

Nail polish (if you want to finish the treatment with a coat of polish)
Foot baths
Baths are a vital element of foot care–both at home and at professional salons. They bring a number of positive effects, from softening and moisturizing, to helping remove the dead epidermis, to the general relaxation of the whole body. Here are a few foot bath recipes that you can indulge in at home:
Regenerating foot bath with the addition of salt and herbs (optional):

This is a great remedy for fatigue and swelling of the feet. It prevents the formation of varicose veins, and works well in fighting against colds. If you decide to add herbs such as rosemary, sage, thyme, or bay leaves, pour boiling water over them, cover them, and leave them for about 15 minutes. Only the strained infusion is poured into the basin. 

Moisturizing and softening foot bath:

Natural pineapple juice (2 cups), natural coconut milk (half a cup), and coconut oil and shea butter (1 tablespoon each) are added into a basin of water. This is recommended for people struggling with dry, calloused, and cracked skin on their feet–perfectly moisturizing, softening, and smoothing them.

Soothing foot bath with chamomile, sage, and horsetail:

Prepare this bath in the same method as the regenerating foot bath. This one will help with bringing relief from abrasions or other damage to the feet, soothing inflammation, and promoting healing. 
For each of these recipes, the base of the bath is hot water that's warm enough to heat up the feet, but not burn them. It is recommended to soak them for 10 to 15 minutes. 

How to take care of your heels
When it comes to caring for the heels, vegetable oils such as coconut oil or shea butter are perfect. They're particularly effective if they're used in an overnight compress–preferably after a "home spa" for the feet. 
The idea is to apply a thick layer of oil to the callused skin of the feet, then put on soft cotton socks. With this method, you'll prevent the oil from staining your bedding, but also it'll allow the oil to penetrate the skin gradually throughout the night–resulting in exceptional hydration in the morning.
Home spa pedicure
Hosting an at-home spa for the feet consists of a few simple activities that'll provide them with comprehensive care. A spa pedicure will consist of 5 different stages: cleansing, softening, exfoliating dead skin, nourishing and moisturizing, and optional styling. You can expect the entire procedure to take around 30 to 60 minutes. For your own DIY spa pedicure, you'll need the supplies mentioned above, ingredients for a foot bath, and a peel treatment (this can be bought at a drugstore or prepared at home).
Stage 1: Cleansing consists of removing the remains of old nail polish from the nails and preparing them for the next care steps. 
Stage 2: The bath is meant to additionally cleanse and soften the skin of the feet. This step aims to provide general relaxation but likewise will facilitate exfoliation of the dead skin. 
Stage 3: For the exfoliation stage, you can use a peel treatment and a foot file. This step aims to nourish and exfoliate the skin, as well as prevent the formation of calluses or corns. Massage the peel treatment into the feet gently, with circular movements for about 3 minutes. Then, rinse with water and use the foot file. 
Stage 4: After thoroughly drying the feet, you'll want to moisturize the skin and nails. You can use either a cream purchased from the drugstore or natural vegetable oil. In a home spa setting, it's recommended to use the sock wrap method, as described in the previous section.
Stage 5: Nail care includes steps such as shortening and shaping the nails, as well as possible styling. Be careful not to round the sides of the ingrown nails, as this can lead to ingrown nails). 
Homemade foot scrub recipes
Salt peel: Use 2 tablespoons of salt, with the addition of a few drops of essential oil (eucalyptus or peppermint oil and 1 large spoon of shea butter or coconut oil).

Coffee peel: Prepared on a base of coffee grounds (2 tablespoons), with the addition of a tablespoon of natural vegetable oil (for example: olive oil), and a teaspoon of freshly squeezed lemon juice.

Sugar peel: Combine 2 tablespoons of sugar, 1 tablespoon of olive oil, 1 tablespoon of shea butter, and 1 tablespoon of natural honey.
Taking care of your feet at a salon
Of course, you can also get a spa pedicure in a salon setting. There, you'll find other professional foot care services—both for rejuvenating and decorative purposes. For the best options of pedicures in your city, check out your options nearby using Booksy.