Hair Eye Am Beauty Bar
3590 N. Highway 17/92, Suite 1020, Lake Mary, 32746
Hair Eye Am Beauty Bar
3590 N. Highway 17/92, Suite 1020, Lake Mary, 32746
---
Popular Services

Mold/Wrap &Curl

Shampoo,conditioner ,Leave In conditioner, mold wi...

more

Shampoo & Style

Skin &Scalp Cleanser,Deluxe Shampoo on your weave/...

more

---

CONSULTATIONS

Hair Extensions

talking about the right hair extension services th...

more

Natural Hair Analysis

getting to know your hair type, texture, and hair ...

more

HAIR TREATS

to consult which hair treatment service that best ...

more

Wig/ Unit Construct

Creating the look, color, style, and textures for ...

more

---

AROMATHERAPY TREATMENTS

Deep Cleansing & Conditioning

Aromatherapy & Organic Washes

---

BLOW-DRY BAR

Shirley Temple

Shampoo/Conditions , heat projection, blow out,and...

more

Mai Tai

Shampoo/ Condition, thermal protection, blow-out t...

more

Hot Toddy

Shampoo/Conditions, heat protection, blow out ,and...

more

The Cosmo

Shampoo/ Condition, thermal protection, blow-out w...

more

STRAIGHT UP

Shampoo Condition, thermal protector, blow-out wit...

more

---

YOU'RE STYLING

Blow dryed

Shampoo,conditioner, leavin conditioner then blow-...

more

Re-Curl

No Shampooing, No Drying Only Re- Curl or refresh ...

more

Roller Wrap/ Doobie Wrap

Shampoo,Conditioner, leave in conditioner, wrapped...

more

Roller Set

Shampoo,Conditioner, leave In conditioner, then Se...

more

Blowdry Out & Flat Iron

Shampoo, Conditioner, leave in conditioner and the...

more

Mold/Wrap &Curl

Shampoo,conditioner ,Leave In conditioner, mold wi...

more

Straw set

Shampoo,conditioner, Leave In conditioner, then th...

more

Rod/ Flexie Set

Shampoo, Conditioner, Leave In conditioner, rolled...

more

---

WEAVE STYLING BAR

RE- CURL

This is a Dry Service( No Shampoo) To Re- Curl Wea...

more

(Add On) Weave Tighten

A basic tighten to secure your weave that's in you...

more

ADD ON ( BRAID DOWN )

This is a basic straight back braids that can be a...

more

(Add On) lace frontal removal

Removing the lace glue and cleaning the lace as we...

more

Styling Only

This is a Dry Service.( No Shampoo) Your Weave nee...

more

Shampoo & Style

Skin &Scalp Cleanser,Deluxe Shampoo on your weave/...

more

Shampoo& Style Deluxe

Skin &Scalp Cleanser,Deluxe Shampoo on your hair &...

more

Flexie Rod Set

Skin &Scalp Cleanser,Deluxe Shampoo on your weave/...

more

Roller Set

Skin &Scalp Cleanser,Deluxe Shampoo on your weave/...

more

Wand Curl Set

Skin &Scalp Cleanser,Deluxe Shampoo on your weave/...

more

Foil Curls Set

Skin &Scalp Cleanser,Deluxe Shampoo on your weave/...

more

Kimped Curl Set

Skin &Scalp Cleanser,Deluxe Shampoo on your weave/...

more

---

EXPRESS NATURAL STYLE BAR

Untwist

Express Natural Style Bar is our one of a kind sol...

more

---

HAIRCUT'S

ADD ON HAIRCUT

This hair cut services can only be add when gettin...

more

---

HAIR BOTOX BAR

Express Botox Shots

a Leave In spray Hair Botox that is normally used ...

more

Mega Hair Botox

An intense anti - frizz treatment that adds collag...

more

Partial Botox

It's the same treatment of a "Mega Botox" but it i...

more

* NEW Smart Shampoo Hair Botox

---

WEAVES BAR

ReMoval

The tracks of your weave is removed,the braids are...

more

Removal Deluxe

The tracks of your weave is removed,the braids are...

more

Liquid Weave (long,medium, short)

Liquid Weave with a frontal

Shampooed ,mold to dry , the artificial hair is bo...

more

Full Bond In

Shampoo/ Condition, Leave In with Heat Protector,b...

more

Invisible Ponytails or with bangs

Half Up Half Down (top knot with Bun or Bangs)

Invisible Ponytail with Detachable bang

Half Up Half Down Quick Weave

Top Weave or (withFrontal)

Basic Sew In or (with closure)

Basic Sew In with Frontal

U- Part Weave or Straight Part Weave

Premium Sew In with closure

Premium Sew In with Frontal

---

UNITS AND WIGS INSTALLS

Unit Removal & Re- Install

---

UNITS & WIGS BAR

Lace frontal install deluxe

This service includes: A removal of your lace wig ...

more

Wig Trim - Synthetic Hair

Wig cut & styled - Synthetic Hair

Wig Hair Cut - Human Hair

Basic Wig Braid-down

your natural hair is corn-row straight back then o...

more

Unit Braid Down

A braiding technique that protects and secure your...

more

Adjusting

A Soft elastic band is sewn to the wig to give you...

more

Adjusting Fit

A elastic band and 2 wig combs/ clips is sewn onto...

more

Adjusting Fit Deluxe

Your hair is Shampooed and Conditioned, blown drie...

more

---

COLOR BAR

Semi- Permanent ( Retouch)

Demi or Permanent( Retouch)

Demi or Permanent ( Full)

---

HAIR EXTENSIONS BAR

Bond In (track by track)

This is a track by track service

more

Removal- Bond In

This is A PER track service (ex.$5 per track x 4 ...

more

Removal- Double Track by Track

Micro Track by Track Weft

Removal- Micro track by Track

Swedish Braidless( track by track)

Malaysian Braidless(track by track)

Removal- Tape In (track by track)

---

NATURAL HAIR LOUNGE (non-relaxed hair)

BIG CHOP

Cutting the straight relaxed or chemically treated...

more

Search & Destroy

a process in which you occasionally search your ha...

more

Clarifying Wash

A deep cleansing shampoo that removes product buil...

more

CO-WASH

is an act of washing your hair solely with conditi...

more

Sealing (seals the ends)

to apply the product to the ends of the hair to ke...

more

Pre-POO

a process of coating the hair for about 30 minutes...

more

POO

To shampoo your Natural Hair with our Organic Sham...

more

POO Deluxe

To shampoo your Natural Hair with our Organic Sham...

more

Wash& Go ( WNG ) or Wash& GO &DONE (WNGND)

method of co-washing the hair, adding a styling cr...

more

Wet& Go

a technique similar to WASH&GO (WNG), but you don'...

more

PRESS &CURL

it's a technique used a long time ago to straighte...

more

SILK PRESS

is an upgraded version of a traditional PRESS&CURL...

more

Finger Coil (Natural Protective Hairstyle)

your natural hair is individual twisted into a coi...

more

Comb Twist (Natural protective Hairstyle)

your natural hair is individual twisted into a coi...

more

TWIST OUT (Natural Protective Hairstyle)

your natural hair is individually twisted all over...

more

Flat Twist Out (Natural Protective Hairstyle)

a two strand twist braiding technique similar to c...

more

Two Strand Twist (Natural Protective Hairstyle)

also known as double strand twist, twists, or twis...

more

Braid Out (Natural Protective Hairstyle)

technique achieved by braiding damp or moist hair ...

more

Braid & Curl (Natural Protective Hairstyle)

technique achieved by plaiting or braiding damp or...

more

Roller Set ( Natural Protective Hairstyle)

Perm Rod Set (Natural Protective Hairstyle)

Natural Wand Rod Set (Natural Protective Hairstyle

Bantu Knots (Natural Protective Hairstyle)

Bantu Knot Out Curls (Natural Protective Hairstyle

---

KID'S LOUNGE (10 &Under)

Feed In Braid (per braid)

Cornrows or Cornrows(with hair added)

Flat Twist In or Flat Twist Out

---

LOC'S LOUNGE

STARTER LOCS:two strand twist

STARTER LOCS: Interlocking

This services is calculated per hour.

more

STARTER LOCS: Locs Extensions

This service is calculated per hour.

more

---

CROCHET & BRAIDS BAR

Individual Crochet Faux Locs

Individual Crochet Goddess Loc

Perimeter individual crochet & middle cornrow

Triangle parts Box Braids

Jumbo Box Braids / Knotless Braids

Medium Box Braids/ Knotless Braids

---

Eyelashes Lounge

Double strips/ Top & Bottom

---
Venue Health and Safety Rules
Reviews
Reviews are no joke! Booksy values authentic reviews and only verifies them if we know the reviewer has visited this business.
Hair Eye Am is the place to go if your looking for a reliable stylist. The atmosphere and service was A1 not to mention my hair is flawless!...
Saniece is phenomenal at what she does!!!...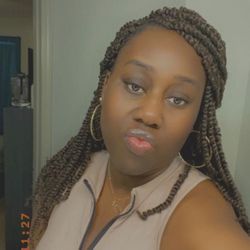 I'm really not happy with my service and had to pay someone else to fix it. If you don't spealize in natural hair that should be made clear. I really didn't want to write this review because you are a very nice lady but after this I won't be returnin...
Saniece is excellent. Very detailed and knows about hair....
Wonderful experience with Saniece!...
This is my second time going to hair eye am and I had an amazing experience both times. The energy and the atmosphere is all so comforting. It's a great place. Seinice I have to give a extra special Thanks. I just simply Love this place....
Hair Eye Am Beauty Bar
thank you so much! I appreciate your business
Thank you for my makeover. I am loving this new look....
I am so glad I found this place. I have been looking for a long time to find a place that does my hair just the way I like. It has been hard for me to find a hair dresser who doesn't put too much hair on my braid. The pricing was really good. I felt ...
Saniece, as always, does a WONDERFUL job with my hair!! I'm always so happy to sit in her chair!...
Hair Eye Am Beauty Bar is an excellent salon to go to for a professional hair do. Saniece is a professional beautician with a beautiful personality. Amazing job on my daughter Desire's hair, she loves it and so do I....
Saniece always does a great job with my hair. She has bless hands....
Found my FL hairdresser!! NY born and raised, I don't let just anyone touch my crown, I felt very comfortable and like Ive been going to her for years. Saniece is experienced, professional and most of all honest. I can tell she loves what she does. I...
Very talented hairstylist....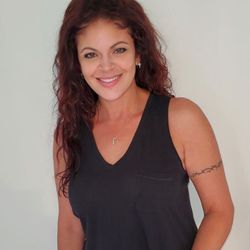 Saniece has made me a very happy client! I'd definitely recommend her....
Saniece worked her magic- as always!!! My girl is beautiful and she is just as sweet as she can be!!! Can't wait for my next visit!...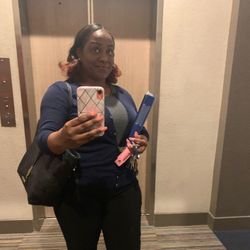 Love my hair! Sanice takes care of my hair while styling it....
Great job and patience with my daughter's hair!...