Ayo Braids & Beauty
Calumet Ave, 7120, Hammond, 46324
Ayo Braids & Beauty
Calumet Ave, 7120, Hammond, 46324
---
Popular Services

Regular Box Braids Medium (Mid Back)

$60 DEPOSIT IS REQUIRED ON THE BOOKING DAY THROUGH ZELLE WITH MY CELL NUMBER 773-236-4071 MUST COME WASH AND B...

show more

Feed In

$25 DEPOSIT IS REQUIRED ON THE BOOKING DAY THROUGH ZELLE WITH MY CELL NUMBER 773-236-4071MUST COME WASH AND BL...

show more

Knotless Box Braids Medium Small

$60 DEPOSIT IS REQUIRED ON THE BOOKING DAY THROUGH ZELLE WITH MY CELL NUMBER 773-236-4071 MUST COME WASH AND B...

show more

---

Other Services

Men Twist

$30 deposit is required on the booking day with this number 773-236-4071 through ZELLE Must come wash and blo...

show more

---

SENEGALESE TWIST

Senegalese Twist Regular Medium Small (Mid Back)

$60 DEPOSIT IS REQUIRED ON THE BOOKING DAY THROUGH ZELLE WITH MY CELL NUMBER 773-236-4071 MUST COME WASH AND B...

show more

Senegalese Twist Closed Together (Mid Back)

$60 DEPOSIT IS REQUIRED ON THE BOOKING DAY THROUGH ZELLE WITH MY CELL NUMBER 773-236-4071 MUST COME WASH AND B...

show more

Small Senegalese Twist Lap Length

$60 DEPOSIT IS REQUIRED ON THE BOOKING DAY THROUGH ZELLE (QUICK PAY) USING MY CELL NUMBER 773-236-4071 MUST C...

show more

Small Senegalese Twist (Mid Back)

$60 DEPOSIT IS REQUIRED ON THE BOOKING DAY THROUGH ZELLE WITH MY CELL NUMBER 773-236-4071 MUST COME WASH AND B...

show more

Large or Jumbo Senegalese Twist

$60 DEPOSIT IS REQUIRED ON THE BOOKING DAY THROUGH ZELLE WITH MY CELL NUMBER 773-236-4071 MUST COME WASH AND B...

show more

Medium Large Senegalese Twist (Mid Back)

$60 DEPOSIT IS REQUIRED ON THE BOOKING DAY THROUGH ZELLE WITH MY CELL NUMBER 773-236-4071 MUST COME WASH AND B...

show more

Regular Medium Senegalese Twist (Low Back)

$60 DEPOSIT IS REQUIRED ON THE BOOKING DAY THROUGH ZELLE WITH MY CELL NUMBER 773-236-4071 MUST COME WASH AND B...

show more

Medium Senegalese Twist (Mid Back)

$60 DEPOSIT IS REQUIRED ON THE BOOKING DAY THROUGH ZELLE WITH MY CELL NUMBER 773-236-4071 MUST COME WASH AND B...

show more

Medium Large Senegalese Twist (Mid Back)

$60 DEPOSIT IS REQUIRED ON THE BOOKING DAY THROUGH ZELLE WITH MY CELL NUMBER 773-236-4071 MUST COME WASH AND B...

show more

Micro Senegalese Twist (Extra Small) Mid Back

$60 DEPOSIT IS REQUIRED ON THE BOOKING DAY THROUGH ZELLE WITH MY CELL NUMBER 773-236-4071 MUST COME WASH AND B...

show more

---

BOX BRAIDS

Regular Box Braids Medium (Mid Back)

$60 DEPOSIT IS REQUIRED ON THE BOOKING DAY THROUGH ZELLE WITH MY CELL NUMBER 773-236-4071 MUST COME WASH AND B...

show more

Box Braids over Locs

$60 DEPOSIT IS REQUIRED ON THE BOOKING DAY THROUGH ZELLE WITH MY CELL NUMBER 773-236-4071 MUST COME WASH AND B...

show more

Large or Jumbo Box Braids

$60 DEPOSIT IS REQUIRED ON THE BOOKING DAY THROUGH ZELLE WITH MY CELL NUMBER 773-236-4071 MUST COME WASH AND B...

show more

Small Box Braids (Mid Back)

$60 DEPOSIT IS REQUIRED ON THE BOOKING DAY THROUGH ZELLE WITH MY CELL NUMBER 773-236-4071 MUST COME WASH AND B...

show more

Regular Box Braids Medium ( LOW BACK)

$60 DEPOSIT IS REQUIRED ON THE BOOKING DAY THROUGH ZELLE WITH MY CELL NUMBER 773-236-4071 MUST COME WASH AND B...

show more

Regular Box Braids Medium (WAIST LENGTH)

$60 DEPOSIT IS REQUIRED ON THE BOOKING DAY THROUGH ZELLE WITH MY CELL NUMBER 773-236-4071 MUST COME WASH AND B...

show more

Regular Box Braids Medium (BUTT LENGTH)

$60 DEPOSIT IS REQUIRED ON THE BOOKING DAY THROUGH ZELLE WITH MY CELL NUMBER 773-236-4071 MUST COME WASH AND B...

show more

---

FEED IN

Feed In

$25 DEPOSIT IS REQUIRED ON THE BOOKING DAY THROUGH ZELLE WITH MY CELL NUMBER 773-236-4071MUST COME WASH AND BL...

show more

Feed In Ponytail

$40 DEPOSIT IS REQUIRED ON THE BOOKING DAY THROUGH ZELLE WITH MY CELL NUMBER 773-236-4071 MUST COME WASH AND B...

show more

---

TRIBAL BRAIDS

Tribal Braids/Fulani Braids/Layered Braids (LARGE)

$60 DEPOSIT IS REQUIRED ON THE BOOKING DAY THROUGH ZELLE WITH MY CELL NUMBER 773-236-4071 MUST COME WASH AND B...

show more

Tribal/Fulani/Layered Braids (MEDIUM)

$60 DEPOSIT IS REQUIRED ON THE BOOKING DAY THROUGH ZELLE WITH MY CELL NUMBER 773-236-4071 MUST COME WASH AND B...

show more

Tribal/Fulani/Layered Braids (SMALL)

$60 DEPOSIT IS REQUIRED ON THE BOOKING DAY THROUGH ZELLE WITH MY CELL NUMBER 773-236-4071 MUST COME WASH AND B...

show more

Tribal/Fulani/Layered Braids (JUMBO)

$60 DEPOSIT IS REQUIRED ON THE BOOKING DAY THROUGH ZELLE WITH MY CELL NUMBER 773-236-4071 MUST COME WASH AND B...

show more

---

BUTTERFLY LOCS

Butterfly/Distressed/Boho Locs (Shoulder Length)

$60 DEPOSIT IS REQUIRED ON THE BOOKING DAY THROUGH ZELLE WITH MY CELL NUMBER 773-236-4071 MUST COME WASH AND B...

show more

Butterfly/Distressed/Boho Locs (Mid Back)

$60 DEPOSIT IS REQUIRED ON THE BOOKING DAY THROUGH ZELLE WITH MY CELL NUMBER 773-236-4071 MUST COME WASH AND B...

show more

Butterfly/Distressed/Boho Locs (Low Back)

$60 DEPOSIT IS REQUIRED ON THE BOOKING DAY THROUGH ZELLE WITH MY CELL NUMBER 773-236-4071 MUST COME WASH AND B...

show more

---

KNOTLESS

Knotless Box Braids Medium Small

$60 DEPOSIT IS REQUIRED ON THE BOOKING DAY THROUGH ZELLE WITH MY CELL NUMBER 773-236-4071 MUST COME WASH AND B...

show more

Knotless Box Braids/Large

$60 DEPOSIT IS REQUIRED ON THE BOOKING DAY THROUGH ZELLE WITH MY CELL NUMBER 773-236-4071 MUST COME WASH AND B...

show more

Knotless Box Braids/Small

$60 DEPOSIT IS REQUIRED ON THE BOOKING DAY THROUGH ZELLE WITH MY CELL NUMBER 773-236-4071 MUST COME WASH AND B...

show more

Knotless Box Braids Medium

$60 DEPOSIT IS REQUIRED ON THE BOOKING DAY THROUGH ZELLE WITH MY CELL NUMBER 773-236-4071 MUST COME WASH AND B...

show more

Goddess Knotless Box Braids

$60 DEPOSIT IS REQUIRED ON THE BOOKING DAY THROUGH ZELLE WITH MY CELL NUMBER 773-236-4071 MUST COME WASH AND ...

show more

Bob Goddess Knotless Box Braids

$60 DEPOSIT IS REQUIRED ON THE BOOKING DAY THROUGH ZELLE WITH MY CELL NUMBER 773-236-4071 MUST COME WASH AND ...

show more

---

KIDS HAIRSTYLE

Kids Box Braids (7-11 years old)

COME WASH AND BLOW DRY OTHERWISE IS $15 EXTRA FEE NOTE : $60 DEPOSIT IS REQUIRED ON THE BOOKING DAY THROUGH Z...

show more

Kids Kinky Twist (7-11 years old)

COME WASH AND BLOW DRY OTHERWISE IS $15 EXTRA FEE NOTE : $60 DEPOSIT IS REQUIRED ON THE BOOKING DAY THROUGH ZE...

show more

Kids Box Braids (12-15 years old)

COME WASH AND BLOW DRY OTHERWISE IS $15 EXTRA FEE NOTE : $60 DEPOSIT IS REQUIRED ON THE BOOKING DAY THROUGH Z...

show more

Kids Kinky Twist (12-15 years old)

COME WASH AND BLOW DRY OTHERWISE IS $15 EXTRA FEE NOTE : $60 DEPOSIT IS REQUIRED ON THE BOOKING DAY THROUGH Z...

show more

KIDS Senegalese Twist (12-15 years)

WASH AND BLOW DRY OTHERWISE IS $15 EXTRA FEE Two strand twist done with extension (kanekalon) It will also de...

show more

---

TAKE DOWN

Box braids Take Down

Only during week Monday through Thursday from 3 P.M. to 6 P.M. NOTE : $25 DEPOSIT IS REQUIRED ON THE BOOKING D...

show more

Senegalese Twist Take Down

Only during week Monday through Thursday from 3 P.M. to 6 P.M. NOTE : $25 DEPOSIT IS REQUIRED ON THE BOOKING...

show more

---

TOUCHED UP

Micro Braids Touched Up

COME WASH AND BLOW DRY OTHERWISE IS $15 EXTRA FEE The price depends on the client hair length Monday through T...

show more

Micro Braids Wet & Wavy Touched Up

COME WASH AND BLOW DRY OTHERWISE IS $15 EXTRA FEE The price depends on the client hair length Monday through T...

show more

Regular Box Braids Touch Up

Not included the take down ($40 Extra Fee) The price depends on the size and length of the style Regular box ...

show more

Regular Senegalese Twist Touch Up

Not included the take down ($30 extra for the stylist to take down) $150 (3 row in the front and 2 rows in the...

show more

Touch up Senegalese Twist Waist Length

Not included the take down before the touched up. $30 extra to take down by braider before touch up $170 (3 r...

show more

---

SEW IN

Full Sewing

COME WASH AND BLOW DRY OTHERWISE IS $15 EXTRA FEE NOTE : $40 DEPOSIT IS REQUIRED ON THE BOOKING DAY THROUGH ZE...

show more

Sewing/Leave Out

COME WASH AND BLOW DRY OTHERWISE IS $15 EXTRA FEE NOTE : $30 DEPOSIT IS REQUIRED ON THE BOOKING DAY THROUGH ZE...

show more

---

MARLEY TWIST

Mid Back Marley Twist/Havana Twist

Hair is not included fir this style COME WASH AND BLOW DRY OTHERWISE IS $15 EXTRA FEE $20 Extra for low back ...

show more

Waist Marley Twist/Havana Twist

Hair is not included fir this style COME WASH AND BLOW DRY OTHERWISE IS $15 EXTRA FEE NOTE : $60 DEPOSIT IS R...

show more

Havana Twist/Marley Twist

COME WASH AND BLOW DRY OTHERWISE IS $15 EXTRA FEE Mid back $180 Low back $220 I do not provide the hair for ...

show more

---

FAUX/GODDESS LOCS

Goddess Faux Locs (Mid Back)

COME WASH AND BLOW DRY OTHERWISE IS $15 EXTRA FEE This price is only for the Large goddess locs. Hair is not ...

show more

Faux Locs

COME WASH AND BLOW DRY OTHERWISE IS $15 EXTRA FEE Shoulder length (Client brings their own hair) The style wit...

show more

Small Goddess Locs

COME WASH AND BLOW DRY OTHERWISE IS $15 EXTRA FEE This price only for the Large goddess locs. Hair is not incl...

show more

Medium Goddess Locs

COME WASH AND BLOW DRY OTHERWISE IS $15 EXTRA FEE This price only for the Large goddess locs. Hair is not incl...

show more

---

NUBIAN TWIST

Full Length Nubian Hair Twist

COME WASH AND BLOW DRY OTHERWISE IS $15 EXTRA FEE NOTE : A DEPOSIT IS REQUIRED ON THE BOOKING DAY THROUGH ZELL...

show more

Short Nubian Twist

COME WASH AND BLOW DRY OTHERWISE IS $15 EXTRA FEE NOTE : $60 DEPOSIT IS REQUIRED ON THE BOOKING DAY THROUGH ZE...

show more

Long Nubian Twist

COME WASH AND BLOW DRY OTHERWISE IS $15 EXTRA FEE NOTE : A DEPOSIT IS REQUIRED ON THE BOOKING DAY THROUGH ZELL...

show more

---

PASSION TWIST

Passion Twist

COME WASH AND BLOW DRY OTHERWISE IS $15 EXTRA FEE $50 extra for low back length NOTE : $60 DEPOSIT IS REQUIRE...

show more

---

CROCHET BRAIDS

Pre Twist/Braids Crochet

This style is done from Monday to Thursday from 3 P.M. COME WASH AND BLOW DRY OTHERWISE IS $15 EXTRA FEE NOT...

show more

Loose Crochet

This style is done from Monday to Thursday from 3 P.M. COME WASH AND BLOW DRY OTHERWISE IS $15 EXTRA FEE Shor...

show more

Individual Crochet Braids

This style is done from Monday to Thursday from 3 P.M. COME WASH AND BLOW DRY OTHERWISE IS $15 EXTRA FEE Clie...

show more

---

PIXIE BRAIDS

Pixie Braids

COME WASH AND BLOW DRY OTHERWISE IS $15 EXTRA FEE I only take this style Monday through Thursday and Sunday on...

show more

Micro Pixie Braids

COME WASH AND BLOW DRY OTHERWISE IS $15 EXTRA FEE Neck Length This style is done from Monday through Thursday...

show more

---

WASH & BLOW DRY

Wash & Blow Dry

Wash and blow dry only doesn't include detangle a client hair. $30 Extra to detangle.

---

MOHAWK BRAIDS

Mohawk Braids with Regular Corn Rows

COME WASH AND BLOW DRY OTHERWISE IS $15 EXTRA FEE $20 Extra for low back and $40 for butt length NOTE : $60 D...

show more

Mohawk with Medium Feed-In French Braids

COME WASH AND BLOW DRY OTHERWISE IS $15 EXTRA FEE Small Feed in Braids Mohawk $230 Large Feed in Braids Mohawk...

show more

---

KINKY TWIST

Kinky Twist

COME WASH AND BLOW DRY OTHERWISE IS $15 EXTRA FEE $30 extra for fuller braids $50 extra for pass shoulder leng...

show more

---

Lemonade Braids

Jumbo Lemonade Braids

COME WASH AND BLOW DRY OTHERWISE IS $15 EXTRA FEE $20 Extra for waistline and $40 for butt length NOTE : $40 ...

show more

Medium Lemonade Braids

COME WASH AND BLOW DRY OTHERWISE IS $15 EXTRA FEE $30 Extra for low back and $50 for butt length NOTE : $60 D...

show more

Small Lemonade Braids

COME WASH AND BLOW DRY OTHERWISE IS $15 EXTRA FEE $30Extra for low back and $60 for butt length NOTE : $60 DE...

show more

---

BOB BRAIDS

Large Bob Braids

COME WASH AND BLOW DRY OTHERWISE IS $15 EXTRA FEE $40 for Shoulder Length NOTE : $60 DEPOSIT IS REQUIRED ON TH...

show more

Medium Bob Braids

COME WASH AND BLOW DRY OTHERWISE IS $15 EXTRA FEE $40 for shoulder length NOTE : $60 DEPOSIT IS REQUIRED ON T...

show more

Small Bob Braids

COME WASH AND BLOW DRY OTHERWISE IS $15 EXTRA FEE $40 for shoulder length NOTE : $60 DEPOSIT IS REQUIRED ON T...

show more

---

MICRO BRAIDS

Micro Braids

COME WASH AND BLOW DRY OTHERWISE IS $15 EXTRA FEE The time depends on each client hair length the hair is incl...

show more

Micro Wet & Wavy

COME WASH AND BLOW DRY OTHERWISE IS $15 EXTRA FEE The time depends on each client hair length the hair is incl...

show more

Micro Twist

COME WASH AND BLOW DRY OTHERWISE IS $15 EXTRA FEE The time depends on each client hair length the hair is incl...

show more

---

SPRING TWIST

Spring Twist Mid Back Length

COME WASH AND BLOW DRY OTHERWISE IS $15 EXTRA FEE NOTE : $60 DEPOSIT IS REQUIRED THE DAY OF THE BOOKING THROUG...

show more

Spring Twist Shoulder Length

COME WASH AND BLOW DRY OTHERWISE IS $15 EXTRA FEE NOTE : $60 DEPOSIT IS REQUIRED ON THE BOOKING DAY THROUGH ZE...

show more

Spring Twist Neck Length

COME WASH AND BLOW DRY OTHERWISE IS $15 EXTRA FEE NOTE : $60 DEPOSIT IS REQUIRED ON THE BOOKING DAY THROUGH ZE...

show more

---

GODDESS BOX/TRIANGLE BRAIDS & TWIST

Jumbo Triangle Box Braids

COME WASH AND BLOW DRY OTHERWISE IS $15 EXTRA FEE COME WASH AND BLOW DRY OTHERWISE IS $15 EXTRA FEE Hair is in...

show more

Medium Triangle Box Braids

COME WASH AND BLOW DRY OTHERWISE IS $15 EXTRA FEE $40extra for low back $80extra for Butt length NOTE : $60 D...

show more

Medium Goddess Box Braids

COME WASH AND BLOW DRY OTHERWISE IS $15 EXTRA FEE It will also depends on how much and long is the client own ...

show more

Goddess Triangle or Box (Square) Braids

COME WASH AND BLOW DRY OTHERWISE IS $15 EXTRA FEE Small : $270 / Medium: $240 / Large : $220 Length (MID BACK)...

show more

---

INTERLOCK BRAIDS/TREE BRAIDS

Interlock Braids

COME WASH AND BLOW DRY OTHERWISE IS $15 EXTRA FEE $50 Extra for longer length NOTE : A DEPOSIT IS REQUIRED ON...

show more

---

Crown Box Braids

Crow Medium Box Braids (Mid Back)

COME WASH AND BLOW DRY OTHERWISE IS $15 EXTRA FEE To tuck (hide) your hair inside the extension is $40 extra...

show more

Crown Medium Box Braids Mid Back (To the Ears)

COME WASH AND BLOW DRY OTHERWISE IS $15 EXTRA FEE To tuck (hide) your hair inside the extension is $40 extra...

show more

---

Crown Senegalese Twist

Crown Medium Senegalese Twist Mid Back

COME WASH AND BLOW DRY OTHERWISE IS $15 EXTRA FEE To tuck (hide) your hair inside the extension is $40 extra...

show more

Crown Medium Senegalese Mid Back (To The Ears)

COME WASH AND BLOW DRY OTHERWISE IS $15 EXTRA FEE To tuck (hide) your hair inside the extension is $40 extra...

show more

---

SOFT LOCS

Soft Locs

A $60 deposit is required on the booking day through ZELLE using my cell number 773-236-4071. Come wash and b...

show more

---

MEN BRAIDS

Men Braids

$30 deposit is required on the booking day with this number 773-236-4071 through ZELLE Must come wash and blo...

show more

Men Comb Twist

$30 deposit is required on the booking day with this number 773-236-4071 through ZELLE Must come wash and blo...

show more

---
Venue Health and Safety Rules
Reviews
Reviews are no joke! Booksy values authentic reviews and only verifies them if we know the reviewer has visited this business.
As usual I am very pleased with my services. Ayo is always on time very professional and has a great attitude! There's no one else that's braids my hair at this point and I highly recommend her!...
ABSOLUTELY WONDERFUL! Ayo is a beautiful spirit and does an AWESOME job! I really enjoyed the atmosphere and her pleasantly great attitude! I will definitely be going back and recommending! THANK YOU AYO!...
I love this intimating she makes everything so convenient for me she's always making my girls look great thanks...
Ayo is very professional and gets started right away.. She got it done beautifully... I'll definitely be back....
Not only was she super sweet and prompt she got done really fast and definitely takes pride in her work because my box braids are gorgeous I'm coming back and so is the whole family lol...
Your service was great love my hair😊 Thanks for the advice!!!...
Ayo is absolutely amazing very professional great work😊 will definitely be back!...
SINCE 2014, ON POINT AS ALWAYS!!!❤...
Did not get what I expected. Very argumentative was late to my appointment and I was already there....
Ayo Braids & Beauty
First let me start by saying Thank you for the the review I did the style you asked and pay for and also way pass the length you were supposed to get, on top of that you were not willing to buy the crochet hair to archive what you wanted and you pick an alternative style and blaming me for now. Thank God for text message who can also backed me up I wish I could post a picture and video of your hair so people can see because I had the intuition that this situation right here would happened. I keep track of my call. Your hair appointment was at 12 P.M. and I came at 11:51 am which is 9 minutes before your hair appointment. I won't be sitting there and let you bully me and cheating me by trying to play mind game get on me to play me to give you a longer length while you told me you wanted mid back length so do your mom when I talked to her. Everyone know the difference between mid back and low back I guess not you.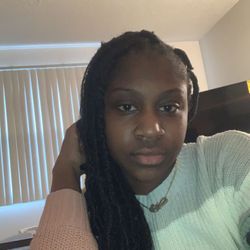 Professional ❤️ started on time didn't have to wait. Was the only in there getting my hair done. Has WiFi and she plays good movies ....
I just adore Ayo. Shes thorough and very good in her craft. She will continue getting my business. Also im currently disabled and she makes it her duty to make sure im ok. She's a good girl, thank you Ayo until next time....
She was great!! I will definitely be back. I was in and out on time and she doesn't braid tight 🙌🏽...
I absolutely love going to Ayo she's fast and do excellent work! I will definitely be back😊...
Great job. Reasonable price...
She was nice and my hair looks very professional. I will be back. Thanks....
Love my braids! Excellent work! Nice clean shop!...
I would never go to anyone else to braid my hair ever again . This is the second time I was serviced and I'm even more satisfied than before. She started on time and like others she didn't take 8 hours , 4 hours top . The customer service is amazing ...