Empowered Beauty Studios
436 s grant st, South Bend, 46619
Empowered Beauty Studios
436 s grant st, South Bend, 46619
---
Travel fee

Travel fee

Travel fee is required as a nonrefundable deposit fee before securing date. Contact Merchant for payment optio...

show more

---

Microblading

Microblading first session

First session includes consultation deposit of half price must be given.

Microblading 3 year touch up

After 3 years price goes back to original price !

Microblading touch up

Touch up only of my work must be between 6-8 weeks ! Cannot touch up others work.

---

Body treatments

Full body massage

Full body massage includes upper and lower back, neck ,arms, hands,feet and legs.

Target massage

Target massage is a massage targeted in areas you want worked on!

Black mask facial treatment

Hydro jelly mask

Stand alone service can be agreed to any other service

Basic facial

Facial includes cleansing, exfoliating, a mask toning and moisturizing with a facial massage in between!

Deluxe facial /Dermaplaning

Facial includes cleansing, exfoliating, a hydro jelly mask toning dermaplaning which removes any peach fuzz or...

show more

Premium facial

Facial includes cleansing, exfoliating, a hydro jelly mask toning dermaplaning which removes any peach fuzz or...

show more

---

Haircolor

Ombre/balayage with color

Color Correction

Must contact merchant before booking appointment. (574)3343318

Full head highlights

Must contact merchant before booking appointment. (574)3343318. Price and duration varies with length and thic...

show more

Partial highlights

Must contact merchant before booking appointment. (574)3343318. Price and duration varies with length and thic...

show more

Ombre/balayage

Must contact merchant before booking appointment. (574)3343318. Price and duration varies with length and thic...

show more

Solid color/lighter

Must contact merchant before booking appointment. (574)3343318. Price and duration varies with length and thic...

show more

Solid hair color/darker

Must contact merchant before booking appointment. (574)3343318. Price and duration varies with length and thic...

show more

---

Hair styles

1 braid

$10 per braid for multiple braid add service and add how many braids desired

---

Haircuts

Woman haircut layers, bob etc

Any type of haircuts bobs, A symmetrical ,& layers are same price!

Woman haircut trim

Only trimming ends no layers!

---

Nails

Manicure

Manicure includes nail cleaning shaping and cuticle cutting finished off with nail polish and hand masage!

Sculpted free form full set

Can only be provided on a full set !

Ombré Acrylic Nails

Ombré nails can only be done on full sets this is performed with colored acrylic ! Thank you

All Acrylic Free Style

Free style allows the merchant to do as pleased to your nails

Full set

Only acrylic does not include polish ! Must book separately

Fill in

Only fill doesn't include polish! Must book service separately.

Nail fix

All nail service previously provided by Makeupbyverog includes free nail fixings within the 2 week time period...

show more

Designed nails

For every 2 nails of choice.

Full finger swarovski crystals

Individual swarovski crystal

---

Makeup

Makeupverog Full Face Beat

This service provides a full face beat with signature Makeupbyverog Lashes!!

Full face makeup with lashes

Full face makeup includes eye-shadow, brow filling,natural false lashes foundation highlighting and contouring...

show more

Full face makeup without lashes

This service does not include lashes or the application of your own lashes.

Makeupbyverog Eye Makeup

This service includes brow fill in,eye-shadow, and makeupbyverog lashes!

Eye makeup with lashes

Includes eye-shadow natural false lashes and brow fill

Eye makeup without lashes

This service does not include lashes or the application of your own lashes!

Face makeup only

Includes foundation highlighting and contouring and lipstick of your choice

Brow fill in

Brows are filled in with makeup to enhance the a look to perfection for only $5 more! This is not a brow tint ...

show more

Eyebrow tint

brow tinting is a tint that typically last up to a week or two depending on clients maintenance .

Halloween face and chest makeup

---

Lashes

Makeupbyverog Lashes

Signature Makeupbyverog lash line application

---

Eyelash extensions

Classic lash fill ( 2 weeks old)

Must be 1-2 weeks old from last touch up. If greater than 2 weeks, then will be considered a NEW full set & no...

show more

Volume set fill (MUST be 2 weeks old)

Must be 1-2 weeks old from last touch up. If greater than 2 weeks, then will be considered a NEW full set & no...

show more

Mega Volume Lash fill (2 weeks old)

Must be 1-2 weeks old from last touch up. If greater than 2 weeks, then will be considered a NEW full set & no...

show more

---
Reviews
Reviews are no joke! Booksy values authentic reviews and only verifies them if we know the reviewer has visited this business.
Love the convenience of two talented ladies in one place. Fatima is fast with lashes and they came out great. Vero is did an awesome job with my eyebrows you can tell she's experienced. Will be back!...
Excellent service! I got my makeup done on a Saturday evening for my birthday and it exceeded my expectations. I came back that Monday and got the Premium facial and loved it!...
Good Vibes off bat! Vero is good at what she does and she is very friendly !...
Great service, answered all my questions, very friendly, definitely will be back...
Veronica did an awesome job! I love her work!...
She was very professional and Friendly. The atmosphere was nice and relaxing. I loved my makeup. THANK YOU...
Everytime I come to Veronica I leave her studio loving my make-up! She's amazing!...
She made me feel beautiful !!!! Thank you and I highly recommend her ....
Veronica is Amazing. Super professional with a Gorgeous work space. The best local makeup artist around!...
She is so sweet and extremely talented...
Veronica is awesome! She always does such a great job, and is very social/comforting. I'd recommend get to anyone. :)...
Love my nails! Veronica is professional and quick but neat with her work....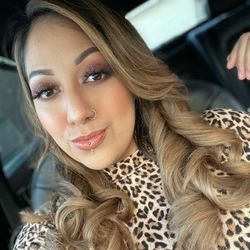 Vero G did an amazing job on my hair I love it. Definitely recommend her 👍...
You do a excellent job every time thanks...
Veronica is an amazing person to get to know! I enjoy being able to relax & also have a conversation with the person providing my service and she has never disappointed!...
I love this place one person i trust with my face!...
Always my only place for it all!!!...