Hair By Peaches
Patriot Blvd, 8465, North Charleston, 29420
Hair By Peaches
Patriot Blvd, 8465, North Charleston, 29420
---
Mid back distressed locs

50 dollar deposit to cash app before confirming appointment (hairbypeaches) is my cash app Style can last 4 mo...

show more

Boho locs touch ups

25 dollar deposit before confirming appointment to cash app hairbypeaches This is for only touch ups this is o...

show more

Boho loc bob

50dollar deposit to cash app hairbypeaches before confirming appointment (style includes hair) human hair ends...

show more

Hip length boho locs

70dollar deposit before confirming appointment to cash app hairbypeaches hair included comes with synthetic cu...

show more

Virgin hair boho locs waist length

200 deposit before confirming appointment to cash app hairbypeaches this styles comes with hair provided this ...

show more

Boholocs take out

25 dollar deposit to cash app hairbypeaches before confirming appointment this is just a take down no style af...

show more

Shaved sides boho locs

45 dollar deposit to cash app hairbypeaches before confirming appointment hair included

3 5 /4 hrs + Traveling services for any locs

Included hair 165 dollar deposit before confirming appointment cash app no early mornings please when it's for...

show more

Small boho locs

Includes hair 70 dollar deposit to cash app hairbypeaches before confirming appointment this style comes with ...

show more

Hip length distressed locs

70 dollar deposit to cash app hairbypeaches comes with synthetic curly ends if u want human hair ends it will ...

show more

Virgin hair locs (mid back) these are pre made

(hair is included) must send 100 deposit to confirm appointment

Touch up for messy gypsy locs

Hair is not included in the touch up must bring your on pack of curly crochet hair to refresh the curls 25 Dol...

show more

Soft locs 36 inches or 24 inch

Hair is NOT INCLUDED must send 30 dollar deposit to cash app hairbypeaches before appointment can be confirmed

Waist length distressed locs

60 dollar deposit to cash app hairbypeaches before confirming appointment

Waist length boho locs

60 dollar deposit to cash app hairbypeaches before confirming appointment

Ombre locs mid back

Must send 50 dollar deposit to hair by peaches hair is included with this style colors are 350 530 and 613 27 ...

show more

Shoulder length ombre locs

Must pay 50 dollar deposit to cash app hairbypeaches before confirming appointment this style comes with the c...

show more

Waist length ombre locs

Must pay 60 dollar deposit to cash app hairbypeaches before confirming appointment this style comes with the c...

show more

Distressed loc bob

Must pay 50 dollar deposit to cash app hair by peaches before confirming appointment

Bob butterfly locs

50 dollar deposit to cash app hairbypeaches to confirm appointment

Shoulder length butterfly locs

Must send 50 dollar deposit to cash app hairbypeaches before confirming appointment

Mid back butterfly locs

Must send 60 dollar deposit to cash app hairbypeaches before confirming appointment

Waist length butterfly locs

Must send 60 dollar deposit to cash app hairbypeaches before confirming

Hip length butterfly locs

60 dollar deposit to cash app hairbypeaches before confirming

Bob and shoulder touch up for butterfly locs

15 deposit to cash app hairbypeaches before confirming appointment

Butterfly locs touch up for all other lengths

20 dollar deposit to cash app hairbypeaches before confirming appointment

gypsy locs shoulder

This is raw Indian hair throughout the locs must send deposit of 100 to book to cash app hairbypeaches

Waist length gypsy locs (indian hair curls)

Raw Indian hair is used with these locs must send 100 dollar deposit to cash app hairbypeaches before confirmi...

show more

Mid back gypsy locs (indian hair)

Must send 100 deposit to cash app hairbypeaches before confirming appointment

Free touch ( gyspy locs only)

---
Reviews
Reviews are no joke! Booksy values authentic reviews and only verifies them if we know the reviewer has visited this business.
Absolutely loved my first experience with Peaches! She was very professional. Offered very good advice and guidance on what would work best for me. The end product was a very satisfied client! I will be returning!...
I love the look of my style. She was efficiently fast & her hands are very smooth on the care of braiding. Hardly no pain. Her vibe is cool. So much better than what I've come across in Charleston. Thank you again....
I love how my hair came out! Awesome!...
I love my hair everyone loves this look...
Peaches was a pleasure and held great conversation throughout the entire appointment. We had a great time and I love my locs. They are so light and gorgeous. I appreciate her because I know I have a lot of her but u tougher through it all (feet and s...
Far beyond anything expected. So quick and fast with handwork it's insane. This is my second service with her and I plan on continuing. Communicates well, great on pricing and will have no problem correcting any slip ups....
She was on time and super nice. We had great conversation and i loved my hair. Book with her and you won't be disappointed!...
I actually got blessed by this Queen from a raffle contest that I won and won BIG TIME because I LOVE MY HAIR!!!!!I have NEVER had my life look and feel so NATURAL!!! She is very professional and soft spoken! She took her time and paid attention to e...
Very unprofessional. Contacted me 30 mins before my scheduled appointment to tell me that she had to go "take someone to go pick up there car from the tow and that she may be available in another hour." I tried to be understanding and figure out a d...
Hair By Peaches
i told u i would give u a discount and u asked for a lower price of an discount and i said no i cant do that so i told u i could give your deposit back and u got it back u decided not to pay what lower price i gave you honey so when i text u and told u i was home at 10:09 n u never responded back until about a hr and said u had to work later u had the attitude with me so please dont sit here and lie with text msges i still have now have a good day !!
I am excited for my new look! Very quick and efficient! Looking forward to returning! Thanks again!...
Very professional and polite. She made me feel very comfortable!! And she did a great job on my hair!!!...
LOVE my hair! Very professional and personable....
The atmosphere was great. Very professional, and awesome service. I will be back for future service😊. Im...
Soo happy with my hair!! Peaches is very professional and I left extremely satisfied...
Nice, personable, and professional. PLUS she works super fast and her work is very neat. Will def be using her again....
Peaches was a blessing to find. I have toddler and needed a style that doesn't require much daily maintenance. She responded to my messages in a timely matter and was very easy to talk to. I was very specific about how i wanted my hair to look (not l...
Love my box braids. She braided them in a timely manner and although I purchased the wrong hair she still finished in abour 4 hours...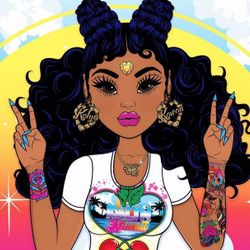 She is very sweet and personable. She did a great Job on my hair... I love it. Thank you...
The experience was amazing. Peaches was personable and I felt comfortable in her atmosphere. She did a great job on my hair she was finished in the exact time she advertises. I will definitely be booking Peaches in the future....