Brea's Hair Bliss
8389 Almeda Rd., Klassic Kutz, Houston, 77054
Brea's Hair Bliss
8389 Almeda Rd., Klassic Kutz, Houston, 77054
---
Popular Services

2 strand twist (Whole head) natural hair

This service includes a shampoo/condition with a two strand style. Up charge for longer lengths

Loc Retwist (Crown)

This service includes a shampoo, hair is retwisted and set. Style NOT included with service

Loc retwist & style (crown)

Hair is shampooed and conditioned, retwisted/set and styled.This service price varies depending on how much ha...

show more

---

Other Services

Consultation (Free)

Hair analysis of what styles, processes or treatments can be performed. (THIS IS NOT A HAIR APPOINTMENT.)

---

Weaving

Bundle customization

This service starts at $25 per bundle.

Crochet Braids

This service includes a shampoo/condition with a crochet installation styled to your desire.

Crochet braids w/individual perimeter

This service includes a shampoo/condition with a crochet installation. Hair is individually braided around per...

show more

Traditional Sewin

This service includes a shampoo/condition, a flat braid down, up to 3 bundles sewn in (with leave out) and sty...

show more

Sewin w/closure

This service includes a shampoo/condition with a flat braid down, full head sewn in with a lace closure and st...

show more

Sewin Maintenance

This service includes a shampoo/ condition ,retightning of tracks and a flat iron style.

Closure maintenence

This service includes a shampoo/ condition ,retightning of tracks and a flat iron style. Along with the re-lay...

show more

Quick Weave

The service includes a shampoo and condition, hair is braided or molded (if short), a nylon cap is applied and...

show more

Cornrows with hair added

This service includes a shampoo/condition with a extension braid style. Price varies based on the style chosen...

show more

---

Color

Single process Color (Short faded)

This service includes a single process color service, shampoo, deep condition, with a flat iron style. Price v...

show more

Single process Color (medium lengths)

This service includes a single process color service, shampoo and a deep condition. Price varies based on leng...

show more

SIngle process color (long lengths)

This service includes a 1 process color service, shampoo and a deep condition. Price varies based on length an...

show more

Double process color (short faded)

This service includes a double process hair color with a shampoo and deep condition. A double-process color re...

show more

Double process (medium length)

double-process color refers to anytime two color services are done in one visit. This can include lightening t...

show more

---

Braids/twist

Cornrow braids (Whole head)

This service includes a shampoo/condition and a cornrow style of your choosing. Additional charges may apply f...

show more

Cornrows (Mohawk area)

This service includes a shampoo/condition and cornrow style of your choosing. Additional charges may apply for...

show more

Cornrow Braids (Crown area)

This service includes a shampoo/condition and a basic cornrow style. Additional charges may apply for style, l...

show more

2 strand twist (Whole head) natural hair

This service includes a shampoo/condition with a two strand style. Up charge for longer lengths

2 strand twist (mohawk area)

This service includes a shampoo/condition with a two strand style. Up charge for longer lengths

---

Hair cuts

Haircut

This service is performed with shears. Haircut examples: Bob, layers, even, asymmetric etc.

Big chop

Hair is shampooed and conditioned. All relaxed or heat damaged hair is cut off with shears.

Trim (stand alone service)

---

Natural Styling

Updo (natural)

This service includes a shampoo/condition and a style. Upcharge for hair additions and longer lengths.

Blow out (natural hair)

Hair is shampooed/conditioned and flat ironed.

Silk Press (Natural Hair)

This service includes a shampoo/condition with a flat iron style. Price varies based on length and density of ...

show more

Texture release treatment

Avlon Texture Release is heat activated with amino acids and conditioning agents which go deep into the hair f...

show more

Ponytail

This service includes a shampoo and condition. A flatiron to slick the hair and styled and set into a ponytail...

show more

---

Relaxed hair

Blow out (Relaxed hair)

This service includes a shampoo/condition with a flat iron style. Price varies based on length and density of ...

show more

Virgin relaxer

This service includes a relaxer application from root to ends, shampoo, deep condition treatment, trim with a ...

show more

Relaxer retouch

This service includes a root touch up (1 -3 inches) shampoo, deep condition with a flat iron style.

Spot relaxer (add-on)

This service is an add-on only. It includes a small area such as leave out or the perimeter of your hair line ...

show more

Rod set (Relaxed)

This service includes a shampoo/condition and a roller rod set. Upcharge for longer lengths

---

Locs

Starter Locs (Whole head)

This service includes a shampoo/condition, comb coil start up and set. This service price varies depending on ...

show more

Starter Locs (Mohawk)

This service includes a shampoo/condition, comb coil start up and set. This service price varies depending on ...

show more

Starter Locs (Crown area)

This service includes a shampoo/condition, comb coil start up and set. This service price varies depending on ...

show more

Loc retwist & style (crown)

Hair is shampooed and conditioned, retwisted/set and styled.This service price varies depending on how much ha...

show more

Loc Retwist (Crown)

This service includes a shampoo, hair is retwisted and set. Style NOT included with service

---

Braid/extension removal

Crochet braid removal (add-on)

Sewin extension removal (add-on)

Cornrow Takedown (add on) Natural hair only

---

Treatments

Hot oil treatment (add on)

This service includes a shampoo/condition and hot oil scalp treatment.

Deep conditioner (add-on)

---
Venue Health and Safety Rules
Reviews
Reviews are no joke! Booksy values authentic reviews and only verifies them if we know the reviewer has visited this business.
Well very exciting customer service great representative of the company been a lawyer customer for over 4 years thanks!...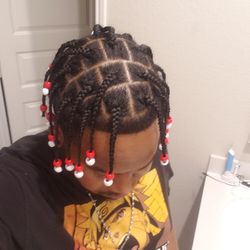 Brea did such an amazing job. Im definitely going back again to get my hair done when its time again...
My twists look fantastic!...
Phenomenal! Had a great experience and my hair came out better than I thought it would. For sure going back. Brea got the hook up for real!...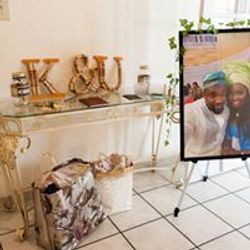 Perfection!!! every single time!...
Very good and "affordable" when it came to my dreads!!...
Very professional. Will definitely be back!...
Anything I show her she is able to do. It does not matter the style....
I'm always satisfied when I leave. Great energy, great person. I love it....
First time coming to Brea. Very sweet, professional, personable, asked questions, examined my hair... the whole 9. I have been natural since 2011 but hadn't had my hair professionally done since 2016. She showed me her process, was thorough, & gave t...
I had a great experience & I love my hair!!...
She's been very very professional she cares how you feel she takes time with your hair you come in looking like nothing you come out looking like something. Yes she has magical fingers so I give her a 5 on top...
Brea is amazing when it comes down to my hair, such a sweet and very professional person. I will never go to anyone else when it comes to a silk press. She's very proficient, very nice and it's a good vibe when you're in her chair....
She was very nice and made me feel comfortable, and her work is great...
Brea is phenomenal and so down to earth! She gave me a trim to even my hair all around. My curl pattern is kinky|coily 4A type and thick so it's usually a little painful for me when it's detangled. That was not the case with Brea! I appreciate her ti...
My Bob is flawless! I love it!...
I would like to start by saying I rarely review hairstylists due to me fully being satisfied, as there is normally one factor or another that displeases me in some way. However, the service received from Brea from start to finish was spotless. She ch...