Sweet Tooth Gems & GRILLZ
3439 International, DO NOT PARK behind our bldg/BART parking available, Oakland, 94601
Sweet Tooth Gems & GRILLZ
3439 International, DO NOT PARK behind our bldg/BART parking available, Oakland, 94601
---
Popular Services

CLOSED (Free Gem Day)

THIS EVENT IS CLOSED/FULL! Congratulations! We did it and we want to thank you by having a free gem day! You ...

show more

1 Gemz 💎

Our tooth jewelry is  made by Genuine Swarovski Crystals that are small in diameter, have a flat back platinum...

show more

Repair/Fitting (FREE first 30 days)

This service is to replace your Swarovski Crystal that came off. You are with the 30day FREE replacement perio...

show more

---

GIFT CARD 💝

$25 Gift Card 💝

In Store pick up or FREE delivery in Oakland. Select your date for pick up or delivery 🚚

$50 Gift Card 💝

In Store pick up or FREE delivery in Oakland. Select your date for pick up or delivery 🚚

$100 Gift Card 💝

In Store pick up or FREE delivery in Oakland. Select your date for pick up or delivery 🚚

---

SWAROVSKI CRYSTALS TOOTH GEM

1 Gemz 💎

Our tooth jewelry is  made by Genuine Swarovski Crystals that are small in diameter, have a flat back platinum...

show more

2 Gemz 💎

Our tooth jewelry is  made by Genuine Swarovski Crystals that are small in diameter, have a flat back platinu...

show more

3 Gemz 💎

Our tooth jewelry is  made by Genuine Swarovski Crystals that are small in diameter, have a flat back platinum...

show more

4 Gemz 💎

Our tooth jewelry is  made by Genuine Swarovski Crystals that are small in diameter, have a flat back platinum...

show more

5-8 Gemz 💎

Our tooth jewelry is  made by Genuine Swarovski Crystals that are small in diameter, have a flat back platinum...

show more

---

GOLD TOOTH GEMS ✨

18k / 22k Gold ⭐️

Each piece is hand crafted and individually polished to create the perfect piece of dental jewelry out there! ...

show more

2 Gold Gemz 🌙🌙

Select this service and select ANY 2 gold Gemz of your choice.

---

DIAMOND TOOTH GEMS

1 Diamond 💎 (0.02 ct)

THERE ARE NO REFUNDS! We guarantee our work and will replace any tooth gem for free within the first 30 days! ...

show more

1-Diamond (0.04) 💎

THERE ARE NO REFUNDS! We guarantee our work and will replace any tooth gem for free within the first 30 days! ...

show more

1 - Diamond 0.06 (Special Order) 💎

THERE ARE NO REFUNDS! We guarantee our work and will replace any tooth gem for free within the first 30 days! ...

show more

2 Diamonds 0.02 ct 💎 💎

THERE ARE NO REFUNDS! We guarantee our work and will replace any tooth gem for free within the first 30 days! ...

show more

2-Diamonds 0.04ct 💎 💎

THERE ARE NO REFUNDS! We guarantee our work and will replace any tooth gem for free within the first 30 days! ...

show more

---

TOOTH GEM DESIGNS

The Chandelier ⚜️

A bunch of extra small swarovski fairy dust crystals strategically placed on the tooth to create the Chandelie...

show more

1 Discoball 💃🏾

A bunch of extra small swarovski crystals strategically placed on one tooth to create the DISCO BALL TOOTH

2 Discoballs 💃🏾💃🏾

A bunch of extra small swarovski crystals strategically placed on one tooth to create the DISCO BALL TOOTH

---

PROFESSIONAL TEETH WHITENING

Teeth Whitening (BASIC) 😁

1 Hour Tooth Whitening Sessions with American Made Products. We use a 16% peroxide based Whitening Gel whic...

show more

Teeth Whitening (24k) ✨

This Deluxe teeth whitening session uses 24 karat gold 24K Gold has bacteriostatic properties that help contro...

show more

Basic Group Session (2 people max) 👥

This service is for a group of 2 people. Two people will receive our Basic Teeth Whitening service together. B...

show more

24k Group Session (2 person max)👥

This service is for a group of 2 people. Two people will receive our 24k Teeth Whitening service together. Bri...

show more

---

TEETH REPAIR

SMALL Chip or Gap Filler

We will examine the tooth to be treated to determine if you'd qualify for the repair. Combining bonding with r...

show more

LARGE Chipped Tooth

We will examine the tooth to be treated to determine if you'd qualify for the repair. Combining bonding with r...

show more

Missing Tooth

I/We will examine the tooth to be treated to determine if you'd qualify for the repair. Combining bonding with...

show more

Repair/Fitting (FREE first 30 days)

This service is to replace your Swarovski Crystal that came off. You are with the 30day FREE replacement perio...

show more

Gem Removal

This flat rate applies to small & large tooth gem applications.

---

GRILLZ

Mold Impression

This service is for customers who are READY to purchase a GRILL. The deposit goes towards the balance of your ...

show more

SHIP OUT Mold Impression Kit

This service is for customers who are READY to purchase a GRILL. The deposit ($100) goes towards the balance o...

show more

Gold Grillz Bath & Polish

Hey give your GRILLZ a dip in our sonic bath and dried with the polish. Bring your grill back. This deal is fr...

show more

Diamond Grillz (Bath & Polish)

Hey give your GRILLZ a dip in our sonic bath and dried with the polish. Bring your grill back. This deal is fr...

show more

---

BARGAINS & COMBOS

Teeth Whitening + Crystal 😁💎

1 Hour Tooth Whitening Sessions with American Made Products. We use a 16% peroxide based Whitening Gel which...

show more

Teeth Whitening + Gold charm 😁✨

1 Hour Tooth Whitening Sessions with American Made Products. We use a 16% peroxide based Whitening Gel whic...

show more

Teeth Whitening + Diamond 😁💎

1 Hour Tooth Whitening Sessions with American Made Products. We use a 16% peroxide based Whitening Gel whic...

show more

Teeth Whitening + Chip Tooth Repair

1 Hour Tooth Whitening Sessions with American Made Products. We use a 16% peroxide based Whitening Gel whic...

show more

24k Slay Package

WELCOME our NEW 24k Slay Service ! Preparing for a special event? Need a little lift? The 24k Slay service w...

show more

---

THROWBACK THURSDAY!!

Throwback Thursdays- 1 Gem 💎

Our tooth jewelry is  made by Genuine Swarovski Crystals that are small in diameter, have a flat back platinum...

show more

Throwback Thursdays Teeth Whitening (BASIC)

40 min Tooth Whitening Sessions with American Made Products. We use a 16% peroxide based Whitening Gel whic...

show more

Throwback Thursdays- Gold Gem

Each piece is hand crafted and individually polished to create the perfect piece of dental jewelry out there! ...

show more

Throwback Thursdays- 24k Teeth Whitening

This Deluxe teeth whitening session uses 24 karat gold 24K Gold has bacteriostatic properties that help contro...

show more

---

PARTY Packages

Tooth Gem Party 🎈

Tooth Gemz are the NEW party favor! Have the most memorable party. Your guest will leave with a BLING 💎! Wha...

show more

---

GIVEAWAY/CONTEST

CLOSED (Free Gem Day)

THIS EVENT IS CLOSED/FULL! Congratulations! We did it and we want to thank you by having a free gem day! You ...

show more

---
Venue Health and Safety Rules
Reviews
Reviews are no joke! Booksy values authentic reviews and only verifies them if we know the reviewer has visited this business.
Sweet Tooth Gems got me all the way right. Shana, the owner, was beyond great and provided an amazing, comfortable, and educational customer experience for me from start to finish. She was very kind, attentive, professional and responded to my inquir...
Sweet Tooth Gems & GRILLZ
You made the experience the best. Thank you for all of your questions and taking your time to make sure your services match the quality in you! Thank you brother.
Can't wait to come bak...
My boyfriend and I were really excited to get tooth-gems and Shauna made the experience really memorable. She was very patient with letting us choose whatever gem we wanted and how we wanted it placed, really took her time. We were very comfortable, ...
She went out and above her needs to help me. She really cares about her customers...
Sweet Tooth Gems & GRILLZ
Thank you Amanda! And I'll go out of my way again. Have the best day!
very professional and worked very quickly. also ver clean and sterile, constantly changing gloves and making sure I was satisfied...
Sweet Tooth Gems & GRILLZ
Awww Thank you for this! I know everybody's busy so I appreciate you taking the time to rate your experience.
Shana was professional and very sweet. She talked me through the whole process and made sure I was very comfortable. I love how my gems came out! Would definitely visit her again and recommend her to my friends! Thank you!!...
Shana is such a sweet, passionate and knowledgeable woman. You will be pleased with her hospitality and service!...
Shana is really cool, this was my first time getting a tooth gem and she thoughrouly explained the process and her products making sure I was comfortable the whole time. She consulted me about placement and after the quick process my tooth gem looks ...
Sweet Tooth Gems & GRILLZ
This review means EVERYTHING. Thank you 🙏🏾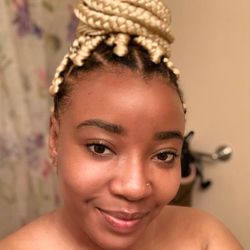 Shana is amazing. She is very professional and knowledgeable. I felt comfortable during the entire process. I got whitening and crystal. My teeth whitened tremendously with only one treatment and the stone looks Nice! I would definitely recommend her...
Sweet Tooth Gems & GRILLZ
Thank you for taking the time to give your honest review!
SweetToothJems is highly recommended !! High quality jewels and offers many of services there .. Set up is clean and tidy :)...
Sweet Tooth Gems & GRILLZ
Thank you. This means so much!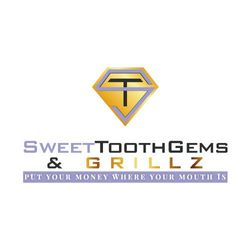 Very patient and precise....
Sweet Tooth Gems & GRILLZ