Twist & Stylez
4646 S Ash Ave, 105, Tempe, 85282
Twist & Stylez
4646 S Ash Ave, 105, Tempe, 85282
---
Popular Services

Loc Retwist shoulder length or shorter/ Palm Roll

All Services include Shampoo and Conditioner. If your locs have not been serviced within the last 8 weeks (2 m...

show more

Loc Retwist shoulder & Basic Style

Shampoo Conditioner and Desired style. If your locs have not been serviced within the last 8 weeks (2 months) ...

show more

2Strand Twist/Gel Twist

All Services include Shampoo and Conditioner

---

Consultation

Natural Hair Consult

meeting with a stylist to seek advice on the proper care or treatments for your hair care needs.

Box Braids/Twist Consult

Meeting a stylist to discuss size and length of braids. Also what is best and healthier for your hair. This is...

show more

Starter Loc Consultation Only

Meeting a stylist to discuss size, length and loc goal prior to. This is the best way to achieve the best star...

show more

Loc Extension Consult

Meeting a stylist to discuss size, length and loc goal prior to. This is the best way to achieve the best star...

show more

Hair Color /Highlights Consultation

---

Kids Styles (For Ages 4-6 ONLY)

Shampoo/Hair Treatment only

This service does not include a style.

2 to 3 Cornrows (No Hair Added)

Shampoo and conditioning is included.

Cornrows (No Design)

Includes shampoo & condition.

Cornrows with Design

Includes shampoo & condition.

Little Diva Braids (age 4 to 6) No hair Added

Shampoo Conditioner and Desired style

---

LOC Services

Loc Style ONLY

No Shampoo or Conditioner just Desired style only

Loc Repair

Repair Broken Locs cost per $30 per hour A Loc Repair Consultation must be booked 1st.

Loc Retwist shoulder length or shorter/ Palm Roll

All Services include Shampoo and Conditioner. If your locs have not been serviced within the last 8 weeks (2 m...

show more

Loc Retwist Lengths past Shoulder Palm Roll

Shampoo & conditioning included. If your locs have not been serviced within the last 8 weeks (2 months) additi...

show more

Loc Retwist shoulder & Basic Style

Shampoo Conditioner and Desired style. If your locs have not been serviced within the last 8 weeks (2 months) ...

show more

---

Natural Hair Styles

Trim, Hair Cut (Female)

All Services includes Shampoo and Conditoner

2Strand Twist/Gel Twist

All Services include Shampoo and Conditioner

---

Hair Straightening

Silk Press with Flairon

All Services include Shampoo and Conditioner, Flat-Iron & Wrap

Roller Wrap Blow Out

Shampoo/Deep Conditioner, Roller Set (dry times depends on your hair) and Wrap. This is less heat, volume and ...

show more

---

Crochet

Crochet /Wig pattern Base only

Crochet Havana Twist /Braids/Locs

Shampoo Conditioner and Desired style

Individual Crochet Braids or Faux Loc

Crochet Loose Hair

Shampoo Conditioner and Desired style Crochet with Human Hair or Loose Curly Hair

---

Weave/Wig Install

Lace Closure Wig Install

Includes installation and simple style.

Lace Frontal Touch Up

Includes shampoo and reapplication of frontal, sew in tightening & Flatiron. If you have a wig you need to sch...

show more

Quick Weaves

Shampoo Conditioner and Desired style

Partial Sew In

All Services include Shampoo and Condition.

Wig Installation

Shampoo, Condition, Cornrow & Wig Install only

---

Feed-in Cornrows

Feedin Cornrows 2 to 3

Shampoo Conditioner and Desired style. Braiding hair included. Solid colors only 1, 1B, 2, 4, 30

Feedin Cornrows 4 to 5

Shampoo Conditioner and Desired style. Braiding hair included. Solid colors only 1, 1B, 2, 4, 30

Feedin Cornrows (6-7)

Shampoo Conditioner and Desired style. Braiding hair included. Solid colors only 1, 1B, 2, 4, 30

Feed In Cornrow Ponytail/Bun

Feedin Cornrows (8 -10

Shampoo Conditioner and Desired style. Braiding hair included. Solid colors only 1, 1B, 2, 4, 30.

---

Knotless Box Braids/Singles

Goddess Braids

Please add this service if you would like goddess knotless/singles.

Large Knotless/ shoulder length

Includes Shampoo Conditioner, & hair.. This style is about 12 to 15 Jumbo Box Braids with a different color cu...

show more

Large knotless/Mid Back length

Baby Doll Goddess Braids, Includes Shampoo Conditioner, & hair.. This style is about 12 to 15 Jumbo Box Braids...

show more

Large Knotless/Waist Length

Baby Doll Goddess Braids, Includes Shampoo Conditioner, & hair.. This style is about 12 to 15 Jumbo Box Braids...

show more

Medium knotless/shoulder or shorter

Shampoo Conditioner and Desired style. Braiding hair included. Solid colors only 1, 1B, 2, 4, 30.

---

Kinky Twist/Marley Twist

Kinky/Marley Twists shoulder length

Shampoo Conditioner and Desired

Kinky/Marley Twists 18-20 inches

Shampoo Conditioner and Desired style

Kinky/Marley Twists 20-22 inches

Hair Not included. If you arrive and we have to detangle you will be charged detangling fee. Take out is $60 D...

show more

Kinky/Marley Twists 22-24 inches

Shampoo Conditioner and Desired style

---

Senegalese Twist

Senegalese Twist 12-14 inches

Shampoo Conditioner and Desired style

Senegalese Twist 14-16 inches

Shampoo Conditioner and Desired style

Senegalese Twist 16-18 inches

Shampoo Conditioner and Desired style

Senegalese Twist 18-20 inches

Shampoo Conditioner and Desired style

Senegalese Twist 20-22 inches

Shampoo Conditioner and Desired style

---

Straw Twist, Passion Twist

Straw Twist

Please Indicate If you want Straw/Spring or Passion Twist. It's a difference in the Hair Length is just about ...

show more

Straw Twist Shoulder length

Please Indicate If you want Straw or Spring. It's a difference in the Hair Length is just past your shoulders ...

show more

Straw Twist Mid Back

Please Indicate If you want Straw/Spring or Passion Twist. It's a difference in the Hair Mid back/Bra strap le...

show more

Straw Twist Full Butt Length

Please Indicate If you want Straw/Spring or Passion Twist. It's a difference in the Hair Mid Back/Bra strap le...

show more

Mali Twist 10-14 inch

Shampoo, Conditioner & Mali Twist hair included 1, 1b, 1b/30 1b/27

---

Yarn Braids/Cornrows

Feedin Yarn Cornrows 4 to 6

Shampoo Conditioner and Desired style

Yarn Lemonade Braids Large

Shampoo Conditioner and Desired style

Yarn Lemonade Braids med

Shampoo Conditioner and Desired style

Yarn Braids (Havana Twist Size 12-16in)

Shampoo Conditioner and Desired style

Yarn Cornrows Layers (Tribal)

Shampoo Conditioner and Desired

---

Hair Color

Color

All Services include Shampoo and Conditioner

Highlights

All Services include Shampoo and Conditioner

---

Touch Up/Removal Services

Braids or Twist Touch Up

Shampoo Conditioner and Desired style. This includes the front two rows being removed and reinstalled.

Straw Twist Touch up

Shampoo Conditioner and Desired style

Removal of any Style

Removal of Style, Detangle, Shampoo, Condition, & Blow Out or Flatiron

Hair Detangling

Shampoo Conditioner and Desired style

---

Relaxed Hair & Wet Hair Styling

Finger waves

Shampoo Conditioner and Desired style

Virgin Relaxer

Shampoo Conditioner and Desired style

Relaxer Retouch

Shampoo Conditioner and Desired style

Wetset/Flex Rod - Relaxed Hair

Shampoo Conditioner and Desired style

---

Spa Day Stream Treatments

Steam Treatment with Blow Dry

Steam Treatment with Flatiron

Steam Treatment with Twist Out or Rod Set

---

Unisex Braids NO HAIR ADDED (men, women&children)

Straight Back no Design

Straight Back Cornrows No hair added

Cornrows with Design

Shampoo Conditioner and Desired style

Individual Braids Med to large

Shampoo Conditioner and Desired style

Individual braids (Small)

Shampoo Conditioner and Desired style

---

Natural Hair School with our Junior Stylist

Kid Shampoo/Treatment only ages 4-6

Cornrows No Design

Includes shampoo & conditioner

2 to 3 cornrows (No hair added)

---
Venue Health and Safety Rules
Reviews
Reviews are no joke! Booksy values authentic reviews and only verifies them if we know the reviewer has visited this business.
Pleasant experience and she did a great job thanks your my new spot...
Love my daughters stylist Alecia...
Veronica was amazing and I appreciate everything...
Went good she was on time and professional...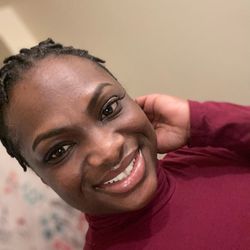 Awesome...
My braids were excellent. Everything was so professional and the stylists are so nice. Great business...
Very nice clean work in a beautiful salon!...
Loved the salon. The atmosphere was chill, and the service I received was excellent. I went to see Alecia for a color correction and a trim/silk press. I'm pleased with my hair and would definitely return back to this salon....
She's excellent. Great customer service!...
Great job very professional...
Correction from previous review - accidentally hit the wrong stars....
I love my hair and so happy i found a great shop with great queens, doing a phenomenal job. If your in Mesa come here, prices are very reasonable for quality...