One platform, endless possibilities.
You define the journey, and we'll get you there. Together, let's do more, better.
Booksy Biz
Solutions that grow with you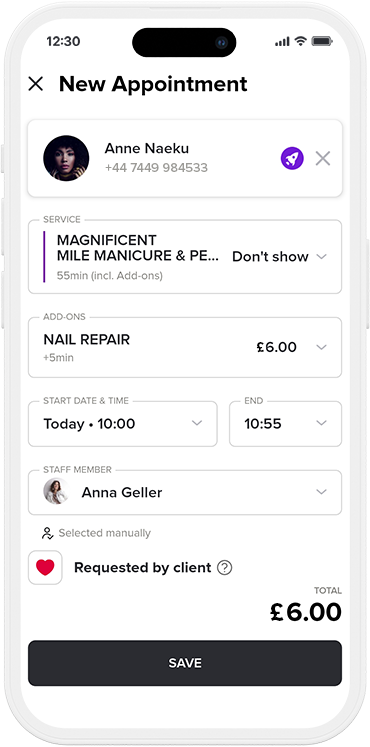 Core Functions, On The Go
Booksy gives you an access to your calendar and other essential tools. All from your mobile device.
Calendar & Appointments
Leave it to your clients. They can book themselves.
Your passion comes with a lot of extra. Texts, phone calls, emails. Let us play the middle man between your clients and you calendar so you have more time to do what you love.
24/7 Self-service bookings

Automatic notifications & reminders

Easy-to-use customer app

Integrated with Google, Instagram, and more
Payment Processing
You work hard. Make it easy to get paid.
Flexible payment solutions to meet the needs of your business - on the go, in person, or even when your clients don't show up.
Streamlined Checkout process

Client cards on file

Contactless payments via the app
Business management
Create a rhythm. So you can keep that momentum.
Payments, people, documentation. Let us streamline the small stuff, so you can focus on running your business - and not the other way around.
Staff and shift management

Centralised client information

Documentation with Custom Forms

Sell products and track inventory
No-Show Protection
Make your time count. Protect your bottom line.
We see you working those crazy hours and juggling all the things. You love every minute of it, but you value your time, too. That's where we come in. Every hour that you put in? We want it to count.
Take Prepayments

Set a Cancellation Policy

Attract clients with Boost

Offer services online, or on the go
Marketing Tools
Build your community. And get them talking.
Your community is the reason you get to do what you love. Use Booksy to keep them in the loop on what you're up to, and how they can take advantage of everything you offer.
Import and Invite Clients

Email and social media templates

Promotions and Message Blasts

Collect & share customer reviews
Responsive Platform
Make plans. We'll help you get there.
The future doesn't wait and neither should you. Trust in us for features that are designed to help you adapt and thrive. No matter where you go, or how fast you want to get there, we've got you.
Free data migration

Continued education

Data-driven decisions

Diverse revenue streams

Live customer support
Boost
Give yourself a little Boost: More Clients. No hidden fees. Pay once, then you're done!
Boost will place you higher up on our app and booksy.com when prospective clients are looking for services that you offer. Once you meet the criteria, it will also give you the 'Booksy Recommended' label across your profile photo on the app and web. You'll also appear in 'Recommended by Booksy' galleries.
Professional Profile Enhancement

Increased Visibility

Brand new clients
Booksy is recognized as a global leader in helping small business owners do more.
Here's who's talking about us: