Cleavers Hair Design
914 Broad Lane, CV5 7FG, Coventry
Cleavers Hair Design
914 Broad Lane, CV5 7FG, Coventry
---
Popular Services

Kids dry cut over 5 years old

Cut and blow-dry short above shoulders

---

ladys cuts and cut and blowdry services

Cut and blow-dry short above shoulders

Cut and blow-dry long below shoulders

ladies wet cut or dry cut

---

colouring services

Ladies re-touch root tint + cut & blow dry

Bleach roots + toner + cut and blowdry

Ladies full head tint + cut and blow-dry +innoluxe

Please call 024 7642 1386 to book this service if it is your first visit to the salon

t section foils + cut and blow-dry

Please call 024 7642 1386 to book this service if it is your first visit

Tint retouch + blowdry short

Tint retouch + blowdry long

Ladies half head foils + cut and blow-dry

Ladies full head foils + cut and blow-dry

Please call 024 7642 1386 to book this service if it is

retouch t section & retouch tint + cut and blowdry

Not another balayage + cut and blow-dry

Trained at not another salon cleavers is proud to be trained in not another balayage

Toner

Tone is designed to remove or cancel out unwanted tones in the hair great for bleaching and balayage services

Innoluxe bond add on treatment

Innoluxe stand alone treatment

Stand alone innoluxe treatment to help strengthen hair also can be added into colour to protect and give shine...

show more

Colour consultation

Needed for any new cilents to the salon for a skin test and consultation skin test has to be carried out by la...

show more

---

children

Kids dry cut over 5 years old

Kids cut under 5 years old

Under 16 girls cut and blow-dry

---
Venue Health and Safety Rules
Reviews
Reviews are no joke! Booksy values authentic reviews and only verifies them if we know the reviewer has visited this business.
I felt very welcome on my first visit. Andy was very open and listened to my thoughts. The salon was lovely and very clean....
Cleavers Hair Design
Great to finally have you in after such a long. Lockdown I'm so happy your pleased with your service looking forward to seeing you again Andy
Andy is the loveliest! Made me feel welcome and reassured after having a bad experience at a previous hair salon. The consultation was great and can't wait for my hair appointment!...
Cleavers Hair Design
Oh Emma this is so sweet of you I'm excited too! Welcome to the Cleavers coven x
Excellent service as always. My daughter loves her new hair cut...
Cleavers Hair Design
She was great to have in the salon Amy thanks for your bookings and your custom
Wouldn't want to go anywhere else....
Cleavers Hair Design
Great to have you back Mel x
Andy is a counselor, dietitian, and friend. The hair service is the cherry on the cake....
Cleavers Hair Design
Hair love live life Thank you for this review always a joy and thank you for your trust and kindness after lockdown x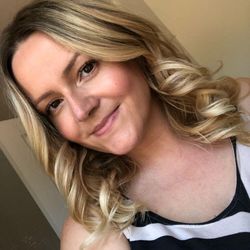 Simply fantastic. Nothing else to be said!...
Cleavers Hair Design
Thank you linsey glad I could squeeze you in truly a joy and thank you for choosing a small independent business like cleavers x
So happy to see Andy today. As always it was a treat to be pampered and I left feeling fabulous. Mia is so lovely, I nearly fell asleep when she was shampooing and putting the treatments on my hair, fantastic! VIP service at affordable prices. Highly...
Cleavers Hair Design
Debbie it was so lovely to have you back at cleavers after such a long time im so grateful for your trust time and custom that's you for this review Cleavers x
Brilliant as ever!...
Cleavers Hair Design
Awe thank Caroline Great too see you again after lockdown
Top rating service and customer experience...
Cleavers Hair Design
Thank you Jack
Just love going to Cleavers. Andy is an education in hair. Always good, honest advice to help me look after my hair. Mia is amazing which adds to the experience. If you want top quality work with a great atmosphere at an affordable price this is your...
Cleavers Hair Design
Debbie thank you thank you for this review and thank you for using booksy to book always a pleasure to have you in the salon x
As ever , great cut , professional , friendly ....
Cleavers Hair Design
Thank you Gill for the years of custom x
For the first time in 50 years, i actually love going to the hairdressers! ive now been to Andy 3 times. I wanted to try embracing my natural curls and he has such an enthusiasm and talent for cutting and styling curly hair, he is also teaching me ho...
Cleavers Hair Design
Awe I really really enjoyed bringing your curls to life today x Andy and mia
Have been going to Andy for 3 years now and I cannot imagine anyone else doing my hair. You're not just paying for a hair cut you are paying for an education and if you're willing to take on board his advice then you wont regret it. Feels like having...
Cleavers Hair Design
You legend for this review your support in this time means the world thank you x andy and mia
Fantastic cut and colour. Thank you for the great advice on how to look after and style my hair. Covid safe premises, wonderful service. Thank you to Andy and Mia....
Excellent service and would highly recommend to anyone. Not only do you walk out with a brand new hair do, but also a lesson on how to actually treat and maintain your hair....
Cleavers Hair Design
Thank you Emma your an angel for this review was a pleasure doing your hair today Andy and mia
The salon was Covid friendly as were the staff It was the first time I had ventured to the hairdresser for nearly twelve months due to lock down so you can guess what my hair was like it needed a complete overhaul When Andy had finished it was styled...
Cleavers Hair Design
Judy thank you for this review so happy that you chose cleaver ls for your post lockdown cut and colour I look forward to the next treatment x andy and mia
Amazing as always!...
Cleavers Hair Design
Great to see you again jayne x loved doing your cut and blowdry this morning Andy x
Excellent! Will be back again for sure! Thank you...
Cleavers Hair Design
Thank you fit your review and bookings
Andy is very attentive and always makes sure my hair looks and feels it's best - what more could you ask for?...
Cleavers Hair Design
Thank you Janet and welcome to cleavers xxx Andy and mia
Fantastic, really pleased with my hair as always. Andy is amazing....
Cleavers Hair Design
Thanks you for letting me help you Im so happy with progress x thank you for your custom and trust Andy and mia