The Grooming Artist
460 E. 35th St., Suite #26, Chicago, 60616
The Grooming Artist
460 E. 35th St., Suite #26, Chicago, 60616
---
Popular Services

Retwist & Basic Style

Includes Wash & Deep Condition And Basic Style To The Back Only

Consultation

This is for loc extensions, first time color clients, instant locs, loc reattachments/repair, starter locs etc...

show more

Retwist 115 Loc & Under (Full Head)

Includes wash & deep condition

---

IMPORTANT! FOR LOC SERVICES PLEASE READ EVERYTHING

LATE FEE

On The 11th Minute The Appointment Is Cancelled! NO EXCEPTIOPNS! Finding Parking Etc. Doesn't Waive This Fee O...

show more

COVID 19 Policy

GOOD NEWS!!! The Grooming Artist Reopens June 1st I hope you're as excited about this as i am 🤩 As you are...

show more

Consultation

This is for loc extensions, first time color clients, instant locs, loc reattachments/repair, starter locs etc...

show more

---

Retwist No Style

Retwist For Mohawk & Hightop Only

Comes with wash and condition . If you have over 65 locs your retwist will be considered a regular retwist for...

show more

Kids Shampoo &Retwist (12 And Under)

Includes deep condition (i will not service children under 6 )

Retwist 115 Loc & Under (Full Head)

Includes wash & deep condition

Retwist 116 Locs & Up (Full Head)

Includes wash & deep condition

---

Re-twist & Styles

Retwist & Basic Style

Includes Wash & Deep Condition And Basic Style To The Back Only

Retwist & Updo

Includes wash & deep condition. $100 is the base price . if the style is more complex, the style will cost mo...

show more

Retwist & Pipe Cleaner Curls

Includes wash & deep condition

Retwist & Two Strand Twist (Shoulder Length)

Includes Wash & Deep Condition

Retwis & Two Strand Twists (Mid Back)

Includes Wash & Deep Condition

Retwist & Two Strands (Waist Length)

Includes Wash & Deep Condition

Retwist & Rods

Includes wash & deep condition

Retwist & Plaits (Shoulder Length)

Includes wash & deep condition

Retwist & Plaits (Mid Back)

Includes wash & Deep Condition

Retwist & Plaits (Lower Back)

Includes wash & deep condition

Kids Shampoo, Retwist & Style (12 And Under)

Include deep condition $80 is the base price . if the style is more complex, the style will cost more.

---

Retwist & Styles(Mohawk & Hightop 65 locs & under)

Anything over 65 locs will be an extra charge

Retwist & Basic Style (Mohawk & Hightop Locs Only)

Includes Wash & Deep Condition $80 is the base price . if the style is more complex, the style will cost more.

Retwist & Two Strand (Mohawk & Hightop Locs Only)

Includes wash & deep condition $90 is the base price . if the style is more complex, the style will cost more.

Retwist & Updo (Mohawk & Hightop Locs Only)

Includes wash & deep condition $85 is the base price . if the style is more complex, the style will cost more.

---

Loc Start Up Services

Starter Locs (1-3 Inches)

Starter Locs (4-6 inches)

Starter Locs (7-9 inches)

Starter Locs (Past 9inches)

Instant Locs

A consultation is REQUIRED BEFORE booking this service. Prices will vary. This service id for those who don't ...

show more

---

Haircuts (No Kids)

Beard Trim & Treatment

Beard service only. Includes stretching the beard out , cleansing, conditioning , hot towel and clean up to g...

show more

Designs

Basic design, The more complex the design , the more it will cost

Nape Cut

Fading And Lining The Back Of The Neck Only

Undercut

Hair On Top , Cut On Sides And Back

Taper And Line Up With Beard Trim

This Is Not For People Who Have Hightop Locs . That Will Be Cosidered A Haircut.

Taper And Line Up

This Does NOT Include The Beard !!! The Beard Will Be Extra !

Lining Only

Doesn't Include Beard Trim Or Beard Lining

---

Color (Requires A Consultation)

Color (Shoulder Length Locs)

All Color Is Provided By Me. Extra Color Will Be $20 Extra Each. $100 is the base price . Depending on the des...

show more

Color (Mid Back Locs)

Color Provided By Me $150 is the base price . Depending on the desired look for the client, the price may incr...

show more

Color (Lower Back)

All Color Is Provided By Me. Extra Color Will Be $20 Extra Each. $200 is the base price . Depending on the des...

show more

Double Process Color (Haircuts Only)

This Is Lifting Your Hair Up To Blonde And Depositing Another On Top Of That Blonde. Extra Color Will Be A Ext...

show more

Highlights

$80 is the base price . Depending on the desired look for the client, the price may increase. consultation is ...

show more

---

Loc Repair

Custom Permanent Loc Extentions (Read Please!)

A consultation is REQUIRED BEFORE booking this service. Prices will vary but start at $1000 and up. This servi...

show more

Individual Loc Reattachment

Loc Reattachment (Small Area)

Locs Are Provided By The Client . I Reattach Them . If I provide the locs, it'll be extra .

Loc Reattachment (Medium Area)

Locs Are Provided By The Client . I Reattach Them . This Is a 3 hour Process & Can Only Be Done Monday -Wednes...

show more

Loc Reattachment (Full Head )

A Consultation Is REQUIRED BEFORE Booking This Service ! Locs Are Provided By The Client . I Reattach Them . T...

show more

---

A La Carte

Hair Wash (For Locs!)

Washing and conditioning of the locs. *doesn't include retwist.

Protein Treatment !

Do you feel like your locs are thinning from the root and breaking off ? if so , I have the perfect natural re...

show more

2 Strand/Ropes/Plaits/ Barrels

Styling freshly retwisted locs into ropes etc. this doesn't include the retwist. *prices may vary depending on...

show more

Basic loc style only

Hair must be freshly twisted . Consists of 1-4 braids to the back .

Updo

Styling Only. *Pricing may vary depending on complexity of the style $25 is the base price . Depending on the ...

show more

Loc Trim

Trimming the locs to the clients desired length & style. *Doesn't include retwist or styling.

Deep Conditioning Stimulating Scalp Treatment

Do you have dry scalp? Do you feel like your hair growth is stunted? Then this is the service for you. This se...

show more

Loc Detox

Do you feel like your locs are heavy, dull and full of build up and gunk that you can't remove ? This is defin...

show more

Style Your Ropes/Plaits/Barrels

This is the styling of your 2 strands/ropes/plaits. Your hair is already styled in the 2 strands etc. I'm not ...

show more

Interlocking

Includes wash and condition. *No style included *Pricing may vary depending on the needs of the client

---
Venue Health and Safety Rules
Reviews
Reviews are no joke! Booksy values authentic reviews and only verifies them if we know the reviewer has visited this business.
Courtney is the most talented and most professional stylist I've been too. Her hands are amazing....
Listen. I went for a consultation and was sold. The energy was right. Courtney was professional, she was attentive, and the environment was welcoming. Can't wait for my maintenance AND color. 😊...
Great space!! Clean & professional!! Courtney is so knowledgeable, talented, & kind!! I'll definitely be back. And I'll be sure to recommend TheGroomingAritst to any one with or looking to get locs!!...
That was quite the experience for a hair consultation. Punctual & Professional. I did not leave the consultation with the doubt that I arrived with. A truly great first impression and I'm looking forward to trusting you with my hair future....
Love,Love, Loved my hair !...
Awesome sauce will be back!!...
From waves to locks , you are 100% gonna love the way you look when you leave Courtney's shop ! I met her at a barber college and i haven't gone to anyone else since...
First visit, definitely will not be my last visit. Highly recommend Professionalism- 5 stars Proficiency- 5 stars Conversation -5 stars...
So amazing! Love her work! I've been going for a few years now and I am never disappointed! Super Clean! Super Safe! Super Recommend!...
The funniest hair appointment I've been too. Lol. On a serious note, I really appreciated my experience, from the consultation to the actual styling appt. Courtney was friendly and humble about her work and very transparent around what to expect. T...
Always hooks it up!! Got magic in thise hands ✋. If you haven't gotten it done by this Artist u ain't really doning nothing!!🙌...
Courtney is a great stylist, very talented, professional, consistent, and she has great energy. She makes you feel welcome every time you enter her shop. She is literally the only person that touches my hair other then myself....
Told her exactly how i wanted my hair, and she SNAPPED. Made sure my lining was crisp, excellent conversation, and best of all, she was ON TIME and VERY professional. Will definitely be returning...
Very laid back atmosphere but yet still very professional and knowledgeable. I've definitely found my new stylist....
If you got time, stay. If not keep on scrolling. My appointment was at 12:15 and I arrived pretty early. I sat in my car until about 12:12. I got there, rang the buzzer and got no answer. Surely someone was in there, right? At about 12:17 I was sti...
Courtney was amazing! This was hands down the best experience I have since I started my locs. She sets up a great atmosphere and she is very passionate about her craft. She promotes healthy hair and gives you tips to continue the healthy hair process...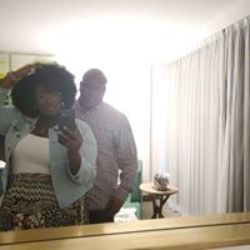 Great experience with Courtney! Super friendly, explained everything to me. I'm happy to be a client....