QMLHAIR
1690 Ralph Ave, 2e, Brooklyn, 11236
QMLHAIR
1690 Ralph Ave, 2e, Brooklyn, 11236
---
Popular Services

ADULT/TEENKnotless Med

Med size Above back side ( butt) ANYTHING PASS $20 Extra, if you get the per-stratch get 3pks of 3-1 kanekolen...

show more

KIDS Boys/Girls without adding hair

THIS WILL BE DONE WITH THEIR NATURAL HAIR ONLY!!!

---

Other Services

RETOUCH/Box braids/twist /knotless

TAKEOUT/Braid or weave

Half of what you paid for hair style Done by me If style was done by others prices will varies..

2 Big Feeding cornrows

Kanekalon hair $4.99 pks pre-stretch hair.

5 Big cornrows braids

kanekalon hair $4.99 pks pre-stretch hair.

ADULTS/TEEN Boxbraids

Regular box braided Prices change when length become longer and size become smaller 5pks of kanekalon hair $4....

show more

Crochet ADULTS

For individual crochet prices will go up.. Whatever here you prefer

ADULTS/TEEN UPDO

braided updo, with hair decor, can also be braided to your like of length, or size, the will be and $30 extra ...

show more

ADULTS /TEEN HUMANHAIR

The smaller, the Fuller , the longer the length prices will go up $20 more..

ADULT/TEEN Knotless Jumbo

jumbo Anything pass butt is $20 extra , above back side ( butt) 3pks of kanekolen hair , get the per-stratch g...

show more

ADULT/TEEN Knotless Big

BIG size Above back side ( butt) ,ANYTHING PASS BUTT $20 EXTRA. get the pre- stretch hair ger 4pks of the 3-1 ...

show more

ADULT/TEENKnotless Med

Med size Above back side ( butt) ANYTHING PASS $20 Extra, if you get the per-stratch get 3pks of 3-1 kanekolen...

show more

ADULT/TEEN KnotlessSmall

Small size, past thigh length, boheim look if want to add. redo around the hair line. Just book under redo , 4...

show more

ADULTS/ 13 TEENS three layer

A beautiful three layer cornrow which can also be decor with beads string or a braided design

ADULT/TEENLemonade

That hang time swinging from the side Depending on length, price may go up As well as time, with beautiful dec...

show more

ADULT/TEEN tribal

A beautiful tribal style that can decorate with beads, colored string ,Depending on size and length, price may...

show more

KIDS Boys/Girls without adding hair

THIS WILL BE DONE WITH THEIR NATURAL HAIR ONLY!!!

KIDS Crochet

Its what ever hair you prefer

KIDS cornrow 3-layer

Three layer cornrow decor with beautiful string or beading prices may go up depending on length and size 3pk o...

show more

KIDS Knotless braids big/med

MEN HALF OF HEAD/ BOX/TRIANGLE/FREESTYLE BRAIDS

MEN BOX/ TRIANGLES /FREESTYLE BRAIDS

Passion twist big/med AUDLTS /13 TEENS

Nubian twist that will make you wanna change your name the best hair for this look is,water wave hair 7-8pks.

Wash ADULTS

Biolage shampoo and conditioner

Wash Deep treament

25min undercap with clip ends

Wash KIDS

Shea moisturizer raw shea butter restorative conditioner and shampoo

WEAVE Ponytails sewin

Bundles or packs Hair Prices go up if you're using my hair

Wigs

Custom made Receive back within 48h Wash, trimmed and styled

---
Venue Health and Safety Rules
Reviews
Reviews are no joke! Booksy values authentic reviews and only verifies them if we know the reviewer has visited this business.
Love Ebony !!! Professionalism and braiding skills are on point!!! Started going to her in 2019 and been going to her ever since !!!!...
I was referred to her by my cousin and she also does my Neice hair Ariana. love my son hair and so do he so I will be bringing my daughters to her because she was very professional and knowledgeable about hair I didn't have to keep repeating myself h...
QMLHAIR
awwww thank you doll , he was a pleasure in my chair!!!... more hair... cant wait to meet the girls❤ ..
Im never been disappointed with her and i get so many compliments on my hair dos which she makes sure it fits my face and my big forehead. She's an A in my book MORE HAIR...
QMLHAIR
💋💋💋💋 thank you beautiful!!!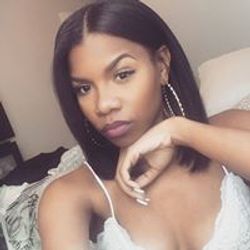 This is probably my third time getting my braids done by Ebony and it's always exactly what I want. She's the only hairstylist I ever recommend when people ask me about my hair. In addition to her stellar work ethic she's also very welcoming and I en...
QMLHAIR
😢 Thank you so much !!!... i really alway enjoy our time together !!... movie and hair❤
Slayy, dope hair that always gets notice !!!!...
QMLHAIR
perioooddddd!!!!💋💋💋
like visiting an old friend. ebony is very knowledgeable about hair strength, texture, style and products. she has a home salon chair so no need to worry about a crowded salon during covid, and she starts promptly on time. i appreciated her checking ...
QMLHAIR
Thank you so much it was my pleasure having you in my home!..
It was great great service...
QMLHAIR
Thank you !!!! so much❤
She quick,sufficient and curious more hair...
QMLHAIR
Thank you so much!!!
Absolutely love my hair. Also such a nice person. Will definitely book again...
QMLHAIR
Thank you my pleasure!!❤
Awesome love her...
QMLHAIR
Thank you so much Doll!!
Her service is amazing, I'm never disappointed it's nothing less than what's expected....
QMLHAIR
Thank you much !!!!... we love our baby girl shes a pleasure💋❤
I left there with my eyes red and popping 6 tylenol. (Rolling my red eyes with pain) 🤣 She an excellent braider and braids neat and she finish on time. Book an appointment on boosky and you will see for your self....
QMLHAIR
lol🤣🤣🤣 im going to kill you!!!!!... love you💋💋💋💋
Always a pleasure when she does my daughter's hair...
QMLHAIR
Thank you so much !!!
she can braid good and she have an down to Spirit...
QMLHAIR
We'll alway love you Popa💋
She was very professional and very nice I love my hair....
Recommended!!!...
QMLHAIR
Thank you so much!!
My experience with QML hair was awesome, not only did the stylist did my hair great!, but her hospitality was on fleek. Lol❤...
QMLHAIR
yesssssss Doll!!!.. you was so dope as well hair and a movie💋💋💋
My experience with Eboni was like going to my best friends house and sipping wine ... but there was no wine just a fine time with my new hairdressor i got the knotless braids they are down to my back whicb i I absolutely love and it felt like a massa...
QMLHAIR
i so enjoy your vibe Doll!!!!.