Alice McNails' 5 best marketing tips for nail salons to get more clients this year!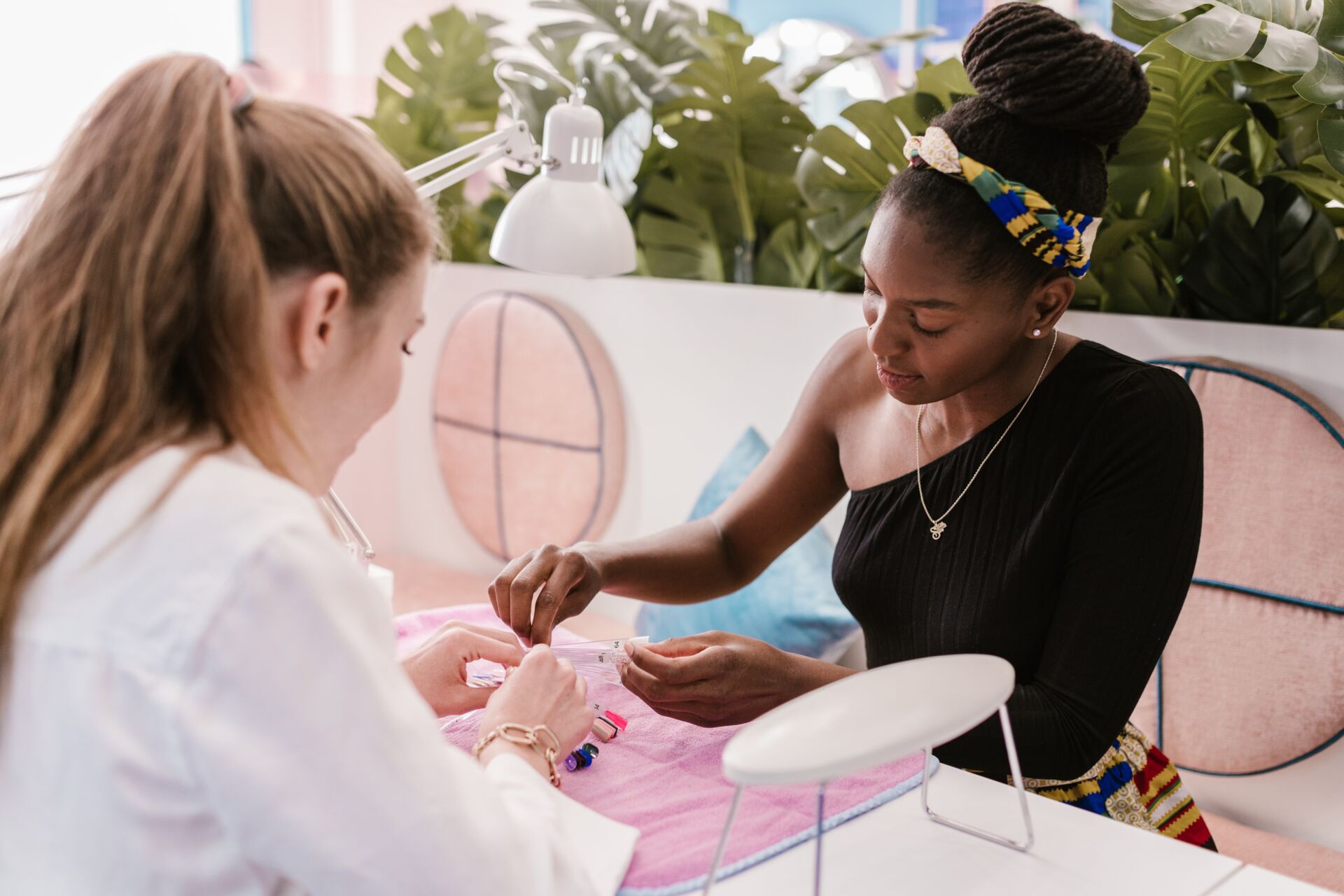 New year, new you… but the struggle to promote your nail business effectively and keep getting more nail clients is old and as difficult as ever! January and February are known to be especially challenging for beauty businesses, as after the highs of the holiday season it suddenly gets very slow and quiet. But does it have to be this way? Our Booksy ambassador Alice McNails, the wonderful nail artist from Eastbourne, joins us today to share her best tips on how to survive this tricky time and win more people over with your clever nail salon marketing strategy.
The first crucial fact to realise here is that slower moments in your salon are unavoidable - even for the most popular places experience periods where there are simply fewer bookings. The beginning of the year is financially difficult for consumers who have to recover after the holidays, and usually, they just had their nails done before the Christmas break. It's no wonder that you are less busy!
However, that doesn't mean that you have to just lay low and get progressively more anxious. Alice explains: "these are the things to implement in January, when it's the quieter period, to boost your business for now and for the new year".
1. Plan the content for your social media
"My first piece of advice is for socials, which are always very important. Use this time wisely to batch-make some content". There are certain things you can plan ahead and have prepared for when you are more focused on working with clients. "What I like to", says Alice, "is to look for what's coming up throughout the year and see if I can make any pieces of content that are seasonally relevant, so things like Easter or Valentine's Day". You know these dates are gonna come and you know you gonna post some content because of that. Why not be prepared earlier? "Once I have these done, I stick that in a folder. So then in busier times, I have some content that I can just pull out from my phone and post".
What else can you do? "Make sure your socials right now are updated. If there is a piece of content, especially a longer format content, you were thinking about making, make it now when it's quieter". This way you do not waste time - you make strategic preparations, simultaneously filling your nail salon marketing plan.
2. Expand your menu
"Another idea I've got for you is to add a new treatment", says Alice. "You can either take this time to go and train to learn another service that you can add to your menu, or you could do it as a little add-on. For me, doing nails, I would add a luxury scrub and a mask". If you were thinking about expanding your knowledge and doing some additional courses, it's the best moment to do so. But a small upgrade to what you already offer is a great idea as well! "It gives you something to shout about - even on your socials, or via marketing tools in Booksy. This is a way to not only get your existing clients back in your chair, but also gain new ones".
Before you decide what exact service you want to add or upgrade, do some research. Maybe there is a new trend in the industry that you are curious about? Maybe there is something you can learn that no one else in the neighbourhood has on their menus? "It can be a very unique service, that nobody else in the area is offering, or it can be something that adds a little bit of luxury to the service".
3. Make a contest
"Another idea is to do a competition for people in your local area", says Alice. "This is something that I'm going to be doing this year. I'm going to team up with some local beauty professionals and do a competition for people who want a service with each of us. We are going to run it on our social media channels, and do a shared post which people can tag themselves in and share". Running such a contest isn't either terribly time-consuming or difficult, so you can organise it rather quickly when you notice that the season is getting slower.
Oftentimes when artists wonder how to get more nail clients in their chairs they tend to cast their net a little too wide. What's so effective about this method is that it targets people in your area specifically. "This is all about building local clients", explains Alice. "Social media are obviously very big, with people from all over the world, so this is more about localising it. Each of you is going to post on your socials, so the other's clients are going to see it - and vice versa. It's just a really good way of promoting you and your services within the local community".
4. Implement a loyalty scheme
When looking for ways to get more clients as a nail technician try to think about people who are already pre-determined to feel tempted to visit your salon. "Another idea, if you are not already doing it, is introducing a referral friend cart. Your existing clients probably already love you and love what you do, so offering a small discount for them if they bring a friend along with them works really well".
"You can also look into doing a loyalty card scheme. Let's say, if they've visited you 10 times, they get a 25% off something". However, be careful when you are discounting! Sometimes it's best to add more value to the product, for example by adding something special to the service, than to make the price lower.
5. Introduce yourself better on your social media!
"My last one, and one that I'm going to be doing as well, is something that I think is super important. I've seen a lot of people doing it and it seems to work really well. Make a short intro video about yourself! This is a really good way for you to sell yourself to new clients".
People love businesses that have a face - however weird it may sound. It's a fact that your nail salon marketing will be much more effective if people start to perceive your business as a friendly place rather than a faceless commercial entity. They will get invested in your social media posts and feel inclined to visit you faster if they feel that human connection - so there is a great opportunity there. "You gotta think - people are going to come to your socials, and they don't know exactly what you do or what are your values. You just assume that everyone is gonna look through your Instagram or Facebook and know what you are about. I think it's really good to just outline this!".
How is Alice planning to go about this idea? "I'm going to basically introduce myself, show my face, show pictures of my best work, and talk about my services and what makes me unique". Then you can use multiple different channels to promote this piece of content. "You can boost it on Instagram or Facebook, put some money behind it, or, what I really suggest doing - pin it, so it is the first video that comes up on your feed. On Tiktok and Instagram, you are able to pin three posts along the top. Make it number one, so people that first hit your page see that little "about you". Make it a reel as well, it doesn't have to be a video. Make sure the cover will say something like "about me" or "short intro to my business". This way, you have all of your bases covered".
You can also go one step further and include a little CTA in this introduction! This way people can make an appointment with you as soon as they become interested in your business. Alice explains: "I'm gonna pop in there a message that says: "if you wanna book with me you can find the link in my profile or you can use the "book now" button to go to my Booksy page". This makes it easier for clients to get through to you, and they do not have to wander all around your social media to find a way to schedule their visit.
In conclusion? "Just think about what you have to offer to the new clients and really show them your uniqueness!". Slower seasons are always tough and there is no one fool-proof magical solution to get new clients that will work for everyone. But with these tips you will be much better prepared for what's to come and can boost your marketing for the entire year!