How Byrd Mena Created Sharp Fade and Became a Social Media Icon
All
Barbers
Beauty
Booksy Community
Businesses/Owners
Makeup
How Byrd Mena Created Sharp Fade and Became a Social Media Icon
It's easy to spot Byrd Mena at a barber battle, trade show, or industry event. And that's because he's the rockstar in the room. Up on stage in front of thousands of people, he can turn all the right heads in just a few seconds or hype up a crowd for the rest of the night.  Although his distinctly Venezulan features and colorful hairstyles add to the one-of-a-kind persona that he exudes, Byrd is by no means the first barber to put down his clippers and travel the world to promote, educate, and host barbering events in more than 25 different countries.  Instead, at 26 years young, Byrd has a reputation for doing it better than a lot of barbers his age. To add to his list of accomplishments in the grooming and styling industries, he's been a Booksy ambassador for years and recently became a creative consultant for Wahl clippers.  Though he's obviously traveled a long road to get here, it was just five years ago when this barber from Waterbury, Connecticut made the decision to create Sharp Fade, the business that Byrd would use to market himself and his brand in an original way.  For those who don't know the story, Sharp Fade quickly became a household name in the barbering industry. The Sharp Fade Instagram page currently has more than 667,000 followers, and its hashtag has been used over and over again on IG—approximately 2.5 million times. But this story all began when Byrd opened up his laptop to do something different.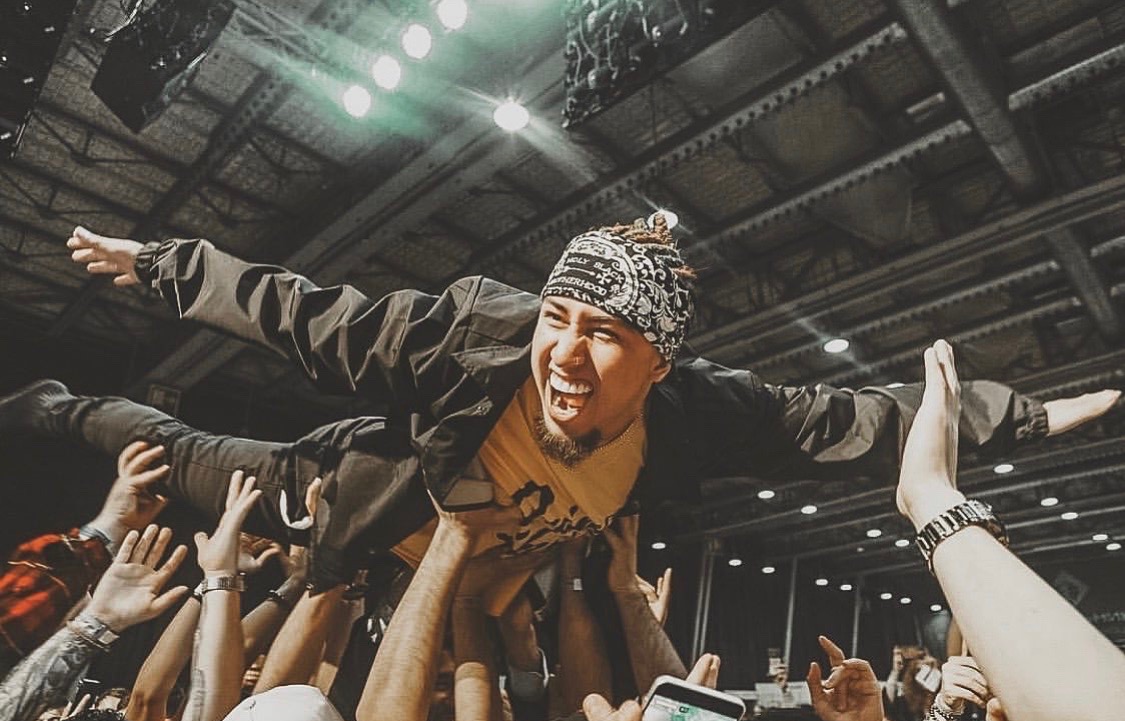 Using the Power of Social Media
At this point in his career, it's easy for Byrd to say that he made the right call by creating Sharp Fade. He's become a social media juggernaut, in addition to planning and hosting some of the biggest and baddest online barber battles. And now he travels the world hosting live events.
Years ago, it wasn't such an easy call. Byrd said that things were going well for him as a barber, so stepping out on a limb took some thought. "I was cutting hair at a licensed barbershop and everything," said Byrd. "
When I left the barbershop, I literally left all the money I was making, and I was fully booked on Booksy. I was happy with my clients. But I took that risk."
Byrd created Sharp Fade on February 9, 2015. Originally, he used his website to feature up-and-coming barbers to give talented grooming experts some well-deserved shine. "First I would feature barbers," Byrd said. "And then, I started doing like top ten barbers of the month, top five haircuts of the week, and people would get so excited" to be featured. People in the industry quickly realized that Byrd had a knack for spotting some of the freshest cuts, so Byrd decided to take his growing business to the next level by creating his own barber battle. "The online barber battles came from my inspiration, from what Jay Majors was doing in real life," said Byrd. "I was like why don't we just do it with the power of social media?" 
Taking Barber Battles Online
About a year after creating Sharp Fade, Byrd felt ready to plan and host his own barber battle. True to its name, the barber battle would be just like the ones at expos, where barbers cut hair on the spot and judges choose a winner. 
But unlike other barber battles, this one would be powered entirely by the internet. Byrd spread the word through Facebook messages, advertised via Instagram, sent invites via email, and the actual barber battle was upload online. 
At the time, this kind of event was more than just a little unconventional. It was still pretty much unheard of. People who wanted to participate had to sign up at SharpFade.com. Then Byrd would accept barbers who were at the same point in their career and level of talent.
Winners were selected by a vote. To make sure the haircut was done on the spot, Byrd
would send each contestant a logo, after announcing the kind of haircut the barbers had to create. And each barber would have to submit a photo of their finished haircut next to a picture of the logo. 
The success of his first online barber battle led Byrd to set up others and attract some big names in the industry. Despite the rising popularity of Sharp Fade, no one actually knew who Byrd was. In fact, Byrd didn't even tell his older brother that he started Sharp Fade for almost two years. And his brother is the barber who helped Byrd get into the industry.
The Man Behind the Curtain
According to Byrd, there were two main reasons that he kept his identity a secret. "Obviously, I didn't want negative feedback, because when I did tell people, all I got was negative feedback. And on top of it, I thought that a brand that didn't have a face attached to it would be more important than a brand that did have a face attached to it."
Once again, his instincts were on point. Because people loved asking the question, "who's the man behind Sharp Fade?" Though as 2016 came to a close, barbers had to know the answer. "I didn't know what the hell to do. Because I didn't want no one to know it was me," Byrd said.
Major brands wanted Byrd to host live, sponsored events. And Byrd kept getting requests to step into the spotlight where he belonged. But it all happened on July 17, 2016, in Atlantic City, when
Byrd stepped on stage and greeted the world as the creator of Sharp Fade.
"They literally announced 'we got Sharp Fade in the building' in front of everybody," said Byrd.
"So once that happened I was like, alright well, I guess it's time for me to show who I am. And then yeah, I just started to get invited to tons of shows. Like a lot of shows." 
Sharp Fade Freshman Class
Byrd described the next couple of years as a sea of new people and faces. In 2018, he hosted events in more than 20 different countries. Some of them were barbering events and others were geared towards hair stylists. 
While traveling and hosting, Byrd still found the time to create Sharp Fade Elite, a project to help barbers with less than 10,000 followers on Instagram. Byrd hand selected 30 talented barbers, who were all new to the industry. And he gave them all a month of free publicity on his page, in addition to discounts on products sold by top distributors and continuing education classes. 
Another one of Byrd's gifts to the industry is the Sharp Fade Freshman Class—a competition that Byrd created to blur the line that distinguishes barbering, high fashion, and makeup. In his 2019 Sharp Fade Freshman Class competition, Byrd choose a Halloween theme. The winners used horns, jewelry, face paint, and elaborate costumes to compliment their haircuts, while showing off their advanced hair coloring skills.  Although his events and competitions have taken on different shapes and forms, Byrd's vision has remained the same. "The barbering industry has taken me so far, and I'm super grateful for it. And I know it can take other people so far. And if I have power, where I can help other people that want to grow that actually really want to grow, then that's what I'm here for," Byrd said.  Byrd continued this same line of thought and talked about his next big idea, which is called Share Your Story. He wants talented barbers to share details about their backgrounds and talk about how they came into the industry. The two most interesting stories will be featured on the Sharp Fade website, along with a host of pictures and a documentary-style video to help talented newcomers get more exposure. "It's mainly about creating a community of people that want to grow. And I'm able to give them exposure—and maybe a clipper company can pick them up or a scissor company can pick them up or maybe they become the next busiest barbershop in America. Whatever it is they want to do. Because we all have different visions."