Alpha Cuts
2 white hart Parade, london road, GU17 9AD, Blackwater, England
Alpha Cuts
2 white hart Parade, london road, GU17 9AD, Blackwater, England
---
Popular Services

Modern Cuts (Fades) With AMIN

Modern Cuts (Fades) With ETHAN

Classic Cuts (0.5 & Over) with HAMID

---

Haircuts

Modern Cuts (Fades) With AMIN

Modern Cuts (Fades) With HAMID

Modern Cuts (Fades) With CALLUM

Modern Cuts (Fades) With ETHAN

Classic Cuts (0.5 and over) With AMIN

Classic Cuts (0.5 & Over) with HAMID

Classic Cuts (0.5 & Over) with CALLUM

Classic Cuts (0.5 & Over) with ETHAN

Long Hair (shoulder length) with AMIN

Long hair (Shoulder length) with CALLUM

Long hair (Shoulder length) with ETHAN

Wash, Cut & Style with Amin

Wash, Cut & Style with Hamid

Wash, Cut & Style with Callum

Wash, Cut & Style with Ethan

Buzz Cut

Clipper Cuts, One grade all over.

Full Consultation, wash, cut & styled (with AMIN)

The consultation is when we can see the hair texture when it's dry, how you wear it, and when you can explain ...

show more

Haircut & Pattern with AMIN

---

BEARDS

Beard trim (No Blade) with AMIN

Beard trim (No Blade) with CALLUM

Beard trim (No Blade) with HAMID

Beard trim and line up with trimmers.

Beard trim (No Blade) with ETHAN

Beard trim and line up (with AMIN)

Beard trim and line up (with HAMID)

Beard trim and line up using trimmers and blades.

Beard trim and line up (with CALLUM)

Beard trim and line up (with ETHAN)

Traditional Hot towel wet shave (with AMIN)

Luxury wet shave With AMIN

Luxury wet shave With HAMID

Traditional Hot towel wet shave (with HAMID)

---

Deals

Classic cut & Beard trim (with AMIN)

Classic cut & Beard trim (with HAMID)

Classic cut & Beard trim (with CALLUM)

Classic cut & Beard trim (with ETHAN)

Modern cuts & Beard trim (with AMIN)

Modern cuts & Beard trim (with CALLUM)

Modern cut & Beard trim (with HAMID)

Modern cuts & Beard trim (with ETHAN)

Services, OAP's, Boys under 14 with Amin

💈💈Monday to Thursday only, 0.5 and above💈💈

Services, OAP's, Boys under 14 with Hamid

💈💈 MONDAY TO THURSDAY, 0.5 AND ABOVE💈💈

Services, OAP's, Boys under 14 with Callum

💈💈MONDAY TO THURSDAY💈💈 0.5 AND ABOVE💈💈

Services, OAP's, Boys under 14 with Ethan

💈💈MONDAY TO THURSDAY💈💈NO SKIN FADES💈💈

Dad & Lad(under 14) NO FADE (with AMIN)

💈💈MONDAY TO THURSDAY💈💈NO SKIN FADES💈💈

Dad & Lad(under 14) NO FADE (with HAMID)

💈💈MONDAY TO THURSDAY💈💈NO SKIN FADES💈💈

Dad & Lad(under 14) NO FADE (with CALLUM)

💈💈MONDAY TO THURSDAY💈💈NO SKIN FADES💈💈

Dad & Lad(under 14) NO FADE (with ETHAN)

💈💈MONDAY TO THURSDAY💈💈NO SKIN FADES💈💈

Grooming Package (Cut,Wash,Shave and Treatments)

Classic cut & Hot towel wet shave (with HAMID)

Classic cut & Hot Towel shave (with AMIN)

---

FACIALS

Facials (Black or Clay Mask) with AMIN

Facials (Black or Clay Mask) with HAMID

Facials (Skin exfoliation & steaming) with AMIN

Facials (Black or Clay Mask) with CALLUM

Facials (Black or Clay Mask) with ETHAN

Facials (Skin exfoliation & steaming) with HAMID

---
Venue Health and Safety Rules
Reviews
Reviews are no joke! Booksy values authentic reviews and only verifies them if we know the reviewer has visited this business.
2nd time going to alpha cuts had callum twice quailty every time!...
Great haircut, very nice shop, will definitely be back again!...
A first class cut as always from Callum today. Amin and the guys ALWAYS give a friendly, upbeat, proffesional and welcoming vibe. I Can't recommended them enough!...
Fantastic as always. Amin does a great job with the haircut and beard. The best I've tried in Camberley & surrounding areas 💪🏽...
Very proffesional haircut...
Best fades and best service!...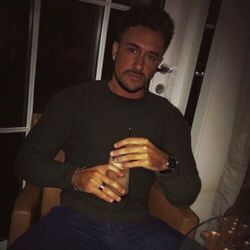 Great haircut by Ethan every time...
Brilliant haircut and top service defiantly be back, good shop atmosphere couldn't fault it...
Perfect, great staff. 5/5...
Always a good hair cut at Alpha cut !...
Ethan always plugs the loud trims and gets the beard looking sweeettt, wouldnt go anywhere else top service every time...
Ethan had to deal with 7 months of hair, and i couldn't be happier with the cut. Very professional, good chat and would definetly use again....
Great haircut will definitely go back!...
Amazing haircut from Amin...
Very good and professional. Thanks...