It's been nearly a month since ISSE, but honestly? We're still buzzing with excitement from the event!
One of the best things about ISSE is it brought together some of the most social media-savvy influencers in the hair, beauty, and wellness industries.
There are so many social media nuggets to gain from these individuals, which is why we took lots of notes and compiled insights to share with the Booksy community.
Check them out below!
1. Have the Right Set-Up in Your Location so You Can Save Time Creating Content
One of the biggest issues that entrepreneurs have is finding the time to plan and create social media content. When your days are spent running a business, taking care of clients, and managing your operations, how will you squeeze in content creation?
One practical tip to help you be more efficient is to set up a salon that is photo-ready. Equip your space with great lighting and tools, so all you have is snap photos or record videos.
It's all about prep work, said stylist and educator Presley Poe. "We can't let these things overtake our lives. It's a lot of work, I understand — but if your prep work is there you can do it on a daily basis."
She continued, "make sure that whatever photography studio you have in your salon is doing work for you… that you've got good lighting, so it's easier for you to get that shot."
Celebrity hair and makeup artist Olivia Smalley offers similar advice and recommends using the corner of your salon. She adds that having equipment such as a ring light can do wonders for the quality of your photos.
2. Post Videos and Include a CTA to Increase Engagement
Daniel Mason Jones, a celebrity stylist and the owner of Muse Salon and Spa, said it best: video is the only way to humanize your brand on social media.
If you want to connect better with your audience, you need to get in front of the camera to talk to them or demonstrate your work (or both!)
Another key advantage of using video? It encourages people to look at your content and stay on your page for longer periods of time. According to Olivia, the longer people stay engaged with your content, the higher you rank on their list as an interest and the more consistently you will end up at the top of their feed.
Olivia said that one way to encourage people to watch your videos all the way through is to include "Easter eggs." These are little tidbits, clues, or anything that people would find interesting. You could say something along the lines of "Watch the video till the end to see/discover/learn how… [insert something interesting here]".
If you want more people viewing your stories on Instagram, give them a call to action to do just that in your posts.
Olivia does this a lot. In one of her videos, she invited users to head to her stories if they wanted to see the full clip.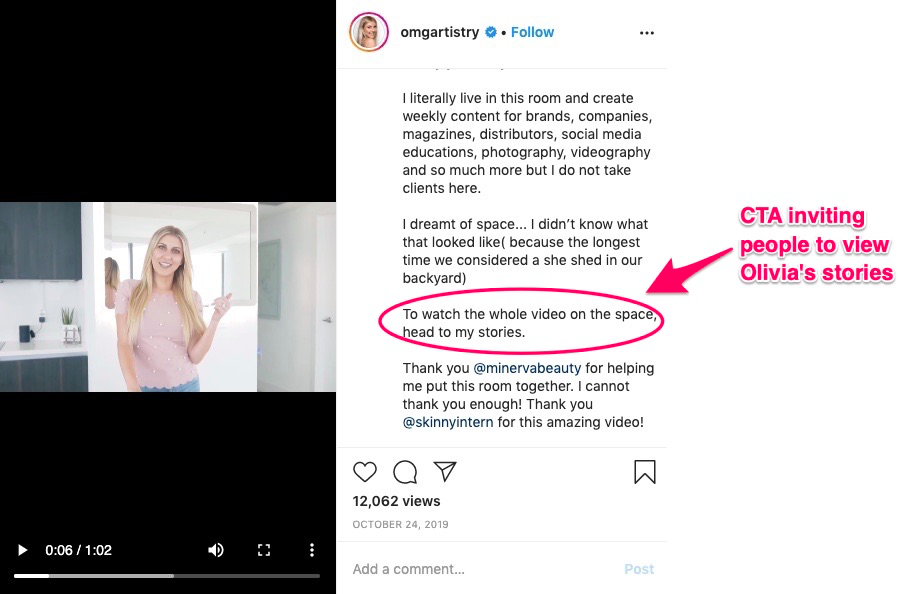 Try it in your next video post or story and see how your audience responds!
3. Write Captions That People Care About
Already have stunning photos and videos? Great! Let's talk about captions.
You need to come up with compelling captions, and the best way to do that is to ask "why will people care?"
As Chelsea James, an educator and the founder of Forma+Collective Salon, put it, everyone can post a balayage, photo, but what makes your balayage amazing? "Is it the client's story? [Is it] what you learned about them?"
Presley echoed this advice. She recommended talking to your clients, and asking them a question like "If you could tell the world three things about you, what would they be?"
For instance, if your client is a mother, an activist, or a philanthropist, mention that in your caption and share their story.
"People are inherently nosy," said Presley. According to her, when people see a photo of hair on their feed, many would naturally want to know about the individual featured in the post.
Another approach is to share the transformation journey of your clients. Presley does this all the time on Instagram. She shares details of where each client started and how she helped transform their hair.
Pro tip: If you're having problems with composing your caption, one trick is to write as if you're talking to someone in real life.
"Just dictate it," advised Presley. Use your phone's voice to text features when entering your captions. In doing so you're (quite literally) writing using your authentic voice, and that will shine through in your content.
4. Use Instagram Geotagging to Increase Visibility
When using Instagram's geotagging features, Chelsea recommended NOT tagging your salon's location. It seems counterintuitive, but a smarter strategy would be to tag high-traffic places in your area.
For example, if you have a salon in Long Beach, CA, instead of tagging your salon's address you can use the city of Long Beach in your geo-tag. This will drive more views to your content because chances are, more people are viewing Long Beach's location page versus your salon.
"I would tag colleges and cool places around," said Chelsea. Those places are more likely to come up "because people are searching for that kind of stuff."
If you hop on over to Chelsea's salon page (@formacollectivesalon) you'll see that most of the posts contain geotags for the greater Denver area and notable places like University of Denver. Tagging these places, instead of using the salon's address, helps increase the visibility of her salon's posts.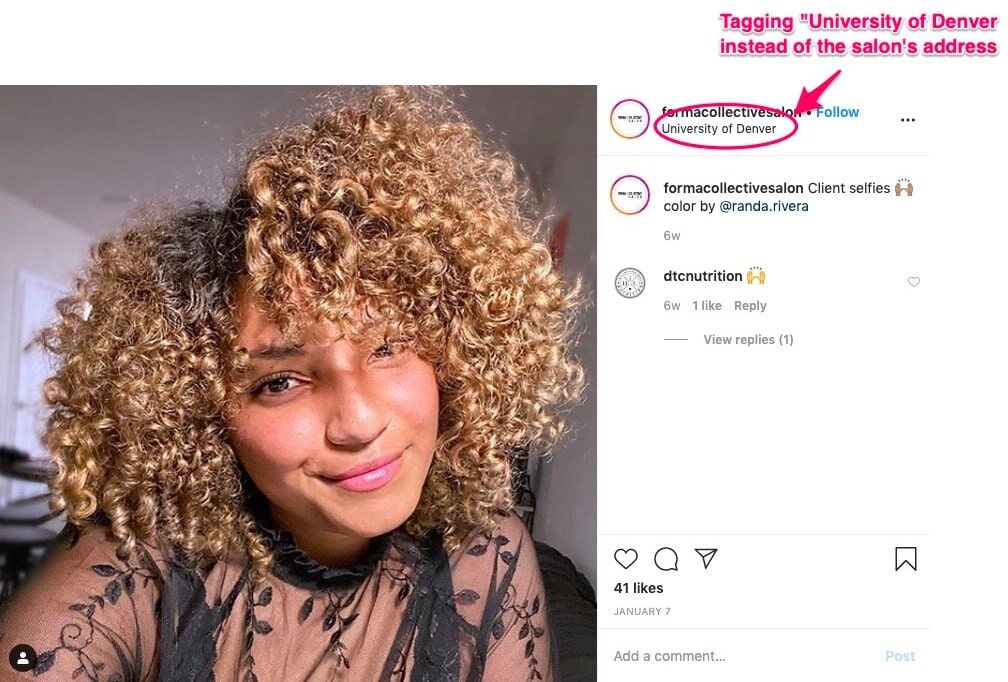 5. Don't Get Too Caught up in the Numbers
When you're posting content on social media, it's easy to get caught up in the number of views, likes, and followers you have, but try not to make a habit out of it.
Keya Neal, a stylist, influencer, and the founder of the Texture Vs Race movement, explained:
"To be influential does not mean you need to have tens of thousands or hundreds of thousands of followers. It's about who you're influencing as a whole. Who are the people that are actually engaging with you?"
Keya said that she has around five to six thousand followers on Instagram, but she is still considered to be highly influential in her niche.
Why?
"Because it's not about how many people are listening to you, it's about who is listening to you," she said.
"I'm mostly influential because I have the best people… the people that really have some kind of connection to my movement and my message. They're the ones that are following me."
Strive to adopt the same mindset with your spa or salon social media strategy. While there's nothing wrong with growing your audience, recognize your follower count isn't everything. What's truly important is reaching and touching the people that count.
6. Be Open to Critical Comments — as Long as They're Constructive
It's also important to learn the difference between haters and people who simply disagree with you. Don't let negative comments get you down. In some cases, a not-so-pleasant comment could open up a learning opportunity.
"I don't view anybody as a hater until the second or third exchange," shared Key. "I welcome anybody's comments that do not agree with me. If you're explaining yourself [and say] 'Well I don't agree with this, and this is why…' then I'm going to entertain that."
"The art of being an influencer and a leader is being able to listen," Keya added. "So I want to hear what your perspective is. Now we're having a conversation."
That being said, if someone is clearly attacking you and simply wants to be harmful, that's the time to cut them off, said Keya
"But I won't' do it the first time. Just because they don't agree with me does not mean they're hating on me."
7. Have Fun With Your Salon or Spa Social Media Strategy!
Last but not least, enjoy yourself.
Elizabeth Faye, founder of Hair Love Tribe, says that beauty and wellness professionals need to return to joy-driven branding. Figure out the story behind what you do and what you love about it, and use that story in your content, she says.
Another key piece of advice from Elizabeth? Make your Instagram your art project, not a chore!
When you view a task as something that you HAVE to do, you automatically suck the joy out of it.
Try this instead: view social media marketing as something that you GET to do, rather than something you HAVE to do.
This simple change in your mindset transforms the task into an opportunity instead of a chore. And you're more likely to create amazing content when you're in a positive state versus when you're doing something because you feel obligated to do it.
Spa and Salon Social Media Marketing Is a Must
We don't need to tell you how important social media marketing is to your business. The vast majority of people turn to social networks for beauty and wellness inspiration (and information) so you need to get on these platforms to stay on the radar of your clients. And if Instagram is a platform that you want to master, and use for building a brand and double your bookings, we've got you covered.