Kiké Mendez learned from a young age what it takes to become a successful barber in today's competitive world. In less than six months since opening King's Barber Studio in Chicago's famed Wrigley neighborhood, Kiké Mendez has already built a booming business. The secret to his success? Creating a culture at his shop that's built on work ethic, customer service, and friendly competition (as well as a little help from Booksy).
How did you first get into barbering?
I first got into barbering here in Chicago when I was 14 years old. My cousin, Sal (who also works here at King's Barber Studio) used to cut my hair all the time. I got tired of paying him for haircuts, so I picked up clippers myself and started practicing on all my friends.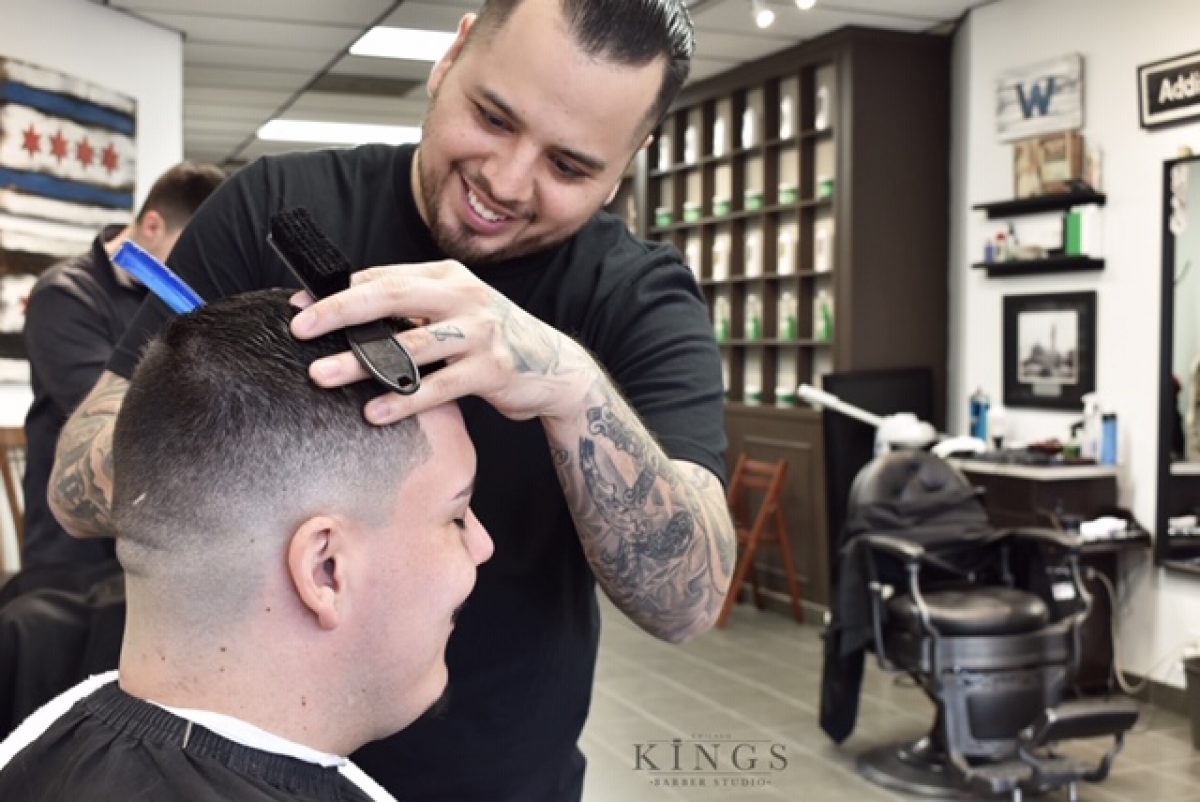 What were the biggest challenges you faced the first year on the job?
Being young. Not everyone wants to trust a 15-year-old kid cutting their hair. That, along with building my clientele, were my biggest challenges. No one wanted to trust me.
How did you deal with that challenge?
The way I built my clientele at first was walk-ins. It wasn't so much word of mouth, because, again, I was this super young kid. I only had my friends when I started, but they helped by referring clients to me.
What motivated you to open King's?
I used to manage a couple of shops in Austin, TX.  I told myself if I ever came back to Chicago, I would focus everything on opening my own barbershop, as opposed to working for someone else again.
What's the difference in the barber culture between Chicago and Austin?
Here in Chicago, there's a barbershop within every two blocks, so there's way more competition and talent. In Austin, you probably find a shop every two miles.
What was the process like for opening King's as your first shop?
The hardest part was the licensing with the city. But the process for building clientele was pretty easy since I used to work down the street. When customers find out their barber is opening up their own place, everyone just wants to spread the love. That made it a little easier.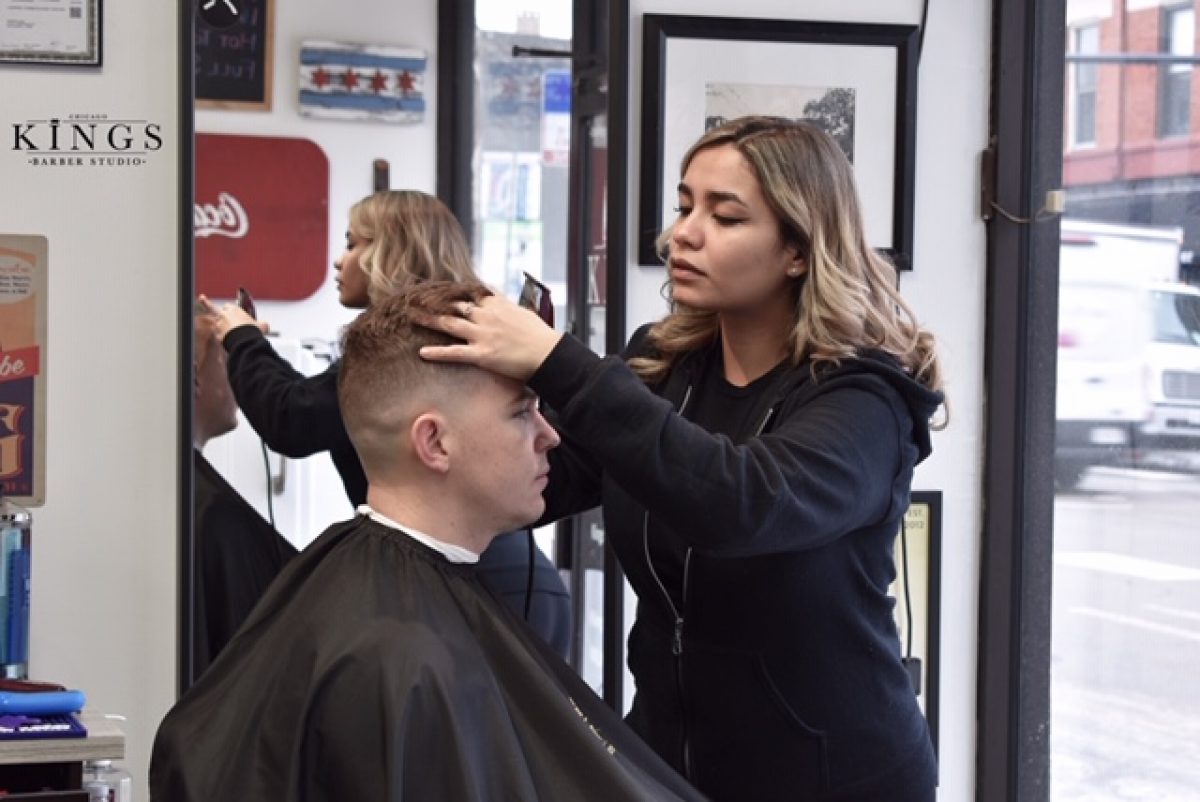 How do you measure success for your business?
The way I measure success at King's is everyone's main concern when starting a new shop—money. And it's been really good for us. As the numbers grow, I'm able to compare that growth to other shops I've worked at. Thanks to Booksy, we can see the retention rate of clients, as well as the number of new clients that have discovered or booked at our shop. We can also see how our individual barbers are doing. It's helpful for my barbers to know exactly where they stand because it keeps them motivated and happy. You can see it in everyone's attitude.
What are your plans to build on this success?
We recently had a good problem: running out of room in the shop. So we did a little remodel to be able to accommodate more guests. We've also been checking out locations for a second shop, either here in Chicago or possibly even in Austin, TX.As long as we maintain our focus and the client-first mindset, our success will only keep growing. There's never enough!
What are you looking for when choosing a second location?
I look at everything. I get into every little detail from what's being built nearby such as condos, high rises, event centers, to the potential of an area. I also take the demographics of the population into account since those people will likely be our most loyal clientele. Wherever it may be, I plan to have the two locations work cohesively. I want consistency with everything from the quality of my staff to the artwork on the walls (we get our art from Andrew Christen over at Urban Art Chicago.)  I want to hold my team to this too. I'll challenge my barbers here in Chicago and say, "Whoever gets the most clients this month, I'll pay for your flight to go to Austin," and give them the chance to work down there for a little while, and vice versa. It's more fun and gives people another reason to work for me, both in Chicago and Austin.
What are the things you'd repeat, or do differently, based on your experience opening the first shop?
There are a lot of things I'd repeat because they worked so well for me with the first shop. But one thing I would do differently is my hiring process. I was so hard-headed on hiring my friends that I kept ignoring new faces who were contacting me to work at King's. Everyone works hard, but my new barbers are giving nothing less than 200% every day.
How competitive is the barbering scene in Chicago?
When I first started barbering here in Chicago, there were only a few shops. Once Instagram blew up the entire barbering industry, everyone wanted to own a shop, and everyone wanted to cut hair. In my opinion, Chicago is one of the most talented cities when it comes to hair, so there can never be enough practice. We're always keeping up on new trends and studying new techniques.
Why did you decide to start using a scheduling and booking system?
Because it's convenient, both for the barber and the client. It takes away the back-and-forth of all those, "Sorry, I'm busy…" texts.
How do your clients like using Booksy?
Clients love it. The especially love not having to wait two hours to get a haircut. They just walk in confidently at their time and know exactly when they'll walk out. My customers are booking more often when they know they won't waste hours of their free time waiting for their turn.

How has Booksy helped run your business?
Booksy's analytics helped out a lot. Knowing how many clients we've done per day and how many clients a specific barber has that day helps me focus on who I need to build up.
Sometimes I'll even pull up everyone's client numbers, and give them a little friendly competition. I'll ask them, "What can you do to get the most clients in your chair this week?" Then I'll see them posting on Instagram and Facebook to let their clients know they have openings. It motivates them to do better.
What's your favorite feature in Booksy?
Aside from the analytics, I love the push and email notifications. When clients come back for the first time since we joined Booksy, we'll ask them how they heard about us.  When they say, "I got the "Book with us on Booksy" text," we know it's working.
How are you using Booksy to market your business?
We use Booksy's marketing flyers all the time. Before Booksy, we literally used to take a photo of something pitch black, grab some corny stock image, and write our own misspelled text when a holiday or vacation was coming up. But now, with Booksy's personal flyers we just download and post. We use it on all of our social media accounts. It's simple, easy, hits our clients at the right time, and gets the right message across.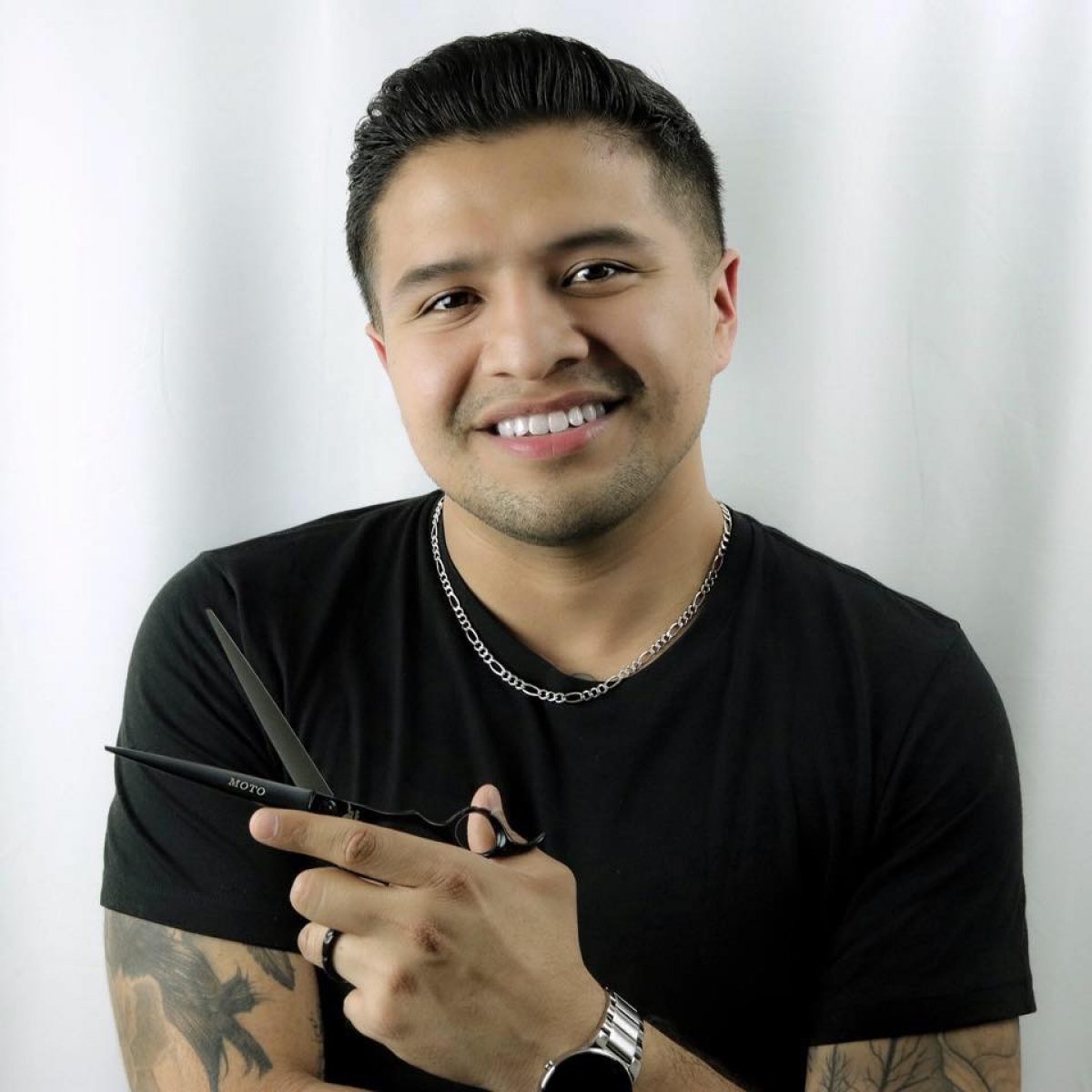 What is your ultimate goal for your business?
It's to have a couple of very successful shops and to push every one of my barbers to focus on not only shop goals, but their own personal goals as well. It ultimately comes down to the happiness of my barbers and my guests. If they both stay happy, then I'll be fully satisfied that I've achieved my goal: serving Chicago with great barber service and even better vibes.