Preparing to Reopen? Introduce Health and Safety Rules to your Business!
Business Tips
Businesses/Owners
Uncategorized
Preparing to Reopen? Introduce Health and Safety Rules to your Business!
As many salons in the beauty industry begin to reopen following temporary closures as a result of the Covid-19 pandemic, you need to start thinking about how to make your business a safer place, for both you and your clients. To help you introduce any new safety regulations that you might bring into your workplace once you reopen, we've launched a new feature – Health and Safety Rules. This tool will help you easily plan measures to take and showcase to your clients through your Booksy profile that health and safety is truly paramount. First, as salon/shop owner or manager you should follow the Guidance on Preparing Workplaces of COVID-19 prepared by OSHA (Occupational Safety and Health Administration) to prepare your business for reopening. It includes all the recommendations and measures you should take, such as:
Limiting the number of people in the shop & maintaining social distancing

Temperature checks

Questions you should ask each client entering your salon or shop

Personal protective equipment (such as masks, face shields and gloves)

Disinfection of surfaces, tools and materials

Maintaining public spaces, such as reception area, restrooms and works stations, ensuring they are regularly cleaned and disinfected.
Secondly, list all the precautionary measures you're going to introduce with our new feature,
Health and Safety Rules
. It's a list of predefined rules to choose and to present on your Booksy profile to let your clients know how important customer safety is to you and what you do to provide safe services to them. It also provides a space for you to add any additional custom measures you are implementing.
How to add Health and Safety Rules?
 

Go to your Booksy Biz app > More > Business profile > Health and Safety Rules, or simply click here.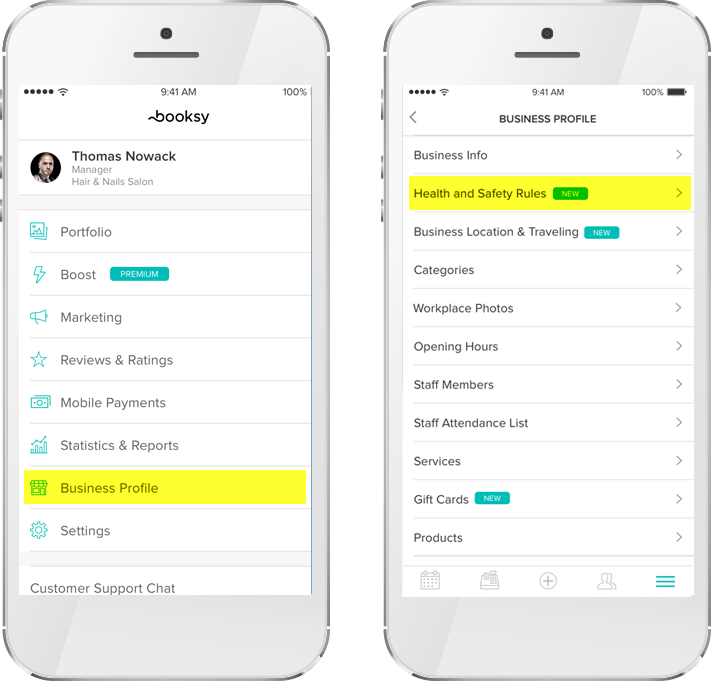 2. 
Check the rules you follow in your salon. If you take any other extra measures, click Describe more (optional) to expand the list with additional rules. Then click Save.
Now your Health and Safety Rules are visible at your profile and clients so they could feel fully comfortable while visiting your salon
.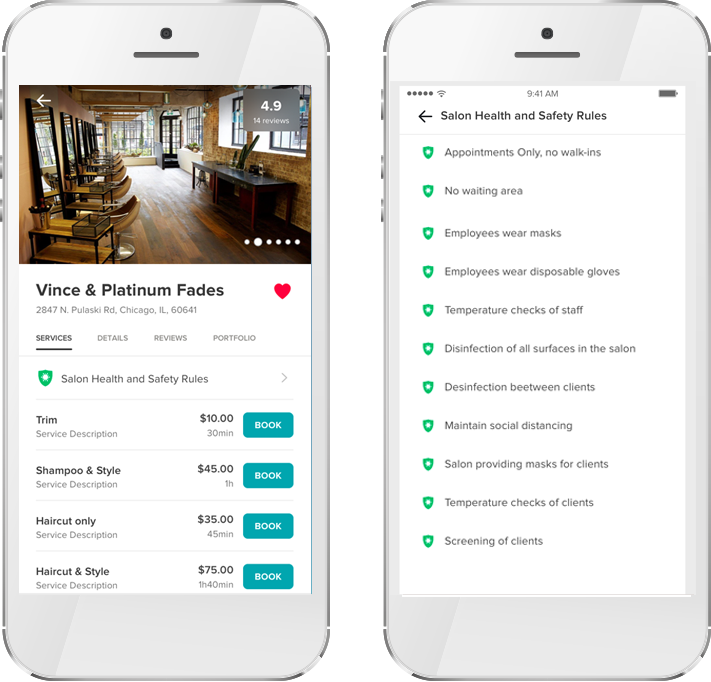 For more detailed instruction, please watch video below:
https://www.youtube.com/watch?v=0KiJ1fKM10U&feature=youtu.be
Remember
that turning Health and Safety Rules on, will automatically turn the
#TipNowBookNow
feature off, which you may have been using during Covid-19 pandemic, to allow your clients to tip you ahead of their future appointments.
Check out what other
safety steps
you can take to re-open your salon once restrictions have been lifted. Discover our new features like
Online Services
and
Custom Forms
to help you prepare yourself to bounce right back into business.