Stylist by Trade, Independent by Nature: Sam Carter Does Hair 
Beauty
Booksy Community
Businesses/Owners
Success Stories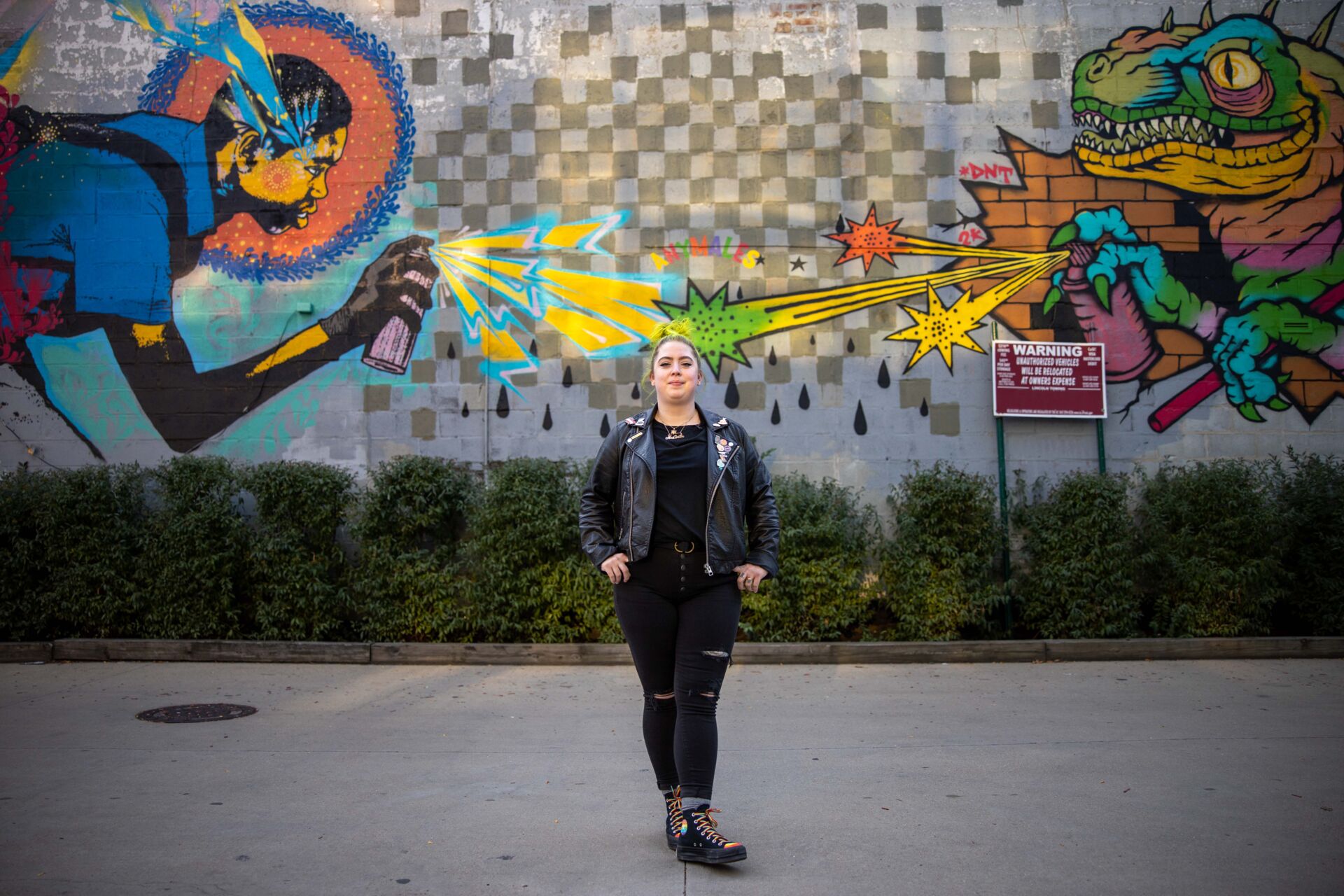 Sam Carter was 16 years old when she left her home, stepped out on her own, and leaped head-first into the world of adulthood. While that decision might frighten most people, Sam knew she had one skill that she could count on—even as a teenager, Sam could style hair like a pro.
Today, Sam looks back on that experience with a smile and a simple shrug. It's been over a decade since she declared her independence and decided to be her own boss. And it's no surprise that she's the one calling the shots and running the show at her own business.
Inside her gender neutral space that's "safe for everyone," Sam showcases her mastery of all things hair. From precise grooming services to eye-catching coloring treatments, she creates anything and everything with careful yet decisive gestures for each client who sits in her chair.
Despite her tough start, everything worked out for Sam. And that's because this fiercely independent woman did it her way. If you haven't had a session with Sam, then now's the time to learn about this young professional that we selected to be a part of two exclusive projects. We highlighted Sam in our Book Small guide and shed light on her path to success in our Self-Made series.
Declaring Her Independence Early
Sam grew up in a household where her mother was big into theater. In particular, Sam remembers styling her mother's hair before she went on stage to appear in an adaptation of The Rocky Horror Picture Show—the musical comedy that's well known for its main character, a transvestite scientist who loves to jam out to rock 'n roll music.
As wild as her homelife may seem, all of this was normal for Sam. But more importantly, it introduced her to the world of styling hair. Sam helped her mother create big hairstyles before midnight shows that featured crazy costumes and a theater full of over the top performances.
"Then, of course, I had Rick and Danny, they were my babysitters. And they were drag queens, and we part-time lived with them," Sam said. "And they were—awesome. They were full-on drag queens. So, there was sequin everywhere and glitter everywhere and a man named Daisy who did fake-nails and wigs galore. I learned how to set a wig when I was like eight."
Despite the fun ride, Sam decided to move out of her home at age 16. To make ends meet, Sam braided hair at a small barbershop. She also held down a part-time position as a braider inside a salon, where she first learned the intricate technique of threading eyebrows to help her become more independent.
But all of that bouncing around while juggling multiple jobs stopped when Sam met her wife. After settling down a bit, Sam decided to fully embrace the independence that being a stylist offered by enrolling in cosmetology school. Naturally, it didn't take long before she earned a license to stand behind a chair and perform the work she loves.
Carter Does Hair
Becoming a stylist at such a young age took dedication and hard work, and it taught Sam how to manage her time wisely. Today, Sam is a proud business woman who runs Carter.DoesHair. Her space is located in the Wicker Park neighborhood of Chicago, Illinois. And inside her salon suite, she makes a point to welcome people of all ages, shapes, sizes, and backgrounds equally.
"My favorite thing about being an independent—not having to follow anybody else's rules. I get to make my own rules. I'm the boss!" she said. Sam added that running her own space means that she can choose her own hours and prices, which lets her better connect with clients.
Making the move to become more independent and run a business from inside a private loft space has been a great decision for Sam. It lets her take advantage of her people skills, while giving her the opportunity to run a business the way that she wants to. And most of all, the extra freedom lets Sam encourage people to embrace their independence, just as she did.
For her clients, that usually means providing a transformative service. Sometimes she performs an eight hour, dramatic coloring treatment. But it could just as easily mean creating bangs for a cliente who's never sported that look. Either way, whenever someone wants to embrace their own uniqueness and become more independent, Sam is there to help.
"I have a lot of Queer clients. Some transition and they want to cut all their hair off. They want to feel more like themselves. I love those services. Anything that makes the client feel better and more like themselves—I'm into it. Sign me up for that," Sam said through a wide smile, while wiping away an unmistakable tear of joy.
Become More Independent with Booksy
Making the decision to become more independent and run her own business took a huge leap of faith. But Booksy was there to help. According to Sam, the app has been a great resource. And that's because it lets her focus on the customer service aspect of the business, without the fuss of managing a busy schedule.
"I can put my phone down," Sam said. "I don't have to be on my phone all the time replying to clients. They see the services, they see my availability, they see the prices, everything is—transparent. It's all there. No questions. They can book at their leisure, and I don't have to worry about it. And that's awesome! So, just getting that balance really helps with your sanity."
One of the many reasons that Sam was able to become more independent at such an early age and maintain that independence throughout the years is that she appreciates organization. And Booksy provides that too, she said.
"It's really easy to communicate with clients through Booksy. It's just really easy. Clients can book, and I can approve client's appointments. I can send out mass emails or mass text messages, I can boost my services, I can create ads if I want to. It's all right there. I don't need anything else. It's all in this one little hub, and that's perfect."
Booksy was especially helpful during COVID-19. During the pandemic, Sam sold eGift Cards, and she used the Tip Now, Book Now, Visit Later feature. She also began offering packages of services all through the app, which really came through when she needed it.
"Honestly, it made me more loyal to the company. Because that makes me feel like they care about me as a person, even though they're a company, and I'm just one person. But it made me feel—a little bit more understood," she said.