Stylistix Beauty Salon
2820 Michigan Avenue, SuitE E, Kissimmee, 34744
Stylistix Beauty Salon
2820 Michigan Avenue, SuitE E, Kissimmee, 34744
---
MAKEUP

Flawless Full Face Makeup

Flawless full face makeup that includes skin prepping, brow sculpting, a custom eyeshadow look, lashes, founda...

show more

Natural Glam Makeup

Natural glam makeup includes medium coverage, skin prep , foundation , eyelashes, no eyeshadow , light contour...

show more

1 on 1 makeup lessons self application

Includes Foundation application Eyeshadow placement Eyeliner Lip liner Lipstick/gloss Eyelash applicantion Con...

show more

Makeup Certification class

---

WEAVES

Individual tracks (per track)

Closure customization

That includes bleaching of the knots and plucking

Braidless sew in full head

Microlink tightening/readjustment

Microlink retighten w/shampoo and flat iron

Strand by strand microbead extension

Individual strand hair installed

I tip retighten

6 weeks 150 8 weeks 200 10 weeks 300

LACE FRONT WIG INSTALL

With glue.......... 25.00 extra for sew-in (no glue) For a more natural look bleaching and plucking is recomme...

show more

Full head sew in with leave out

Full head sew in no leave out

Frontal sew in

25.00 extra to sew frontal down instead of glue

Sew in with closure

For a more natural look bleaching and plucking is recommended (highly suggested) If so hair must be dropped of...

show more

360 sew in

For a more natural look bleaching and plucking is recommended (highly suggested) If so hair must be dropped of...

show more

---

HAIR CARE/STYLING SERVICES

Protein treatment / strength and repair

Color cuts shampoo blow-dry curl

Shampoo roller set and style (natural hair)

Blowout

Shampoo condition Prep Blowdry to style

Shampoo rollerset wrap n go

Shampoo blowdry flat iron

Shampoo, Cut, blow dry, curl or flat iron

Dandruff treatment (only)

Deep condition for moisture strength and repair

Shampoo blow dry and flat iron with treatment

---

Color services

Dreads fashion colors tips 8+

Demi color with wash and set

---

Chemical services

Botox treatment

Hair Botox is actually a deep conditioning treatment that coats hair fibers with a filler, such as keratin. Th...

show more

---

DREAD LOC SERVICES

Dreadloc interlock w/ wash

---

Braiding services

Basic Cornrows (W/ no exten.)

2 strand twist (1/2 head) No extensions

2 braids cornrows no extension

Basic Cornrows (w/ exten.)

Natural styles w/extensions

Princess styles w/out ext.

Design cornrows (W/ exten.)

Design cornrows (w/no exten.)

Two strand twists (no exten.)

FISHBONE Cornrows (no exten.)

Feed in braids (ponytail medium)

Feed in cornrows (ponytail small )

Feed in cornrows (ponytail large)

Large box braids (mid-length)

Med. Box Braids (mid-length)

Small box braids (mid-length)

Med knotless box braids (mid-length )

Med knotless box braids (long)

Knotless Goddess boxbraids med

Half box braids/half feed-in Cornrows

Half box braids/ Half feed In cornrows

Tribal Style Cornrows (3 rows)

Feed In Med. size Med. length

Tribal Style Cornrows (2 rows)

2 rows Feed In Med. size Med. length

Touch up cornrows (front)

Large Senegalese twists (Long)

Large Senegalese twist (med. length)

Med. Senegalese twist (long)

Med. Senegalese twists (medium length)

Small Senegalese twists (long)

Small Senegalese twists (med. length)

Passion twist shoulder length

Crochet (braids/twists/ faux locs)

TAKE OUT HAIR W/EXTENSIONS

TAKE OUT HAIR

we do not touch anyone elses work but ours 👍🏾😊👍🏾

---
Reviews
Reviews are no joke! Booksy values authentic reviews and only verifies them if we know the reviewer has visited this business.
Krystal was wonderful. She listens to you she's great with my hair. The atmosphere was wonderful the place was awesome. The staff was helpful and friendly....
Great work and great conversation. Completely satisfied with the quality of work and service. Will be back!...
Never disappoints,she's awesome!!! Go to Jaylene <3...
Great service! Thank you so much!...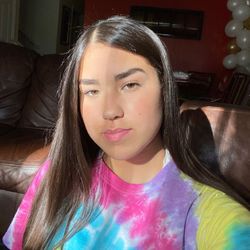 quick and amazing service. great attention to detail, absolutely loved my nails by Breanna....
i loved my nails,Breanna❤👌🏼...
Evita is very skilled, and knowledgeable in all the new hairstyles, and critiques. It's difficult to find someone who knows how to create a style the way you see on TV. Evita knows how to do this, and it makes you feel better than you did, when you ...
Breanna is such a talented beautiful person. My birthday nails are the cutest set and I have been getting endless compliments of them. She is so steady handed and patient. I will go back to her for sure....
I was referred by a client that got his hair done here. I go to make an appointment, and was referred by a stylist to have Eveta whip me up! I'm glad i was told to go here cuz I've been lookin for the right place to go for a while. Yeah, I'm goin bac...
Professional, friendly and so so talented!...
New to the area and I honestly was afraid I'd have to shop around for a new stylist. Well I found the perfect one on my first try. Crystal was prompt, friendly, welcoming and I absolutely love my hair!...
Sylvie was very sweet and made me very comfortable in the salon...
They are craftsmen. Skilled and talented! They are amazing 🔥💕...
Professional salon. Love my silk press...
Amazing service. Love my nails !...
Omg I absolutely love my microlinks...