Barbers near you
Whether it's a fresh fade, cheesekop style or a beard trim you're in need of, you've landed at the right spot. Nobody wants to hop from chair to chair when it comes to their haircuts, so finding the perfect barber who understands you, your personality and most importantly your style is important, right? But all this comes at a cost. And if you're street smart, your pockets are going to get more than just a trim. That being said, convenience is always key. So if you're in a bit of hurry and need a quick trim, or you're the type who religiously sets time aside every week to get your groom on, Booksy is here to take the stress out of finding your match. You can make a booking online, compare prices and even choose your preferred barber.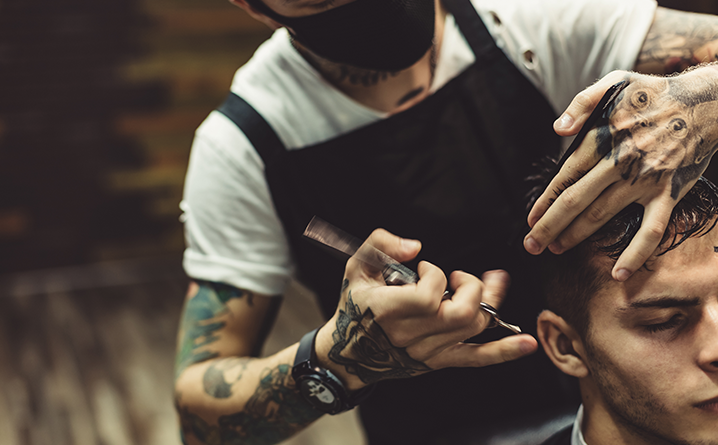 Barbers - customer reviews
Best Barber i've been to in the last 5 years easy Definitely come here for amazing service and amazing haircut
mikail i… 28/09/2023
---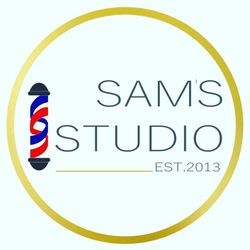 Sam's Studio
22 Holland Avenue, Bothasig, 7441 Milnerton
Great attention to detail. Great customer service. Very accommodating of young children as well - both for cuts and while the little ones wait for dad
Blaine V… 25/09/2023
---
Krisp Urban
224 Rondebult Rd, 1459 Libradene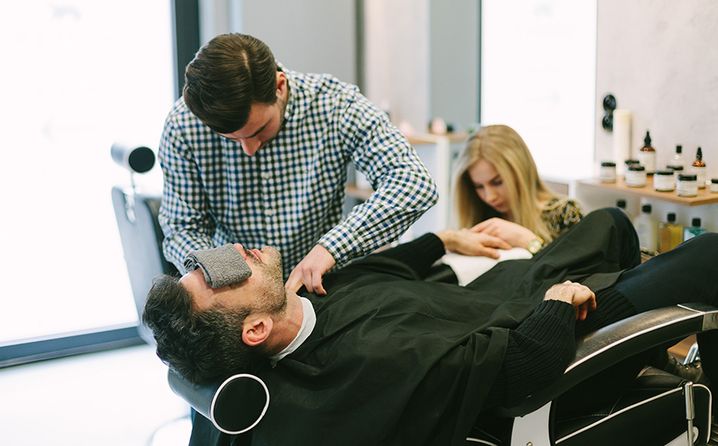 What services do barbers provide?
It may come as a surprise to some, but barbers aren't just specialists in cutting hairstyles. Barbers also dabble in facial hair styling like perfecting your mustache, beard and goatee and some offer grooming services like shampooing and styling and getting rid of those unwanted hairs at the back of your neck that you juuuuust can't seem to reach. Anyone that's been to a quality barbershop, will admit that sitting in the chair is their weekly dose of therapy and banter. That's because barbers are affectionately known bubbly personalities and attention to detail.  How to find the best barber? Anticipating the perfect cut is already stressful. So Booksy ensures that finding 'the one' is as easy as double tapping on your crush's latest post. With just a few clicks, you're able to check out the closest barbershops in your area and scan through their services and rates. Remember, the key is to find a barber that not only suits your style, but also suits your pocket. With Booksy, you can narrow down your search to your specific needs, location and price range. And once you've found a few that stand out among the rest, check out their reviews. We all know news travels quickly. Barbers vs. Hairdressers: What's the Difference? Be honest, you're not really sure if there is actually a difference between the two, hey? It's a common misperception because they both specialise in cutting and styling, so naturally you'd assume they're in the same whatsapp group. But no. Barbers are trained to cut simple styles, while hairdressers receive more extensive training, and as a result are able to cut more intricate styles. To put it simply, if you were looking for a quick fresh fade or beard trim, you'd go to a barber. And if your preferred hairstyle required more enhancements like highlights or a complicated style, finding the perfect hairdresser would be wise. Is going to the barbershop really worth it? You may be thinking "It's a quick trim, I can do it myself". But on a scale of 1 to 10, how successful have you been with clippers or a razor in your hand? We all know our strengths, and sometimes we just have to buckle and leave certain things up to the professional… like haircuts.  So if you don't want to walk around with a beanie during summer to cover up your horrific attempt on a late Sunday evening, then perhaps getting into that barber's chair isn't such a bad idea after all? Now, what if you ARE comfortable with clippers or a razor? Well, a trip to the barber every once in a while is still advised. That way, they'll be able to shape and trim wherever they need to. Think of it like, the barber setting the outline for you and you just needing to colour inside the lines every time.  Either way, a bit of pampering and grooming is always worth it. And because barbers are often more affordable than hairdressers, even your pocket will thank you for it. How do I make an appointment for a barber haircut? Scheduling an appointment with Booksy is super easy. Even following your crush and sending them a risky DM is more complicated than using Booksy. After finding the perfect barbershop that suits all your needs, you can choose the date, time, services required and even your preferred barber.  And if you're still a little bit old school, you can call them straight after that to confirm that the booking has been made. But really, there's no need. If your name is on that booking schedule, it's as done as your crush agreeing to that first date! How much should I pay my barber? The average price at barbershops varies. It's based on skillset, services required and believe it or not, location. A simple cut could cost anything between R170- and R250. Beard trims range between  R120 and R150. And, if you're smart enough, opting for a combos could save you some loose change. Facial grooming services, like waxing or threading could cost around R70 to R130. Booksy allows you to compare prices between your best picks and even 'favourite' them for future reference.