Hair Stylist Tiffany Pate - I Do Beauty
5508 N 50th Street, Suite 29, Tampa, 33610
Hair Stylist Tiffany Pate - I Do Beauty
5508 N 50th Street, Suite 29, Tampa, 33610
---
Popular Services

Loc Retwist

Shampoo, condition and retest new growth on existing locs

Signature Shampoo and Style

Our signature service includes a scalp massage with a stimulating shampoo, blow dry and a basic style tailored...

show more

Quickie

A quick hair extension technique used to cover the entire head with a full set of hair. Quick weaves are popul...

show more

---

Complimentary Services

Free Beauty Audit - consult

Come in and lets examine your current hair style, color and condition. First we will cover all the problems yo...

show more

Custom Wig Fitting

It's so important to get a fitting! It will be easier to match your color and have a better understanding of y...

show more

---

VIP Services

Alone Time/Day Off Appt/late fee

For a small fee you can have a private appointment with no other clients in the Hair Brat studio while you are...

show more

---

Hair Care Services

Shampoo ONLY

Shampoo and complimentary scalp massage. Remove debris from your hair with this service

Style only

Add curls to extensions or any style of your choice to your hair. Hair must be clean and dry.

Signature Shampoo and Style

Our signature service includes a scalp massage with a stimulating shampoo, blow dry and a basic style tailored...

show more

Relaxer Retouch

Relaxer treatment is applied only to the new growth. A neutralizing shampoo and reconstructive treatment is in...

show more

Virgin Relaxer

Relaxer treatment applied to 4 inches or more of hair. Shorter hair can also be relaxed. Rate will be less an...

show more

Shampoo, detangle & blow dry

Shampoo, detangle & blow dry natural hair after taking down hair extensions

---

Haircut Services

Women's Haircut

This can be done on natural, relaxed or extension hair. Please add to your service if you would like to get la...

show more

Short Hair Maint

Trimming of hair to maintain a short hair cut and lining up the edges

---

Hair Color Services

Semi Color

Last 4-6 weeks. Not used to cover gray hair

Demi-permanent color

Longer lasting than semi-permanent/rinse and less damaging than permanent hair color, demi-permanent hair colo...

show more

Permanent Color

Change the current color of your hair. If you have previous color deposited you may need color correction serv...

show more

Bundles Colored

color applied to virgin hair

---

Hair Treatment Services

Hydrate

Infuse moisture to you hair. Steam machines is used to deposit the moisture!

Reconstruct

A reconstruction treatment is applied to the hair to improve the health of your hair

Strength

A strengthening treatment is applied to the hair to eliminate shedding and breaking

Scalp Treatment/Stimualte

Treat scalp issues and also promote hair growth with this service

Strengthening & Smoothing

An amino acid system is used to transform your hair to give you smooth, shiny, frizz-free manageability - the ...

show more

Etae Experience

This service is a natural hair care experience that will leave your hair SOFT AND SHINY. Natural hair food FOR...

show more

Straightening System (New)

With little effort this exclusive Straightening System enables an enviable sleek hair structure for up to six ...

show more

---

Natural Hair Services

Silk out

A silk press is similar to a traditional press and curl which gives natural hair the same look as relaxed hair...

show more

Twist out

Twisting of natural hair and unravelled to style

Starter Locs

Starting locs on natural hair

Loc Retwist

Shampoo, condition and retest new growth on existing locs

Interlocking

interlocking traditional locs

Loc Style

add a style to your retwist service

---

Hair Extension Services

Tues & Wed Sew in & Bundles

12"-22" Virgin Hair bundles and express sew in for $325 on EVERY Tuesday and Wednesday! This is an AWESOME

Full Service Sew in

Shampoo & Conditioner Service included along with trim of natural hair. Hair is braided down, a net is applied...

show more

Traditional Sew in weave with net

Attaching a weaving net can relieve some of the tension and assist in a long lasting install. This makes gett...

show more

Vixen "inspired" Sew in

Versatile sew in that can be parted in 4s

Seamfree Sew in

Premium sew in. Flawless and will last FOREVER all though its not recommended to keep that long!!

Ponytail sew in unit

Perimeter of your hair is left out. A unit is made and sewn down to your braided hair allowing to wear curly h...

show more

Versatile Sew in

Hair extension installation n which hair is left out strategically to allow you to style your hair several way...

show more

Additional Bundles

10-16" extension services come with 2 bundles included. 18-30" extension services come with 3 bundles included...

show more

Braidless sew in weave (per row)

per row. No braids. No Glue!!

Quickie

A quick hair extension technique used to cover the entire head with a full set of hair. Quick weaves are popul...

show more

Custom Bonded Wig

Wig made specially for you. You choose the hair length and texture. Your measurements are taken to make sure i...

show more

Basic Wig Application

Hair braided and wig sew on.

Lace Bleached & Tweezed

Lace Closure, Frontal and Wig customization incluseds bleaching of knots and tweezing hairline to give a natur...

show more

Lace Frontal Sew in

Your hair is shampooed, conditioned, blow dried and braided down. Lace frontal is applied and then hair is sew...

show more

GLUELESS Lace Wig Install

Your hair is shampooed and conditioned, braided down and the lace unit of your choice is applied and styled to...

show more

Cut & Style on Extensions

Cut your weave into a layers or a bob and/or add a fancy style!!

Install Maintenance

Shampoo and style on sew in

Sew in Take down

Removal of hair extensions. Price may vary

Shampoo & dry extensions

Cleansing service for hair extension after taking them down and before reusing them

Curly to Straight

Straightening your curly extensions. If you want slick & sleek extensions but you purchased curly hair this se...

show more

Straight to Curly

Take your straight hair extension to curly with this service

---

Beauty Services

Brow Sculpt

shaping of your eyebrows using wax

Individual Lash Extension

Fabulous false eyelashes to transform the eyes. Add a glamorous touch to your look with this must-have access...

show more

Lash and Brow Combo (New)

Individual Eyelash extensions and brow wax

Lash extensions (strips)

A professional-quality set of faux eyelashes can enhance your look. These lashes intensify and add depth to th...

show more

Renewal Facial

Get ready to take it all off with the Exfoliating Peel! Boost your skin's natural glow with a bounty of botani...

show more

Repair Facial

Don't wear your age on your face! Tighten, tone, and firm to give your face a lift in as little as 45 minutes....

show more

---

Featured Services

Hair Brat Wig Application

Any Hair Brat unit will be applied using Bold Hold adhesive and/or tape to secure the unit. A basic shampoo,c...

show more

Hair Brat Sew in

This is a traditional net sew in with your choice of ourLuxury Hair Brat Extensions. Shampoo and conditioner ...

show more

Hair Brat Wig Construction

Custom made, closure wig constructed with your choice of Hair Brat Luxury Virgin. Basic styling is included A...

show more

---

Virgin Hair Bundles

Hair Brat Luxury Hair

We have THE BEST VIRGIN HAIR around. Try it! Go to www.hairbrat.com For more information!

Hair Brat Premium Hair

We have THE BEST VIRGIN HAIR around. Try it! Go to www.hairbrat.com For more information!

Hair Brat Raw Hair

We have THE BEST VIRGIN HAIR around. Try it! Go to www.hairbrat.com For more information!

---
Venue Health and Safety Rules
Reviews
Reviews are no joke! Booksy values authentic reviews and only verifies them if we know the reviewer has visited this business.
Love her. She did a great job made Made me Happy...
Positive energy, relaxed environment, and respectful. Tiffany Pate is a name to remember. She executed everything she has done to my head and I have been dealing with her for 2 months and she has providing nothing but the best customer service...
My hair grew sooo much after my sew in! Amazing stylist....
My eyelash wasn't finish to suit...
Tiffany has a kind and therapeutic spirit. She was on time for my appointment, walked me through each step of my hair care process, and my final product was fantastic!...
Great service and very professional...
Always pleasant and excellent experience. Very talented and attention to detail. Love it!...
Tiffany is simply amazing. Every time I walk out I feel like a brand new person...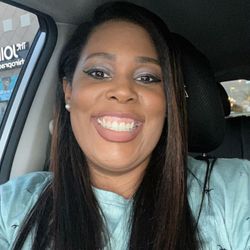 Quick and professional...
Excellent experience! Tiffany made my first time trying weave (full sew-in) a very pleasant experience. I received nothing but complaints from all my friends/coworkers and family, not to mention I love my new hairdo as well. Very pleased....
Hair Stylist Tiffany Pate - I Do Beauty