Cheeky Chops
74 Green Road, LS6 4LD, Leeds
Cheeky Chops
74 Green Road, LS6 4LD, Leeds
---
Other Services

My first hair cut with a certificate

Girls hair cut + curling/straighten

Girl hair curling/straighten

Special plaits ( fish plaits , french plaits )

Girls Haircut with 5 gems 0-9

Gel nails

Gel nails for adults and children over 12 Adults may bring younger children with them as long as they are wel...

show more

Children's nail polish any ages

Nail polish for children any ages

Nail art for all occasions, children and adults

Lots of different options for Christmas to Halloween please come in and have a look at our fabulous choices

---
Reviews
Reviews are no joke! Booksy values authentic reviews and only verifies them if we know the reviewer has visited this business.
Great haircut. Lovely with my little girl and very accommodating. Thanks x...
Was the first haircut for my 2 year old who I thought would create a huge fuss but he was very relaxed during the appointment thanks to the wonderful hairdresser. He loved sitting in the car during the appointment. We will be back!...
A really great experience. Sally was really friendly and reassuring; it was my daughter's first hair cut so she was a bit nervous. Both me and my daughter are really happy with the result...
Absolutely fantastic, Sally was amazing, lots of patience with my autistic daughter. A brilliant place to get your child's hair cut😁....
Not a great haircut at all, after getting out into proper day light the back looked a bit hacked into! Also the one of the other hairdressers in there (not the one my little boy had) was quite rude to other customers. Was way too busy and cramped ins...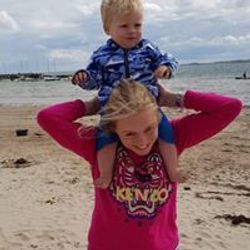 Really pleased with the haircuts and the hair dresser was absolutely lovely with my 2 boys. The salon was lovely and clean and the boys loved sitting in the cars. Thank you very much, we'll be back!...
My little boy normally hates having his haircut but sitting in a car made a him very happy! Dawn was so easy going and made us feel very comfortable, she was great 😊 thanks Dawn!...
Fantastic hair dresser. She explained and told my little boy what she was using next to cut his hair. Really children friendly highly recommend....
Dawn was fab with my 4 year old, will definitely be back again....
Fab experience at Cheeky Chops!...
Love my sons haircut will definitely be booking again. So friendly x...
I was asked to put my son in one of the cars. It was covered in the last customers hair. The car/seat was clearly not sanitised between customers she just used a hairdryer to get rid of the hair. Not acceptable during a pandemic...
Cheeky Chops
We are very sorry this has happened we do clean down the seats inbetween every client but if there has been an issue or difficult appointment/day sometimes it can cross your mind and forget as I'm shore everyone has done now and again in this difficult time, although there isn't really an excuse and we can only apologise and hope you enjoyed the experience otherwise
Great place, lovely staff, little boy loves getting his hair cut whilst sitting in the car there!...
Such a lovely place, Dawn was so good with my little boy who can be very shy around new people. Will definitely be coming back, thanks so much Dawn!...
Dawn was amazing. My son is almost 4 but has always been too scared so this was his first cut. She was so calm and just got on with it that he barely noticed. She did a fab job and he's actually looking forward to going again!...
We were the only clients on the shop at the time and it was nice and clean. It was my little ones first haircut and Dawn was lovely. He didn't want to sit in the car but Dawn adapted to him being on my knee quickly. I would recommended and will be go...
Brilliant with my 1yr old who was a bit apprehensive...
Sally is always extremely patient with my son, and always makes him feel at ease. It's our second visit now, and he is usually very vary of people he is unfamiliar with, but he always seems very comfortable around her! :-) thank you Sally, you've don...
Very happy with my toddlers hair cut today! I don't know the ladies name that cut my little boys hair, he dosent usually like going to the hairdressers as he is wary of strangers, the lady was polite and she didn't get in his face too much which put ...
Excellent haircut. My 2 year old was the calmest I've ever seen him at a hairdressers....