Box Braids near you
If you're looking to add a bit of chic and boldness to your look, then box braids would work wonders. Changing up your hairstyle is also a fun way to brighten your mood. You can use Booksy to locate the best salons that offer box braids near you quickly! Our app makes it a breeze to find box braids in your price range and near you. After all, who wants to drive far to get their hair done? You can also schedule an appointment straight through Booksy. Now you don't have to sit at the salon and wait for a chair to open up!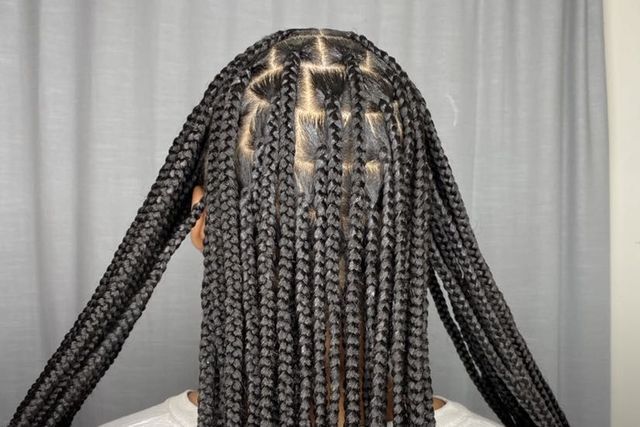 Box braids - customer reviews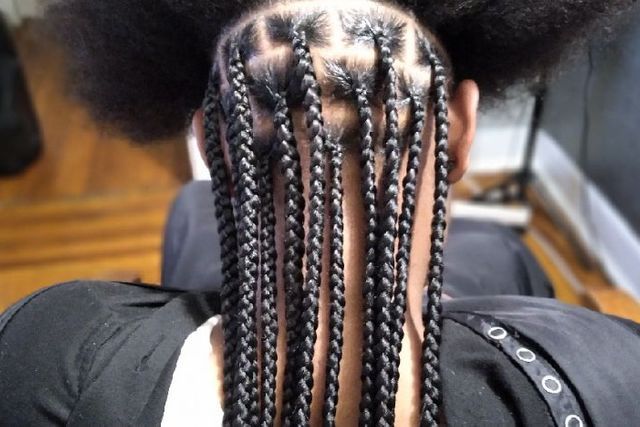 What Are Box Braids?
Box braids are a unique hair-braiding style that features 'boxy' style hair braids. Box braids are not directly attached to your scalp, which means that you can style box braids in many different variations! They're great for changing up your hairstyle into something entirely different. If you want to add some chicness to your look, try out box braids! Don't forget to use Booksy's unique features to help you find a reliable provider in your area. How Do I Prepare My Hair for Box Braids? Before your appointment, you need to wash, condition, untangle, and air dry your hair. Your stylist will need a neutral base to make sure that the box braids will hold. Your hair needs to be clean, even and moisturised. To get the best results, try using a clarifying shampoo, which will fully prepare your hair for getting box braids. Your stylist will certainly appreciate the fact that you prepared accordingly for your visit. How to Get the Best Box Braids? If you're looking for the best box braids in your area, Booksy is the ultimate tool that'll help you. In seconds, you can view all the local salons that offer box braids and directly compare their prices, services, and user reviews. To make things easy for our users, we put the highest-rated results at the top of the page. Here's a pro tip, take a look at the individual user reviews we provide on Booksy. More often than not, they will mention the best hairstylists by name. From there, request them through Booksy! Is It Better to Apply Box Braids onto Wet Or Dry Hair? It is crucial to apply box braids onto completely dry hair. If box braids get wet, they will become heavier and will weigh down your hair, which can lead to neck pains and even headaches caused by tension in some cases. Dry box braids won't have this issue and will look bold and beautiful. As a rule of thumb, make sure that you show up to your appointment without any hair hydrating products on. Whether you air-dry or blow-dry, just make sure that it doesn't have any residual moisture. How Do I Make an Appointment for Box Braids? You can easily make an appointment for box braids by using Booksy! Seriously, there's no easier way to find a hair salon offering box braids in your town. Once you've selected a salon that fits your price range, you can view their available appointment times. From there, you can choose a date and time that works the best with your schedule. Not only that, but you can even specify which stylist you'd like to apply your box braids! How Much Do Box Braids Cost? The price of your box braids will depend on a few factors. First, many salons offer box braids of varying sizes and styles. There are medium box braids, large box braids, and even jumbo box braids. The larger the braid, the more you can expect to spend. The length of your hair will also play an essential factor in pricing. In general, box braids will cost anywhere from £70 to £155. Make sure to use Booksy to find a salon that has great reviews and affordable prices!