Faux Locs near you
Are your hair extensions becoming a bit dull? Then it's time to mix up your style for a fresh new look. Faux locs are a great way to change up your hair extensions without too much work. A talented hairstylist can twist your extensions into faux locs, which mimic dreadlocks. Faux locs are bold and beautiful. There are also many types of faux locs to choose from at each salon. You'll find a wide variety of styles, colours and techniques for applying faux locs. That's where Booksy comes into play. You can use our intelligent search to find all of the faux loc providers near you. Compare their prices, services and reviews!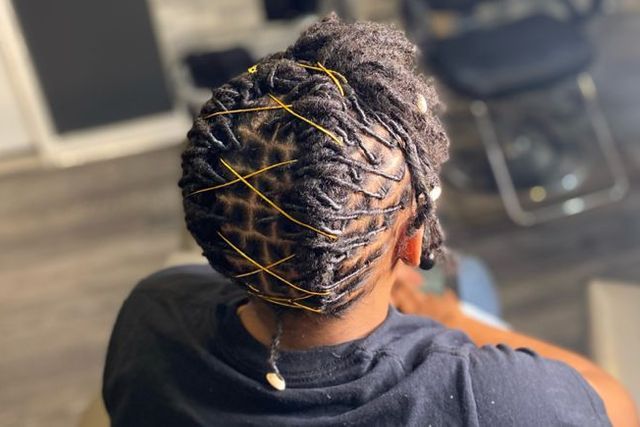 Faux locs - customer reviews
It was a delight to get my hair done by Nicki. She was attentive to my needs and asked all the right questions. She was professional and I felt very comfortable with her doing my hair. I've had a lot ...
Annette p… 15/07/2022
---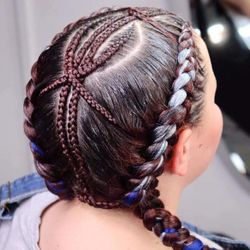 Kem Hair & Beauty
2-4 Walsall road Darlaston, WS10 9JL Wednesbury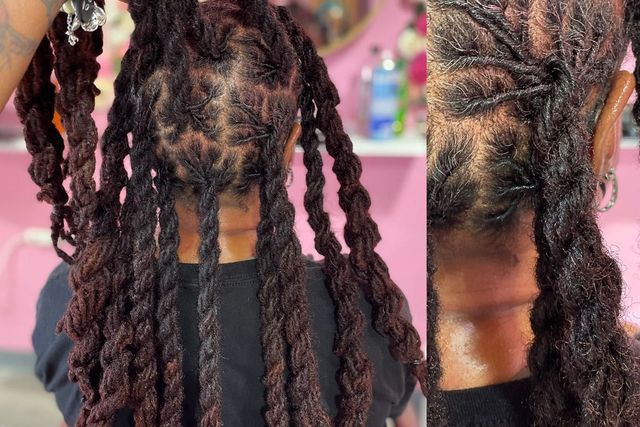 What Are Faux Locs?
Faux locs are a synthetic version of dreadlocks. Basically, to achieve faux locs, you need hair extensions. A hair stylist will twist and rip your extensions, but NOT your natural hair. Faux locs are great because you can achieve the appealing look of dreadlocks without all the effort. You can also choose what type of locs you would like, such as curly locs or straight locs. Faux locs also give your hair a break from heat and styling products, which can damage it, and are quick and easy to style. How Long Should Hair be for Faux Locs? To achieve the best results, you should have long hair with extensions past your shoulders. The longer that your hair is, the easier it will be to apply faux locs. If you don't have hair extensions already, you should consider getting some. Your stylist will use a combination of your natural hair, extensions, and synthetic braiding hair. Faux locs come in a wide variety of styles and brand names as well. Use Booksy to find the best providers in your area! How to Get the Best Faux Locs? Booksy is the perfect tool for finding the best faux locs providers in your area. We feature a state-of-the-art search engine that lets you view all the salons in your area that offer this treatment. You can also check out their prices, other services, and user reviews. You can find a salon that offers affordable faux locs and has an excellent user score in no time. The results listed at the top will always be the highest-rated options that we recommend the most. Also, check out individual reviews to find out about hairstylists that excel in applying faux locs. What Is the Best Hair for Faux Locs? The ideal hair for faux locs is long, straight, and with extensions. The extensions will aid your stylist in applying the faux locs. Here are a few more tips to consider before getting them. First, you should massage your scalp with high-quality hair oil, which will prepare your scalp for the faux locs and will thicken your hair. Next, try to treat your hair with hot oil once or twice a week. That will also keep your scalp nice and healthy for your faux locs. How Do I Make an Appointment For Faux Locs? With Booksy, making an appointment is so easy, it's not even funny. Using our app will save you from having to make  cumbersome phone calls. You'll also avoid wait times and being placed on hold. Don't risk it with a walk-in; book an appointment through Booksy! You can view all the available times from each salon. Once you find one that works for you, hit confirm, and you're all done. You can also request a specific stylist if you know their name. How Much Do Faux Locs Cost? Since there are so many types of faux locs, the price range is quite broad. The length and style of your faux locs will also determine the price. Not only that, but different salons have different pricing structures. That's why Booksy is such a valuable tool! You can compare all the fees for faux locs in your area to avoid paying too much. Faux locs can range in price from £85 to £250 or more, depending on which type you get.