The Curl Whisperer of Chicago
Washington Park ( 56th & Calumet), Chicago, IL, 60637
The Curl Whisperer of Chicago
Washington Park ( 56th & Calumet), Chicago, IL, 60637
---
Popular Services

NEW CURL TRAINEE EXPERIENCE + CUT

The New Curl Trainee experience is the process of ...

more

CLASSIC CURL CUT MAINTENANCE (+12 WEEKS)

This service is to maintain a previously establish...

more

CLASSIC CURL CUT EXPRESS- NO STYLING

Quick maintenance for your current Classic Curl Cu...

more

---

NEW CURL TRAINEE

NEW CURL TRAINEE EXPERIENCE + CUT

The New Curl Trainee experience is the process of ...

more

NEW CURL TRAINEE EXPERIENCE

This service is especially designed for clients wh...

more

---

EXPERIENCED CURL TRAINEE

CLASSIC CURL TRAINING LESSON (WASH AND GO)

This service takes you through the Curl Rejuvenati...

more

CLASSIC CURL CUT EXPRESS- NO STYLING

Quick maintenance for your current Classic Curl Cu...

more

CLASSIC CURL CUT MAINTENANCE (8-12 WEEKS)

This service is to maintain a previously establish...

more

CLASSIC CURL CUT MAINTENANCE (+12 WEEKS)

This service is to maintain a previously establish...

more

FLEXI ROD SET

This service comes with an Hair Bath, Moisture or ...

more

FLEXI ROD SET + CUT/TRIM

This service comes with an Hair Bath, Moisture or ...

more

FLAT TWIST IN/OUT

This service comes with an Hair Bath, Moisture or ...

more

FLAT TWIST IN/OUT + CUT/TRIM

This service comes with an Hair Bath, Moisture or ...

more

SILK PRESS FOR NATURAL HAIR

This service comes with an Hair Bath, Hydration or...

more

SILK PRESS FOR NATURAL HAIR + CUT/TRIM

Each service comes with an Hair Bath, Hydration or...

more

TWO STRAND TWIST

This service includes a hair bath, moisture or pro...

more

TWO STRAND TWIST + CUT/TRIM

This service includes a hair bath, moisture or pro...

more

TWISTED UPDO/ CREATIVE STYLE

This service comes with an Hair Bath, Moisture or ...

more

TWISTED UPDO/ CREATIVE STYLE + CUT/TRIM

This service comes with an Hair Bath, Moisture or ...

more

---

EXPERIENCED CURL TRAINEE- PROTECTIVE STYLE REFRESH

SEW IN MAINTENANCE

Hair is washed, conditioned dried and styled, mino...

more

SEW IN REMOVAL

Sew In Is Removed, washed, conditioned and styled ...

more

WIG MAINTAINANCE ( NO FULL FRONTAL)

WIG IS REMOVED, NATURAL AND WIG HAIR IS WASHED, CO...

more

---

EXPERIENCED CURL TRAINEE-PROTECTIVE STYLING

CROCHET BRAIDS/LOCS/TWIST

You want the box braid or faux loc look without th...

more

WIG UNIT INSTALL ( NO FRONTAL)

NATURAL HAIR IS WASHED, STEAMED TREATMENT. DRIED A...

more

SEW IN W/ LEAVE OUT (HAIR NOT INCLUDED)

This service includes a Hair Bath, Condition, nat...

more

SEW IN W/O LEAVE OUT ( HAIR NOT INCLUDED)

This service includes a Hair Bath, Condition, nat...

more

---

EXPERIENCED CURL TRAINEE-COLOR

VIRGIN SINGLE PROCESS/ROOT TOUCH UP (4-12 WEEKS)

FOR THE GIRL WHO HAS NEVER HAD COLOR AND JUST WANT...

more

VIRGIN COLOR TOUCH UP EXTENDED ( 12+ WEEKS)

FOR THE GIRL WHO HAS HAD COLOR BUT IS IN NEED OF T...

more

PINTURA HIGHLIGHT/ OMBRÉ / BAYALAGE

These services offers the perfect harmony and bala...

more

ONE DIMENSIONAL COLOR

FOR THE GIRLS WHO WANT ONE SOLID ALL OVER COLOR BU...

more

MULTI DEMENSIONAL COLOR (CUSTOM OR CREATIVE)

FOR THE GIRL WHO WANTS TO CHANGE HER COMPLETE LOO...

more

CORRECTIVE COLOR

THIS IS FOR CLIENTS WHO HAS EITHER DARKENED THERE ...

more

---
Venue Health and Safety Rules
Reviews
Reviews are no joke! Booksy values authentic reviews and only verifies them if we know the reviewer has visited this business.
Star IS A STAR! First, let me say: Star is a very nice person, great energy, humble and a good listener. She is genuinely interested in helping and ensuring you are happy with her services. Secondly, I have been natural since 2001 and have NEVER had ...
I am in LOVE with my hair! Star has taught me the correct way to cleanse, condition, style, and care for my hair (with the correct products) to have the perfect wash and go. She gave me the perfect shape that I wanted for my hair, and she was so hon...
Overall, I like my haircut and the guidance I received on what products to use moving forward and how often to get trims/haircuts. Where the service fell short was in the education on how to style my new hair. As someone who had a lot of breakage due...
The Curl Whisperer of Chicago
Hello, I would like to send my deepest apologies. I try to be as detailed as possible and if I feel short of you expectations. I apologize. I appreciate your business. I hope with continued visits the styling and maintenance will become easier for you at home.
Always a pleasure. Always professional. My daughter absolutely loves her. Her hair is healthy and her curls are POPPIN'!...
I had a great experience! I love my haircut, it's he best haircut I've had in my life and my hair looks healthier and bouncier than ever! Starresha gives very descriptive instructions on how to properly care for your hair following your appointment a...
It's always an amazing experience when I visit Star! Her professionalism and talent are unmatched!...
I love my new curly cut! I hadn't had my hair cut since I had gone natural a LONG time ago. This was in part because in the past, I had negative experiences with stylists who did Black hair in general but complained that my specifically West African ...
My hair looks so good! I'm transitioning to natural and Starr showed me the products I should be using and how I should use them to keep my hair healthy as I transition....
The best experience. I walked away feeling comfortable with the knowledge I received. My hair looks and feels great. Will definitely be coming back....
Literally had the best experience ever!!!! She was so nice, informational and my favorite part was the curl diagnosis I got at the end on the exact way to handle my hair. I was so happy I made my appointment. I was so happy!!! I can't wait to start s...
Star is friendly, professional, prompt and knowledgeable. I really learned alot in my 1st visit to her. Cant wait to get back....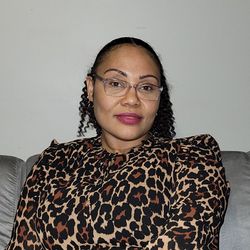 I loved it! 😍 Unfortunately I do not have a goos photo but I will be back......
I love Star! I've been seeing her since August of 2020 when I did a big chop, my hair was incredibly damaged! She has really helped me get excited about learning about the unique needs of my hair. I just got crochet faux locs installed and I am in lo...
Amazing experience! I've never gone to a stylist who so knowledgeable and who tailored their approach specifically for me. Every expectation I had was exceeded. My hair has never felt healthier and my curls never looked better!...
You need to book an appointment with Starresha! She genuinely cares about her clients and prioritizes the health of your hair over anything! I went in for a new hair color and she specifically used a dye that wouldn't damage my hair. She listened to ...
Starresha is really good at what she does. I have never met a stylist so knowledgable about natural hair and she really made sure to listen to what I wanted. I am in loveeee with the cut that she gave me and I cannot wait to keep working with her on ...
Love my hair and Star is an expert. Can't wait to see how she brings my curls back to life!...
Starresha is amazing! Her professionalism and knowledge is top notch!!!...
Starr is amazing and she definitely takes the time to help you learn your hair. She also gives a detail description of the do's and dont's when doing your hair at home. Starr is absolutely worth it if you're considering on finding you a curly hairsty...
The Curl Whisperer of Chicago